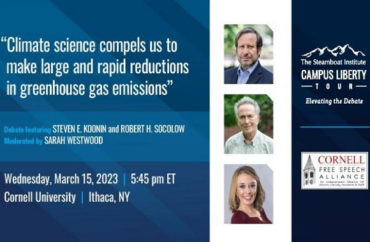 Although Cornell University is no stranger to cancel culture incidents, including a widely publicized shout down of a speech by conservative Ann Coulter last semester, the Ivy League institution is set to host a debate on climate change next week without much pushback at all.
The Steamboat Institute, a conservative Colorado-based think tank, will debut its 2023 Campus Liberty Tour at Cornell with a debate March 15 on whether humans must vastly reduce greenhouse gas emissions to help solve climate change.
The institute partnered with the Cornell Free Speech Alliance to host the event.
"Anytime we can get both sides of an issue on a college campus debated, I think that's a victory for free speech," the institute's spokesperson Khristine Brookes told The College Fix in a telephone interview Thursday.
Robert Socolow, professor emeritus at the Department of Mechanical and Aerospace Engineering at Princeton University, will argue in favor of massive reductions in greenhouse gas emissions, while Steven Koonin, undersecretary for science at the U.S. Department of Energy under President Barack Obama, will argue against it.
Brookes said having a former Obama official argue against the need for radical climate change policies teaches college students not to "pigeonhole people." She said hundreds of students are expected to attend the debate and then engage in their own discussions on the topic. Other campuses are expected to have livestream watch parties so students nationwide can take part as well, she said.
While in general most professors nationwide often say the science is settled when it comes to climate change, at least two Cornell professors told The College Fix on Thursday the upcoming debate has not encountered opposition.
Cornell Law Professor William Jacobson said he has not heard of any pushback. Cornell biology Professor Randy Wayne, who helped put together the debate, also told The Fix via email Thursday "the feeling I am getting is 99 percent positive."
"I did get a comment that someone wondered about the Steamboat Institute because he worried about the word 'liberty' … in 'liberty tour,'" Wayne said. "Otherwise everyone I talk to is happy to send out announcements to the faculty and undergraduates in the related majors."
Steamboat's Campus Liberty Tour is now in its sixth year. Brookes said upcoming debate topics on different campuses will include immigration and critical race theory.
MORE: 'Your words are violence!': Ann Coulter's Cornell speech shut down after repeated disruptions, outbursts
Like The College Fix on Facebook / Follow us on Twitter