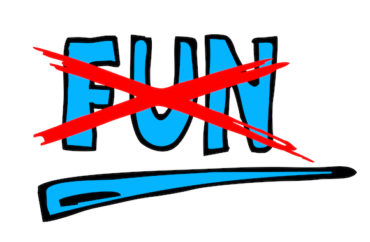 The fun killers are back

A Wisconsin school district sent out a letter to families informing them that any celebrations for the upcoming Halloween and February's Valentine's Day are a no-no — due to diversity and inclusion concerns.
"As part of our school and district-wide commitment to equity," a Monona Grove School District memo reads, "we are focused on building community and creating welcoming, inclusive environments where all students feel they belong."
Halloween and Valentine's Day don't do this, apparently, even though the memo says "We respect the cultural diversity among all our families and take time to learn about one another."
The two holidays "are fun traditions for many families," the district says, "but it is our responsibility to provide space and opportunities for all students. As public school officials, we must consider the many viewpoints, opinions, and values of our residents and families and do what is best for all students while they are at school."
Back in June, however, the Monona Grove School Board formally recognized June as "LGBT+ Pride Month," noting in a statement the district is "committed to supporting visibility, dignity, and equality for LGBTQ+ people in our diverse community."
MORE: Majority of students want peers who wear offensive Halloween costumes to be punished
Ah. So when it comes to celebrating gay pride the different "viewpoints, opinions, and values of residents and families" (like religious and age-appropriateness) aren't relevant.
MORE: Superintendent suspended without pay for 18-year-old blackface Halloween photo
I emailed Monona Grove Superintendent Daniel Olson (pictured) about all this, but he didn't respond. I wanted to see if his district's reason(s) for the contradiction mirror that of Michigan's East Lansing Public Schools from a couple of years ago.
That district's rationale for ditching Halloween and Valentine's Day were, according to its superintendent, that it's "not uncommon to see students crying on Halloween 'because they don't have the same kind of costumes that other kids have or they didn't bring the same amazing valentines that other kids do.'" (How 'bout that — he just endorsed school uniforms.)
Of course, there's also the matter of "insensitive" Halloween costumes (if you want some sadly hilarious reading, search The College Fix archives under "Halloween"). Would Olson, who "leads with compassion, empathy, and humanity," take to lecturing kiddies about "cultural appropriation" and the like?
I'd like to think there's hope for Monona Grove. Over five years ago it did not buckle to a couple of parents who wanted "To Kill a Mockingbird" axed from the curriculum, with Superintendent Olson backing a district committee which voted to keep the book.
Still … a lot has changed in half a decade.
MORE: School district proposal would ban students from sharing ANY non-school messages
IMAGES: bofotolux/Shutterstock.com; Monona Grove School District
Like The College Fix on Facebook / Follow us on Twitter