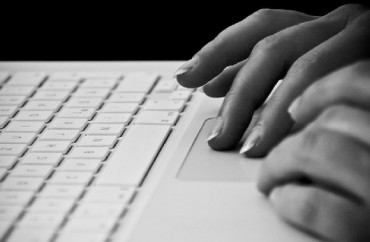 A mandatory sexual assault education lesson at MiraCosta College trains students that they must stand up for survivors and does not delve into due process rights.
The training, titled "CAMPUS SaVE ACT: Student Upstanders," consists of a series of video vignettes that include ones that directly address victim blaming and rape culture, saying: "You may hear things like, 'Well she was asking for it in that dress' or 'Yeah they've always been a little promiscuous.' This is victim blaming."
"We need to dispel the idea that it is the victim's responsibility to prevent rape or sexual assault. A victim never invites assault. Sexual assault is a decision made by the perpetrator to commit a crime against the victim," students are told.
"We all have a responsibility to prevent sexual assault from happening in the first place. We can accomplish this by addressing beliefs, attitudes, messages, and social norms condoning sexual violence across all members of a campus community."
The training course ends on a final direct stab at so-called victim blamers in a short video with a woman saying: "Have empathy, stand up for survivors, and do not tolerate victim blaming language. No exceptions."
The module, which takes approximately 30 minutes to complete, also includes questionnaires, readings, and videos on topics such as stalking, domestic violence, dating violence, consent and victim blaming.
The first objective students must complete is to answer a questionnaire about their views and actions on sexual assault on a scale of 1 to 5. Some of the questions include:
"I would speak out if someone makes a joke about someone's body in a sexual way."

"I would speak out if someone blames a victim for being raped."

"A person who is raped while drunk is at least somewhat responsible for what happened."

"If both the victim and the perpetrator are drunk, it can't be rape."

"It is necessary to intervene even if I witness behavior I don't think is dangerous, such as catcalling on the street."
Before the required training even began, the website explains how the module was designed to limit gendered pronouns, and asks students to forgive them if they failed to follow their limitations of he/him and she/her.
"He and She and Everything in Between and all Around – We have tried our best to limit the use of gendered pronouns but you may still encounter a few places where we failed. We hope that you can forgive us and not let this distract you from the underlying message that it takes an entire community to uphold norms and promote bystander intervention. This is not a 'he' vs. 'she' discussion… It is an 'us' discussion."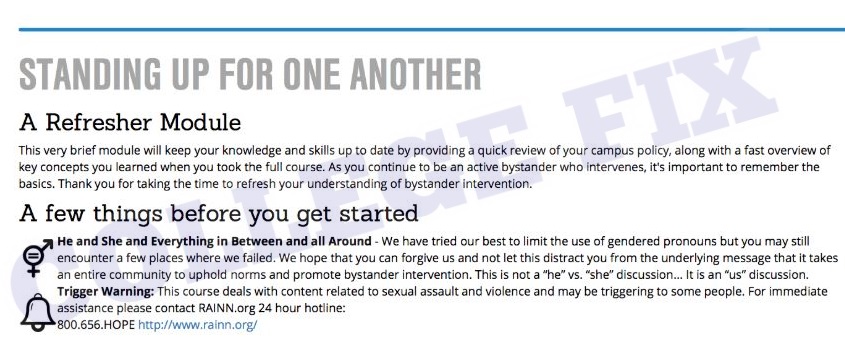 Directly under this apology, the website offers a full trigger warning to students before starting the course.
"Trigger Warning: This course deals with content related to sexual assault and violence and may be triggering to some people. For immediate assistance please contact RAINN.org 24 hour hotline," the website states.
Additional videos in the training show two women talking, with one mentioning that she thought of possibly stopping by her recent ex-boyfriend's house to see what things were like. The other woman shunned her for this, immediately calling it stalking and that she should never do something like that.
Another video had a woman talking directly to the camera stating: "Not all perpetrators are men, and not all victims are women."
After the course ended, there was a list of resources for sexual assault, nearly all directed specifically at women and LGBT students.
Students must complete the training module on sexual assault education, and if they refuse, will have a hold placed on their student account.
MORE — Title IX training: When rape accusers lie, it means they're telling the truth
Like The College Fix on Facebook / Follow us on Twitter