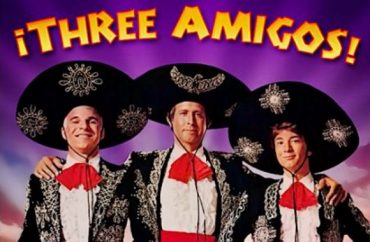 Ah, the 1980s. A simpler time, when three comedic icons could star in a movie together and not have to worry about an angry mob upset because their feelings were hurt.
Iowa State University's athletics department sort of apologized for a recent tweet from its football office wishing students a happy Cinco de Mayo. Apparently a handful of students with too much time on their hands were angry over the image the tweet included – a ¡Three Amigos!-inspired photo with some of its football stars in place of Chevy Chase, Steve Martin and Martin Short.
"Our department issued a tweet today that was culturally insensitive. By no means did we intend to offend anyone. Thanks for understanding," tweeted out Jamie Pollard, director of athletics at Iowa State.
"The tweet had been removed as of late Thursday night," reports the Des Moines Register. "New football coach Matt Campbell has aggressively reached out to fans on social media, especially via Twitter, with a variety of hashtags and images."
Some Cyclones fans, however, were perplexed as to why anyone would be offended by the image.
People actually got offended by this tweet? Like how? pic.twitter.com/ssjvfQWFnB

— Barstool Iowa State (@BarstoolIowaSt) May 6, 2016
Here's to cultural appropriation!
RELATED: I'm guilty of cultural appropriation at least three times a week — and I love it
Like The College Fix on Facebook / Follow us on Twitter