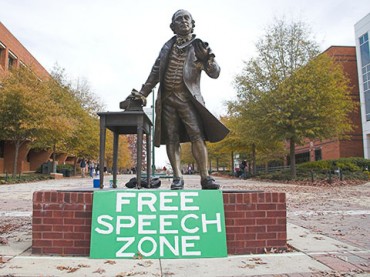 Iowa State University's student government considered a bill that would create a new free-speech zone on campus. They ended up gutting it unanimously, and then claimed they were "advocating" free speech.
Iowa State Daily reports on the curious debate and vote on the bill, which would have created "another zone" for ISU members to express themselves without restrictions, provided it wasn't "within 100 feet of a campus building" or impeded "foot traffic."
The administration sent its its top lawyer to speak before debate, asking student leaders what they want:
"If we're trying to protect people from what they call 'offensive speech,' that is concerning to me," [ISU counsel Paul] Tanaka said. "We are trying to foster interaction and this town square culture. It's concerning when we try to shut that out."

He spoke to the senators about the First Amendment, and how Iowa State encourages the freedom of speech on campus. …

Tanaka said the university, in this marketplace of ideas, is trying to foster interactions on tough issues.

"We have an obligation to try to foster those dialogues, even if it makes people uncomfortable," he said.
One of the bill's sponsors offered an amendment following debate that would scrap the new speech zone and "encourage the administration to create more clear and concise language on university policies." Sponsor Cole Staudt claimed: "We will be expanding free speech by clarifying the free-speech zones."
It's hard to see how the approved amendment is not an attempt to undermine free speech, the Foundation for Individual Rights in Education said.
Though free speech zones are "blatantly unconstitutional," wrote Catherine Sevcenko, FIRE associate director of litigation,
from a practical point of view, multiple large free speech zones are better than a single tiny area. So introducing a bill in the ISU student senate increasing the area of campus where the right to free expression is acknowledged was a step in the right direction. …

It is a new low for a student government to vote against instituting a new free speech zone because it makes the campus too open for speech, choosing instead to limit the expressive rights of the students it is supposed to represent.
It's not obvious "what a commitment to 'advocate' for free speech rights means," Sevcenko concluded: "As long as the Constitution remains the supreme law of the land, the right of free speech is a given."
The bill's primary author, Robert Dunn, wrote a letter to the editor days before the amended bill passed, apologizing for "being cowardly and throwing in the towel" by tabling his own bill during its original debate.
Dunn wrote that he drafted the bill with help from the University Affairs Committee and constitutional lawyer David French among others, but "the culture of hyper sensitivity and political correctness" at ISU intimidated him:
Until we say enough to safe spaces, trigger warnings and microaggression culture, among other forms of censorship of speech on our campuses, compromises like these are in order.

Unfortunately, many of my Student Government colleagues are willfully and arrogantly dismissive of students who express desires to be treated like adults and have the same rights they take for granted off campus.
Though he promised to "fight this time instead of throwing in the towel," Dunn lost to his timid colleagues.
Read the article, FIRE's take and Dunn's letter.
Like The College Fix on Facebook / Follow us on Twitter
IMAGE: dcJohn/Flickr
Like The College Fix on Facebook / Follow us on Twitter