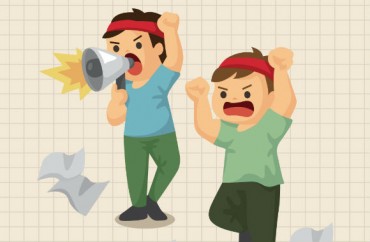 College students from across Iowa crashed the state Board of Regents meeting last Wednesday to demand a tuition freeze and complain about campus racism.
Members of the student group Iowa Student Action held signs stating "Student Power" and "Free College" while shouting "Whose schools? Our schools" and "Education is a right, not just for the rich and white," according to a report in The Daily Iowan.
ISA's antics eventually shut down the meeting as regents "were unable to discuss the items on their docket."
In early December, ISA sent a letter to the Board of Regents which claimed its tuition plan would negatively affect minorities. "Some" University of Iowa students, according to The DI, say the school is "underfunding" campus organizations that "benefit minorities and first-generation students."
At last week's regents meeting, an unidentified Iowa State University student alleged the political climate in the country has "promulgated an atmosphere promoting racism" on campus, and that ISU officials "haven't done enough" about it.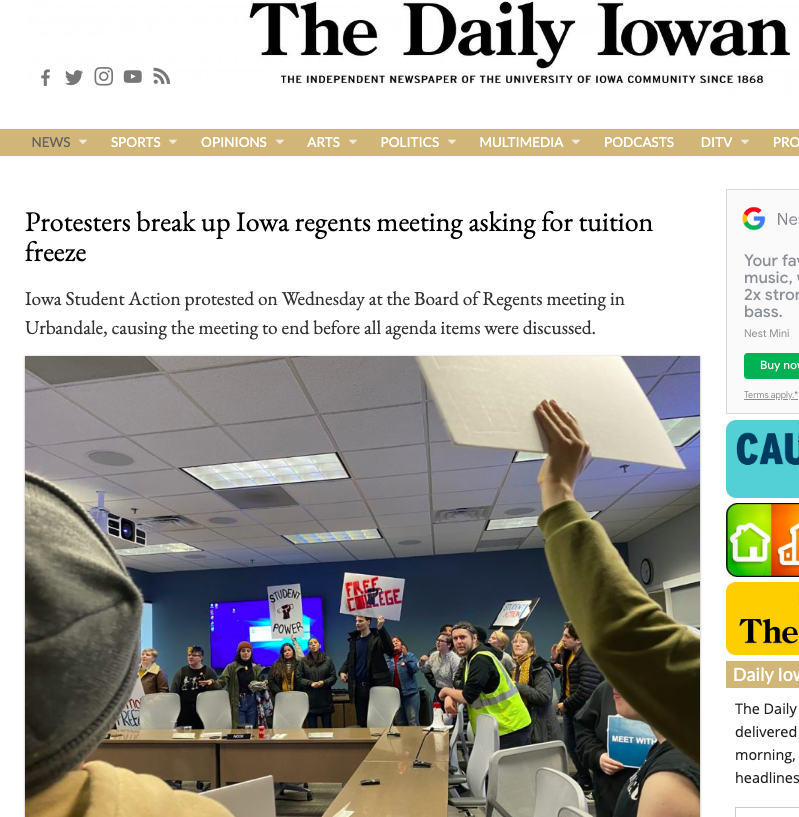 UI College of Education student Dulce Escorcia became emotional during the protest, stating college is about learning, but higher education isn't. Escorcia said race plays a significant role inside and out of classrooms.

"With high tuition, you [the board] have created a culture across campuses that prioritizes white and wealthy students," they said. "Low-income students and students of color are seen as lacking resources and lacking knowledge. It is surprising and impressive when students do well in class alongside white students. There are questions about if we are meant to be here at your institutions. Similarly, students question if professors of color can participate in academia."

Escorcia, a Latinx student, said racist experiences were plentiful to them and other minority students on the UI campus.

"In my freshman year at Iowa, I had already heard about racist acts at the university," they said. "I saw Nazi graffiti [on campus]… There are white supremacists on campus and you all don't care."
Escorcia, to whom The Daily Iowan had to apologize for getting "their" pronouns wrong in its initial report ("The DI apologizes for this error and the harm it caused Escorcia, and any transgender or gender nonbinary individuals in the community"), also referenced an incident from last year in which students from Young Americans for Freedom put up a banner calling on the Trump administration to "Build the Wall."
"The university administration allowed space on campus for white supremacists," Escorcia said.
MORE: U. Iowa student rally asks: 'Does the university love us?'
MORE: At U. Iowa, no student's gender will simply be assumed
IMAGE: notkoo / Shutterstock.com, Daily Iowan screencap
Like The College Fix on Facebook / Follow us on Twitter