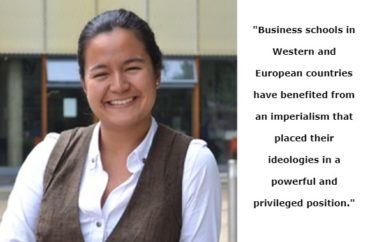 Western countries 'benefited from an imperialism that placed their ideologies in a powerful and privileged position'
Universities should "decolonize" their business school curriculum, according to a senior administrator and professor at King's College in London.
"Business schools in Western and European countries have benefited from an imperialism that placed their ideologies in a powerful and privileged position," Professor Sally Everett wrote in an op-ed published by the Association to Advance Collegiate Schools of Business, a higher education accreditor.
"As more business schools strive to become diverse and inclusive, they should consider the very sources of knowledge they teach in their classrooms," Everett wrote.
The College Fix reached out to Everett for further comment but she has not responded in the past weeks.
Everett argued three main points. First, she wrote that European and Western business schools have benefited from imperialism. Second, Everett said business schools "must incorporate the knowledge and educational approaches of scholars from different philosophical and cultural backgrounds" to "decolonize" their curriculum. Third, she said that taking these actions will positively affect the discipline by making it stronger.
"Today, business schools around the world seek to become more inclusive and diverse," she wrote. "Some of us want to go even further—to address racial injustices, dismantle global power structures, and decolonize the typical business school curriculum."
In order to seriously decolonize what she sees as a curriculum based on colonization, Everett said business schools must do four things – "Question and expand [their] sources of knowledge," "design and teach courses in an inclusive manner," "engage a diverse range of internal and external stakeholders," and "hold a collective conversation with […] colleagues about decolonization."
MORE: Cornell professors demand university 'decolonize' curricula across the board
"If we each reflect on our own privilege and positionality, we can lay the foundation of an honest dialogue," she wrote.
Additionally, Everett advocated for affirmative action, writing that "people who are Black, Asian, and from marginalized ethnic populations [should be] sufficiently represented as students and teachers."
A business professor at Drexel University criticized Everett's opinion piece in an email to The Fix.
"It was only a matter of time before the parochial racialist theories of education schools made their way to the business school," Professor Stanley Ridgley wrote.
"Ms. Everett's call for 'decolonizing' the business school curriculum is a shopworn trope borrowed from schools of education, most of which were captured by neo-Marxist 'critical theory' long ago," he said.
"Business schools and the curriculum aren't 'colonized' to begin with," he told The Fix.
Conservative political commentator Chris Rufo also criticized Everett.
"The accreditor for 900 university business schools is now arguing for 'decolonizing the business school curriculum,'" he wrote on Twitter. "The organization wants universities to critique 'geo-colonial capitalist formations' and denounce corporations for oppressing the Third World."
While the AACSB noted that the op-ed did not necessarily reflect its own views, the accreditor does officially support "diversity, equity, inclusion, and belonging" which it says it has "embedded" in its accreditation standards.
"The principles of diversity and inclusion are embedded throughout AACSB's 2020 business accreditation standards and aim to ensure that schools will create a welcoming environment where faculty and learners feel they belong and can thrive," a 2021 position paper from the organization stated.
MORE: Former UCSD professor gave no homework to 'decolonize' classroom
IMAGE: The Conversation
Like The College Fix on Facebook / Follow us on Twitter