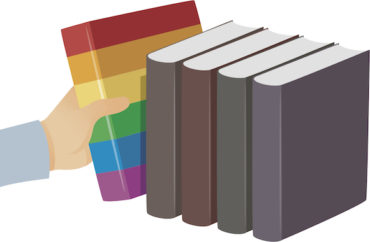 'If you can think of a particular kink or interest, it is covered in these novels'
A prestigious Ivy League university curates a large collection of gay pulp fiction from the 20th century, with the compendium reportedly one of the most substantial collections of homosexual erotica at any library.
Brown University's John Hay Library houses the collection, which is home to more than 4600 titles of gay fiction dating back to the 1930s. The titles of the books range from the innocuous to the salacious: The Club, Country Studs, Backdoor Boys, Arab Slave Boys, Banged and Blown Behind Bars.
Many of the books appear to feature incestuous arrangements: Fathers, Sons and Lovers; Father and Sons; and four books, each from different years, titled Like Father, Like Son.
The collection dates from a relatively recent period in America in which homosexual behavior was criminalized in many localities. Many of the books in the collection were written by authors using pseudonyms to avoid prosecution.
Heather Cole, Brown's librarian for literary and popular culture collections, did not respond to numerous email queries from The College Fix seeking comment on the collection. The university's LGBTQ Center also did not respond to queries.
Cole did tell local radio station WBUR that, in the years prior to the Internet and when homosexual activity was often criminalized, the pulp novels were "a way that [gay men] could kind of explore their interests, which is a pretty tame way of saying it."
"If you can think of a particular kink or interest, it is covered in these novels," Cole told the station.
According to the collection's website, the archive was established with a purchase of books in 1997 and was supplemented by the donation of American male pornographic performer Scott O'Hara, as well as a collector, James Jackson.
"These materials are primary gay men's pulp fiction although we are beginning to add lesbian titles as well," the website states, noting that the collection is housed off-site. The term "pulp fiction" is derived from the cheap pulp paper used to produce the novels.
The collection's website also presents a significant list of "desiderata," or books that the collection's curators are actively looking to add to the archives. Among those titles are works such as "Juvie Hall Hunk," "Cellblock Beefcake" and "Twin Brothers in Love."
Brown University's collection is one of several gay pulp fiction collections around the nation. Universities such as New York University and Duke University have similar collections of gay pulp from the 20th century.
MORE: University hosts gay porn star for sexual liberation speech
IMAGE: Lorelyn Medina / Shutterstock.com
Like The College Fix on Facebook / Follow us on Twitter