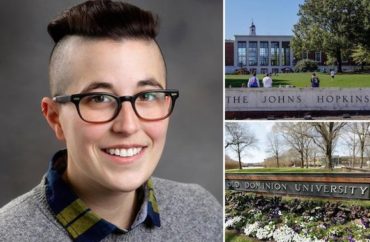 Johns Hopkins University has hired a transgender academic who had said they (the academic uses plural pronouns) want to "destigmatize" pedophilia.
Allyn Walker said last November they preferred to use the term "minor-attracted person," or MAP, in place of "pedophile" so as to "lessen the stigma."
Walker also has a book out titled "A Long, Dark Shadow: Minor Attracted People and Their Pursuit Of Dignity" which "challenges widespread assumptions" that so-called MAPs are "predators" and "sex offenders."
According to the Daily Mail, Walker also stirred up controversy by saying "people can be attracted to children without acting on that impulse," and that since pedophiles don't choose to be as they are their condition shouldn't be dubbed "immoral."
More than 15,000 people had signed a petition calling on Walker's now-former employer, Old Dominion University, to terminate their employment. Old Dominion initially backed Walker during the controversy, but eventually put them on administrative leave. Walker ended up agreeing to resign in May of 2022.
Walker's new position will be a postdoctoral fellowship at the Johns Hopkins' Moore Center for Prevention of Child Sexual Abuse," the Mail notes. The center said on Thursday it is "excited" to have Walker on board beginning May 25.
MORE: Academic freedom groups defend 'Socratic gadfly' who supported pedophilia
According to its website, the Moore Center is a "research center that creates, through rigorous science, a public health approach to preventing child sexual abuse."
In a joint statement with Old Dominion announcing their resignation – which only took effect this month, at the end of the school year – Walker claimed that she [sic] was a victim of a smear campaign by the media and online observers because they were transgender.

Walker also asserted that the research in their book that attempted to destigmatize pedophilia had been 'mischaracterized', adding claims that threats had been made against them and 'the campus community generally'.

'My scholarship aims to prevent child sexual abuse,' Walker said. 'That research was mischaracterized by some in the media and online, partly on the basis of my trans identity.

'As a result, multiple threats were made against me and the campus community generally.'
Johns Hopkins' hiring of Walker didn't come without a reaction. Many on social media asked "how a center that's supposedly scientifically designed to combat pedophilia could hire someone with such views." One Australian professor wondered on Twitter:
To retain its ethical foundation, child sexual abuse prevention work has to be victim-centred.

What is victim-centric about the claim that there is nothing wrong with being sexually attracted to children? https://t.co/YrVFZ1qLsO

— Michael Salter (@mike_salter) May 12, 2022
MORE: Cambridge Conference: Pedophilia Is 'Natural and Normal'
IMAGE: New York Post / Twitter screencap
Like The College Fix on Facebook / Follow us on Twitter