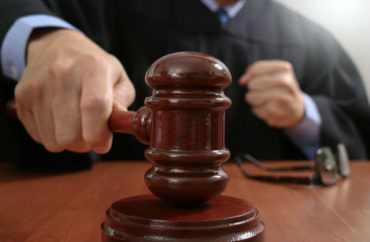 Violated guidelines by American Association of University Professors
Philadelphia's University of the Arts can't get out of a Title IX lawsuit by a tenured professor it fired without a hearing after a contentious Title IX investigation.
U.S. District Judge Mark Kearney allowed the lawsuit by Harris Fogel to proceed to discovery "on his civil rights claim against the university."
The university punished Fogel for kissing a colleague from another university at a 2016 conference in Las Vegas, and for accidentally handing his hotel key card to an "aspiring female photographer" at a different conference weeks later in Houston.
The judge found that the photography professor had adequately pleaded that Title IX Coordinator Lexi Morrison wrongly found him responsible for sexual harassment and treated him differently because of his sex, including when he accused his female supervisor of sexual harassment.
That supervisor, Anne Massoni, also allegedly showed anti-male bias against Fogel and other males and encouraged one of his accusers to file a formal complaint.
"An investigation into sexual harassment must apply uniform standards regardless of the complainant's and accused's sex," Kearney wrote.
MORE: Judge approves anti-male bias lawsuit against U. Colorado
The professor's defamation and invasion of privacy claims against one of his accusers is also going forward under Kearney's ruling last month. He'll get discovery on those as well.
The American Association of University Professors' guidelines require a university to dismiss a faculty member only after "a hearing that accords with our procedural standards," an official told The College Fix.
"As far as we know, that did not occur here" with Fogel, Hans-Joerg Tiede, associate secretary in its Department of Academic Freedom, Tenure, and Governance, wrote in an email.
While AAUP can't comment "directly" on the situation, it "routinely" lodges protests with administrators when faculty members contact the group to report they were dismissed without a hearing, Tiede wrote. The Foundation for Individual Rights in Education declined to comment on Fogel's case.
No investigation of female supervisor for unwanted physical contact
According to Fogel's allegations, which Kearney must take as true at this stage, University of the Pacific Prof. Jennifer Little waited 21 months to file a complaint against Fogel (left) with his university after the Las Vegas conference kiss.
She said she waited so long to report the kiss because she "tolerated" it "in exchange for [Fogel's] support and professional advice," Fogel claimed.
Little also falsely claimed Fogel had sexually assaulted and harassed her when she talked to Fogel's University of the Arts colleague David Graham and a group of women at the Houston conference, he said.
A day after Little's complaint to Morrison, the Title IX coordinator, the other accuser filed a complaint as well.
Anne-Laurie Autin knew that Fogel had given her his hotel room key card by accident, when he sought to give her a business card, and initially thought it was "joke," according to Fogel. She changed her mind after Little told her about the kissing incident.
MORE: In reversal, judge says OSU officials can be sued for anti-male bias
Fogel's lawsuit claimed that he and Autin shared a laugh about the hotel key card incident, Inside Higher Ed reported. He also said he considered Little a friend, and that kisses on the cheek are a common way he greets his friends and close associates.
When the University of the Arts opened an investigation into these two complaints, Fogel brought up a previous incident.
He claimed that Massoni, his supervisor, had given him an unwanted hug and kiss at a New Orleans conference in 2015, and asked Morrison how "conduct could be deemed acceptable (when done by a female) but sexual assault when done by a male," according to Judge Kearney's summary.
Morrison did not give him a "meaningful response" or open an investigation against the supervisor.
Didn't interview witnesses or provide even 'redacted' report
The Title IX coordinator believed Little's story about the kiss even though the only person to corroborate it was Autin, who heard about it secondhand from Little (right), according to Fogel.
She accepted "unsubstantiated" and "extremely prejudicial allegations" against him by Little, including that he exhibits "typical male verbal flirting behavior" and "has difficulty working with a woman in a position of authority over him."
Neither Fogel's colleague Graham nor another professor, Jennifer Colton of Washington University in St. Louis, recalled Little's kiss story despite Little insisting she told them about it.
Morrison was not interested in interviewing witnesses who could undermine Little, including the "entire group of women" at the Houston conference, according to Fogel. She also refused to interview witnesses provided by Fogel, including conference representative Marta Sanchez Philippe.
Fogel claimed that Autin told Philippe that "it was possible" his remark about the hotel key card "was a 'joke' and that his intent was not malicious."
The investigation was tilted from the start, the professor claimed. Beyond its refusal to interview exculpatory witnesses and follow up on leads favorable to Fogel, the university didn't give Fogel "the date, time, and location of the incidents alleged."
MORE: Judge approves subpoena for Obama records on anti-male bias
Morrison (left) didn't give Fogel a copy of her investigative report, even a "redacted copy to protect witnesses' identities," as Fogel's lawyer suggested. She didn't let him respond in writing to her report or provide a hearing so he could present witnesses. The Title IX investigator also ignored a law firm's investigation of Autin's complaint, which found "insufficient evidence," he said.
Kearney's summary mentions Morrison's use of a low evidence standard known as preponderance, but doesn't explain its relevance.
Fogel apparently insists she should have used a higher evidence standard known as clear and convincing, but the ruling doesn't specify whether the University of the Arts requires either evidence standard in proceedings against faculty. Under the proposed Title IX regulation by Education Secretary Betsy DeVos*, universities would be required to use the same evidence standard in sexual misconduct proceedings  for both accused students and faculty.
Mark Campbell, Fogel's dean, had also expressed his disdain for the professor on multiple occasions, saying that he was "difficult to supervise," "not sufficiently collegial" and "obstructionist," according to Fogel. It was Campbell who signed off on Morrison's report and fired Fogel.
Truth defense hasn't been established on 'forced, non-consensual kiss'
Judge Kearney faulted the university right off the bat for misunderstanding Fogel's Title IX claim. The administration argued that he was making a due process claim, "a theory not in the case," the judge wrote.
In order to evaluate Fogel's "erroneous outcome" theory of Title IX, a subject that Kearney's court of appeals has not addressed, the judge looked to other appeals and district courts that have "carefully outlined" the nature of the claim.
He must allege he was "innocent and wrongfully found to have committed an offense," by alleging particular facts that cast "articulable doubt" on the university's finding against him. Those circumstances must also suggest that "gender bias was a motivating factor," such as through "patterns of decision-making."
The university's lawyer already "conceded" at oral argument that Fogel's claims about the university's failure to investigate his supervisor for sexual harassment "may give rise to a claim subject to discovery," Kearney wrote.
He cited a ruling in a similar lawsuit by an accused student against the University of Pennsylvania, where a judge found that allegations of "biased training materials and other pro-complainant bias" met the pleading threshold for an erroneous-outcome claim.
Kearney rejected the university's claim that Title IX doesn't apply to Fogel's claims, granting him discovery on that point.
MORE: Judge approves anti-male bias lawsuit – in the hearing itself
The judge said Fogel had adequately cast doubt on his guilt, citing Fogel's claim that his supervisor, Massoni (right), likely provided some of the wording that Little used in her complaint.
Since she didn't work with him at the University of the Arts, Little had no way of knowing that he "has difficulty working with a woman in a position of authority over him," as she claimed.
Massoni showed bias against men by "regularly" criticizing them more harshly than female colleagues, and by telling students and colleagues about her "difficulties in dealing with males in personal relationships," according to Fogel.
Though the judge doesn't see how Massoni's "personal gender bias" worked against Fogel in his proceeding, Kearney said Morrison's refusal to investigate his sexual harassment claim against Massoni was enough to sustain Fogel's claim.
While Fogel can't argue defamation against Little (left) for her "absolutely privileged" statements to Morrison that launched the proceeding against him, he can continue suing her for Little's "pre-investigation statements to third-party conference attendees," Kearney wrote.
She has not proven that Fogel gave her a "forced, non-consensual kiss" as she told others, the judge said, but he allowed Little to "develop the truth defense through discovery" against Fogel's defamation claim.
The fact that Fogel hasn't claimed damages from Little's alleged lies about him doesn't mean his reputation hasn't been harmed, Kearney said. Fogel is allowed to show that Little's statements constitute defamation on their face because they imputed "serious sexual misconduct" or a "criminal offense" to him, the judge said.
MORE: Newly promoted Title IX official gone after appeals court rebukes university
IMAGES: everything possible/Shutterstock, Harris Fogel, University of the Pacific, University of the Arts
Like The College Fix on Facebook / Follow us on Twitter