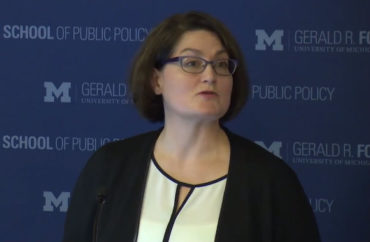 Headed to less prestigious campus with no explanation
Pamela Heatlie's tenure as Title IX coordinator at the University of Michigan was marked by controversy, as Michigan Daily notes.
The public university got sued owing to decisions she helped make in sexual-misconduct cases. Just last month a federal appeals court ordered the university to give accused students a live hearing where they or their "agent" can cross-examine accusers.
The 6th U.S. Circuit Court of Appeals issued a similar ruling a year earlier against the University of Cincinnati, but UMich kept using the same procedures the 6th Circuit ruled out.
UMich maintained confidence in Heatlie the whole time, promoting the longtime Office for Institutional Equity employee 18 months ago. After a "national search," she was named associate vice provost for academic and faculty affairs, senior director for institutional equity and Title IX coordinator.
Now she's gone with no official recognition by the university she served for 13 years.
The Daily reports that it learned Heatlie had departed when its inquiry into a sexual-misconduct proceeding was directed to her replacement, Jeffery Frumkin, who led the office on an interim basis before Heatlie was promoted.
The only announcement of her departure was made to human resources staff, according to an email that spokesperson Rick Fitzgerald gave the Daily.
MORE: UMich claims due process hurts poor students
Heatlie is heading to the equivalent office at the University of Michigan's Dearborn campus. That would seem to be a demotion from serving in the same role at the system's Ann Arbor flagship, particularly so soon after her promotion. The Dearborn campus also has not highlighted her arrival.
Fitzgerald did not immediately answer a College Fix query about why Heatlie departed; why the university didn't publicly announce her departure after publicly touting her promotion; the relevance of last month's 6th Circuit ruling to her departure; and whether her move to a less prestigious campus can be reasonably considered a demotion.
Heatlie was also named a defendant in a later lawsuit targeting UMich for depriving an accused male student of any form of hearing and withholding his degree indefinitely. She had imposed a no-contact order without any evidence that the accused male was bothering his accuser, who repeatedly sent him unsolicited messages.
The lawsuit called the university's practice of only allowing hearings and cross-examination in non-sexual disciplinary proceedings a "separate and unequal policy" that flatly violated last year's 6th Circuit ruling.
UMich still has not changed the sexual misconduct policy that the 6th Circuit invalidated, according to its web page.
MORE: UMich withholds degree, transcript with no hearing
After blistering setbacks before CA6 & the district court due to unfair TIX procedures, @UMich (quietly) announces it has a new TIX coordinator. UM website (https://t.co/mF33JsH198) still lists unconst'l policy in place.https://t.co/paQMursVD8 pic.twitter.com/3CHThj9QQm

— KC Johnson (@kcjohnson9) October 23, 2018
The U.S. Department of Education also faulted Heatlie for closing an investigation into allegations of anti-male bias in academic programs without providing a "rationale" or appellate procedures. The university was apparently unaware that it's required to do this even in cases that don't concern sexual misconduct.
Heatlie did not appear to be popular with advocates who favor accusers, either. A lecturer accused Heatlie of breaching confidentiality by telling her department that she had visited Heatlie's office to complain about the department's "hostile racial climate."
She drew scrutiny years earlier at the University of Vermont for her oversight of an investigation into "severe hazing" on the hockey team. The state attorney general said she "could have asked to do more."
MORE: Heatlie refuted by Department of Education for anti-male bias dismissal
IMAGE: Ford School/YouTube
Like The College Fix on Facebook / Follow us on Twitter