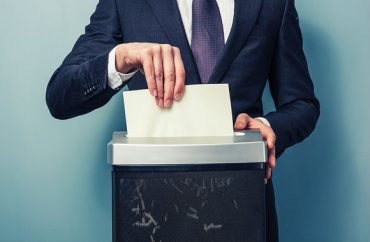 One definition of 'intimate partner violence' for him, another for her
Universities that are mulling whether to destroy evidence in Title IX investigations got an answer last week: Don't.
U.S. District Judge Janet Arterton refused to dismiss a host of claims against Quinnipiac University – including "reckless and wanton misconduct" by university officials – by a student it found responsible for intimate partner violence. The case will now go before a jury.
It's a cautionary tale for colleges that take their investigations too casually or cut corners for whatever reason, whether bias against a male student, sympathy for a female student or simple negligence.
Arterton also found breach-of-contract and gender-bias claims plausible in the private university's treatment of "John Doe," who was accused by his ex-girlfriend and another female student.
The breadth of the judge's ruling was surprising: She approved federal claims on two theories of Title IX liability as well as all 29 alleged breaches of contract under Connecticut law.
Quinnipiac's treatment of the parties was starkly different, John alleged. Both he and his ex claimed that the other harassed them, but the university only investigated her claims. Arterton also cited Quinnipiac's differing definitions of "intimate partner violence" for each party as a reason for letting a jury hear the case.
The judge didn't spare the university harsh language, saying it "nonsensically" asserted that John could not prove its conduct was deliberate, wanton or reckless. The jury will decide that, Arterton wrote.
She was also critical of the committee that found John responsible, noting it "produced a findings letter of merely two pages" based on a record of several hundred pages.
The decision may come to haunt a Title IX official who left the university a year after John sued.
Seann Kalagher, a veteran of student-conduct administration at multiple colleges, joined nearby Manhattanville College as Title IX coordinator a year ago. He's also president of the Association for Student Conduct Administration.
In the nearly 300 court decisions since the Obama administration released its "Dear Colleague" letter on campus sexual assault, this is the first to send a "reckless and wanton misconduct" claim to trial, according to Brooklyn College Prof. K.C. Johnson, who closely tracks Title IX litigation.
More than half of those have involved a "setback" for a sued college, he said.
Quinnipiac isn't talking about the rebuke from Arterton. "The university does not comment on ongoing legal matters," John Morgan, associate vice president for public relations, wrote in an email to The College Fix.
MORE: Lawyers advise colleges to destroy their emails before students sue
In a first for the nearly 300 decisions in acc'd students' post-DCL lawsuits, judge allows a claim for "reckless and wanton misconduct" to proceed to trial. Ridicules QU's "nonsensical[]" efforts (!!) to counter acc'd student's brief. pic.twitter.com/nukmml0xbK

— KC Johnson (@kcjohnson9) July 10, 2019
Title IX official gave 'lenient discipline' to student who assaulted him again
Courts have offered several theories of liability in response to Title IX lawsuits by accused students.
The 7th U.S. Circuit Court of Appeals recently declined to choose any of those "doctrinal tests," asking simply if claims against Purdue University "raise a plausible inference" that it discriminated against a male "on the basis of sex." (They did.)
But Arterton cited two tests in her ruling that sends the case to trial: "erroneous outcome," meaning the university's bias led to the wrong finding, and "selective enforcement," meaning it treated a male differently than a female in response to similar accusations.
John's lawsuit against Quinnipiac named officials as individual defendants as well: Title IX Coordinator Terri Johnson, also associate vice president for operations; Kalagher, who was her deputy at the time; and Vincent Contrucci, director of the Office of Community Service.
John dated two women relevant to his lawsuit. "Jane Roe" reported him to the university in June 2016 after a 17-month relationship, claiming "she was accidentally struck" in their breakup argument, according to Arterton's summary of John's claims. He said he was "attempting to grab her purse to throw it out of his apartment."
Jane claimed their relationship fluctuated between "periods of affection" and "highly aggressive behavior and verbal abuse," saying he had been "physically violent" that December. A woman who dated John for five months prior, "Jane Roe 2," claimed that she had tried to "warn" Jane about him. (The ruling doesn't specify the relationship between the Roes.)
Contrucci and Audrey Heins, another investigator at the time, interviewed Jane twice and had a "findings meetings" with her in mid-October.  They opened an "administrative complaint" on behalf of Jane 2 after interviewing her. The investigators met with John six times and interviewed 18 other witnesses.
Jane's friends harassed him "indirectly" throughout this monthslong process, violating the confidentiality of the investigation and the no-contact order issued to her, John claimed. Neither accuser was "afraid of or intimidated or controlled by" him, he said.
Despite John's proffered evidence that both accusers were violating Title IX, the investigators did not open an investigation or an administrative complaint against either, he said. Contrucci testified that "we looked into it, but we could not find any instance where we were able to corroborate whether or not that had actually happened."
The investigators concluded in January that John may have violated Quinnipiac's Title IX policy and student code of conduct, citing intimate-partner violence, assault, breach of peace, disturbing the peace and property damage. They offered John a one-year suspension in lieu of appealing the findings.
When John accepted responsibility for breaking a glass door but submitted 20 pages denying responsibility for the other charges, Contrucci refused to amend the investigative report.
In February, John's lawyer wrote to Johnson to claim that her deputy Kalagher (below) had a "history of treating [John] unfairly" and had biased the investigation.
MORE: Title IX bureaucrat accuses fellow Title IX bureaucrat of sexual assault
For example, Kalagher meted out "lenient discipline" to a student who assaulted John, and that student subsequently assaulted John again. Johnson refused to remove him from the investigation.
John sought a temporary restraining order against Quinnipiac the day before his scheduled hearing in March, which as a result was moved to April 21. It was denied.
His punishment was unusually light given the findings against him: a deferred suspension through graduation, banned from campus except to attend classes, and prior permission to attend university-sponsored events.
The no-contact order – which John accused Jane of violating – also remained in effect. He wasn't allowed to walk at his business graduation to "prevent proximity" between him and Jane.
John filed an appeal in May, citing evidence he didn't have prior to the April hearing and Quinnipiac's violation of its Title IX policy. Contrucci acknowledged having made several mistakes, including that he wrongly told the Title IX Grievance Committee that "Doe failed to corroborate having sent a cease and desist letter" to Jane.
The university denied his own claims against the Roes – in the case of Jane 2, because she was "no longer a student."
John said in February that Jane's friends had harassed him, and in April that she walked by him in a restaurant and said "I fucking hate you," violating the no-contact order. Investigators told him in May that under Quinnipiac's preponderance-of-evidence standard, Jane was not responsible for sexual harassment, intimate partner violence or stalking.
Attorney and police officer 'should have known not to destroy evidence'
Judge Arterton had harsh words for Quinnipiac officials in their alleged handling of evidence in the case.
The claims met the three qualifications for "adverse inference in spoliation," or destruction of evidence: "the party who destroyed the evidence was under a duty to preserve it," it happened with a "culpable state of mind," and "a reasonable jury might find that the evidence was relevant to the affected party's claim or defense."
Kalagher "shredded all notes" that were taken during the first investigation, in response to Jane's report. Another investigator, Clery Compliance Officer Karoline Keith, destroyed all those from the second investigation for John's appeal. These are "at the core of all Doe's claims," Arterton wrote: Both officials "should have known not to destroy evidence," since Kalagher is an attorney and Keith is a former state trooper.
Despite getting a law degree from Cornell, Kalagher does not appear to have used it. When he joined Manhattanville College last year, it noted he went straight from law school into a master's program for education and worked in student conduct offices at multiple colleges.
Manhattanville told The Fix it couldn't answer questions about Kalagher until later this week. The Association for Student Conduct Administration, where Kalagher is president, did not respond to an email Wednesday seeking comment on Kalagher's practices in the investigation.
Kalagher claimed that the destruction of handwritten notes was a "matter of general practice." He would be given paper materials to shred so there wouldn't be "extra copies of the case materials hanging around." Keith (below), the other investigator, said that notes were destroyed after handwritten notes were typed.
MORE: Appeals court says Christian college hid evidence from accused rapist
The handwritten notes were apparently not fully incorporated into the final report. Members of the hearing – then-Director of Student Conduct Megan Buda, then-Dean of Students Courtney McKenna, and Stefano Fasulo, associate director of graduate student affairs – testified there was a far greater quantity of handwritten notes given to them.
While Kalagher didn't say whether notes were taken at the hearing itself, hearing chair Buda (below) testified that she was "sure someone" had taken notes. (John also tried unsuccessfully to get Buda removed from the hearing. She recently took a new job with the University of Connecticut.)
Arterton grumbled that she couldn't access the handwritten originals for a neutral transcription and had no way of knowing whether there were more notes than mentioned in the record.
The university claimed its spoliation was not "intentional" and that John failed to make a "stand-alone spoliation" claim. Arterton was not convinced: Quinnipiac offered "no justification" for destroying evidence that "relates directly" to claims of an unfair investigatory process.
The Title IX Grievance Committee turned in sloppy work, the judge continued. The record is "notably devoid of written materials" that show its "reasoning process in reaching the findings" against John. Arterton said the committee's two-page findings letter contrasted with the hundreds of pages in the investigation report and John's notes.
She stalked him but investigators didn't believe he was afraid
Arterton also approved John's Title IX complaints under erroneous-outcome and selective-enforcement theories. The judge compared the case to the 2nd U.S. Circuit Court of Appeals' ruling against Columbia University in 2016, which also involved a student conduct official whose notes were questioned.
John pointed to data he obtained in discovery as evidence of sex discrimination: 38 Title IX complaints were brought by females against men compared to four by men against women, with 19 men found responsible compared to one woman.
Quinnipiac treated John's claims differently, he alleged. After Jane accused him, John tried to report her for harassment: She "repeatedly went back to [John's] apartment, refused to leave his car and his home, and followed him to his parents' house in Stamford."
Investigators applied "stereotypical gender roles" to each party's claims, supporting "an inference of gender discrimination," John said. They accepted Jane's claims that she feared John, but not his fear of her.
Quinnipiac investigated the allegations by both Roes but ignored John's reports of stalking and harassment. Atherton agreed with John that the university used an incorrect and more broad definition of "intimate partner violence" at his hearing, while using the more precise version at Jane's.
Quinnipiac's destruction of the adjudicators' notes was esp suspicious b/c acc'd student had already filed a federal lawsuit (he had unsuccessfully sought a TRO). University destroyed the notes anyway. pic.twitter.com/dBiflH4Xhd

— KC Johnson (@kcjohnson9) July 10, 2019
'No authority' to claim that guilty finding means it can't be challenged
John also filed nine claims under Connecticut common law, including a breach-of-contract claim that Arterton refers to as "the heart of the allegations under state law."
Quinnipiac tried to argue away the claim as "nothing more than an educational malpractice challenge" of its decision to find him responsible. But Arterton upheld it because it doesn't challenge any quality aspect of the university's education.
She cited the Connecticut Supreme Court's Gupta ruling, which allows courts to entertain a claim that the institution failed to fulfill a specific contractual promise "distinct from any overall obligation to offer a reasonable program."
The university also insisted that John himself had breached "any alleged contract he claims existed between him" and Quinnipiac, since it found him responsible. But Arterton said it offered "no authority for the proposition" that such findings preclude a challenge to the proceeding's fairness.
Quoting a ruling that went Quinnipiac's way, known as Burns, the judge wrote: "The basic legal relation between a student and a private university or college is contractual in nature."
Arterton's ruling notably allows John's 29 alleged areas of breach of contract to move to trial. She cited the destruction of interview notes, which may suggest Quinnipiac's decision was "tainted by gender bias."
Even John's claim on the "breach of the covenant of good faith and fair dealing" will move forward.
"In the absence of a non-conclusory explanation" by the university as to why a "reasonable factfinder" could not find bad faith from the alleged contractual breaches, Arterton denied summary judgment.
Quinnipiac: in case involving bad breakup (w/each student filing complaint against the other), we gave the female student fairer procedures than the male student b/c we believed the female student. Judge rejects the argument. pic.twitter.com/n2ITkd9RX3

— KC Johnson (@kcjohnson9) July 10, 2019
MORE: Appeals court reinstates anti-male bias lawsuit against Columbia
IMAGE: Lolostock/Shutterstock
Like The College Fix on Facebook / Follow us on Twitter