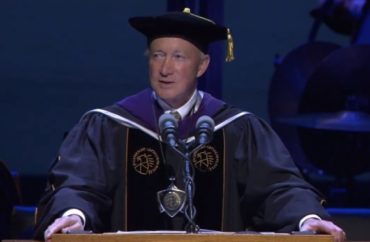 'Alcohol isn't the cause of campus sexual assault. Men are'
Purdue University didn't bother reviewing an investigative report before judging an accused student responsible for sexually assaulting another student. It didn't show him the report, either.
The public university didn't even require his accuser to submit written testimony for a hearing she skipped.
Adjudicators judged "Jane Roe" more credible without "John Doe" being able to question her motivations for accusing him, including possible retaliation for reporting her attempted suicide.
This was too much for the 7th U.S. Circuit Court of Appeals, but not because John has a "protected property interest" in his education that requires Purdue to provide minimal due process protections.
Rather, the "fundamentally unfair" proceeding by Purdue led the U.S. Navy to oust the accused student from its ROTC program, meaning he couldn't pursue a career in his chosen field. And John has a "protected liberty interest" in his career, the 7th Circuit ruled Friday. It remanded John's lawsuit to the trial court that had dismissed it.
The opinion by Judge Amy Coney Barrett is the second by a short-list candidate for the U.S. Supreme Court to mandate a certain level of due process in campus sexual assault proceedings.
Judge Amul Thapar wrote the 6th Circuit decision last fall that required public universities to let accused students or their "agents" cross-examine their accusers in live hearings.
The 7th Circuit's precedents forced it to take a different route to find fault with Purdue's procedures. Unlike some other appellate courts, it does not recognize a protected property interest in education.
"Do the alleged facts, if true, raise a plausible inference that the university discriminated against John 'on the basis of sex'?" Barrett wrote for the unanimous court, dismissing other appeals courts that have used "formal doctrinal tests to identify general bias in the context of university discipline."
The three judges agreed that John had met his threshold to sue under both the 14th Amendment and Title IX. In particular, they faulted Purdue office that shared an article on Facebook that blamed men as a group for sexual assault.
Purdue provided a statement Monday to The College Fix that said it "understand[s] and respect[s] the appellate court's decision, recognizing that it was bound by legal procedure to accept each of John Doe's allegations as true."
Spokesperson Tim Doty said the university "stands ready to now answer those allegations and looks forward to the opportunity to present its evidence."
MORE: 6th Circuit says Title IX trials should be more like 'My Cousin Vinny'
No factual basis for credibility finding
Jane is John's ex-girlfriend and a fellow ROTC cadet. They had consensual sex 15-20 times starting in the fall of 2015, according to Barrett's summary of John's suit.
But she displayed mental health problems during their courtship, and attempted suicide in front of him that December. They stopped having sex after that, and Doe reported the suicide attempt to a university advisor.
Jane expressed animosity toward John for reporting her, and soon after started dating someone else.
When Sexual Assault Awareness Month came in April, Purdue's Center for Advocacy, Response and Education sponsored events on the issue and shared articles on the subject. One of them came from The Washington Post: "Alcohol isn't the cause of campus sexual assault. Men are."
That same month, Jane reported John to the university for allegedly groping her without consent that November. He also went through her dresser without permission, visited her dorm unannounced and "lost his temper in front of her," she claimed.
Similarly to an expelled student's allegations against Yale University, which settled his lawsuit on the eve of a jury trial, John claimed that Purdue opened an investigation even though Jane didn't file a formal complaint.
Katherine Sermersheim, dean of students and Title IX coordinator, informed him of Jane's allegations in a letter. Soon after he was suspended by his ROTC program and "barred from eating in his usual dining hall because Jane used it."
John wrote a letter denying all of Jane's allegations from the jump. The only possibly nonconsensual behavior he admitted to was touching Jane's knee while she slept after witnessing her suicide attempt.
After she found him responsible and John appealed the decision, Sermersheim was ordered to provide the "factual basis" for the finding. She claimed that he placed his hand "above her knee … and moved it up to her 'crotch' areas" and also digitally penetrated her.
The only evidence the dean proffered was that she found Jane but not John "a credible witness" by a preponderance of evidence.
Purdue violated student's due process by withholding evidence, 7th Circuit rules by The College Fix on Scribd
Withheld report falsely claimed he had confessed
John provided an abundance of evidence that he considered "inconsistent" with Jane's accusations, including her texts to him over the holidays. She also sent his family "homemade Christmas cookies" and invited him to her room when school started in January.
"He also provided details suggesting that Jane was troubled and emotionally unstable, which he thought might explain her false accusations," according to Barrett's summary. He turned over some "friendly" texts and provided a list of more than 30 "integrity" witnesses.
Sermersheim refused to give John a copy of the investigative report ahead of the Advisory Committee on Equity hearing, which would make a recommendation to her. This was in keeping with Purdue's procedures at the time.
It was only because a Navy ROTC representative showed him a redacted copy of the report, "moments before" the hearing, that John saw it was factually incorrect and one-sided. It falsely claimed he had confessed to Jane's claims and omitted his "description of Jane's suicide attempt."
John claimed that two members of the hearing panel admitted they didn't read the investigative report, while another asked "accusatory questions that assumed his guilt." They refused to let him provide witnesses including his roommate, who claimed he was in the room when John allegedly groped Jane.
Because Purdue suspended John for a year and made his return contingent on "bystander intervention training," he "involuntarily resigned" from the ROTC program under its "zero tolerance" practice.
Exculpatory evidence: Judge Barrett suggests that Purdue's failure to even interview potentially exculpatory witnesses rendered process "fundamentally unfair" to acc'd. pic.twitter.com/ax9tphBIz5

— KC Johnson (@kcjohnson9) June 28, 2019
Purdue procedures not even good enough for a high school
Barrett's opinion distinguished John's claims from other cases where plaintiffs "spill[ed] the beans" about their punishment and then blamed defendants for ruining their reputations.
"Purdue, not John, revealed to the Navy that it had found him guilty of sexual violence, and John had a legal obligation to authorize the disclosure," she wrote. The university also changed his status after finding him "guilty of a sexual offense," meaning he has "adequately alleged that Purdue deprived him of a liberty interest."
The procedures that Purdue provided are not even good enough in a high-school context, the Supreme Court shortlister continued. Because he was suspended for "sexual violence rather than academic failure … for an academic year rather than a few days," he was entitled to not only notice but evidence.
This failure was "itself sufficient to render the process fundamentally unfair," Barrett said.
The hearing also appeared to be a "sham" because two of the three panelists judged him guilty without reading the investigative report, the judge said. It was also "unclear, to say the least, how Sermersheim and the committee could have evaluated Jane's credibility" without speaking to her or even receiving a statement she wrote herself, "much less a sworn statement."
It ignored "specific impeachment evidence" from John, including Jane's texts and "continued romantic relationship" with him and the testimony of both parties' roommates. This was "fundamentally unfair" to John, the opinion concludes.
It's here that Barrett parts ways with the 6th Circuit, refusing to determine whether due process requires cross-examination of the accuser. "[W]e need not address this issue" because John has already met his pleading burden on "procedural deficiencies," she wrote in a footnote.
MORE: 6th Circuit requires cross-examination in campus rape cases
'Pressure on the university' by Obama admin 'was far from abstract'
Also parting ways with other circuits, Barrett said she didn't need to use a particular theory of "general bias" to analyze John's Title IX claim. She specifically noted two recent additions from 6th Circuit sexual misconduct cases: "deliberate indifference" and "archaic assumptions."
John blamed Purdue's action on the Department of Education's 2011 "Dear Colleague" letter that threatened the federal funding of colleges that didn't lower their standards for finding sexual misconduct.
This showed that "Purdue had a financial motive for discriminating against males in sexual assault investigations," Barrett summarized. She noted Purdue was under two investigations by the Department of Education's Office for Civil Rights when Jane accused John.
This showed that "the pressure on the university to demonstrate compliance was far from abstract," and "may have been particularly acute for Sermersheim," the Title IX coordinator who also chaired the hearing.
But the Dear Colleague letter was not enough for Barrett. What pushed John's claims over the line was the decision to credit Jane "without directly hearing from her" in a purely "he said/she said" situation:
Sermersheim's explanation for her decision (offered only after her supervisor required her to give a reason) was a cursory statement that she found Jane credible and John not credible. Her basis for believing Jane is perplexing, given that she never talked to Jane.
MORE: Anti-male Title IX case against Columbia will proceed
Barrett notes that another Title IX coordinator, CARE Director Monica Soto Bloom, provided the only account of Jane's claims in a letter that Bloom herself wrote. Sermersheim "apparently gave significant weight" to Bloom's letter.
The three hearing panelists were "biased in favor of Jane and against John" as made clear by his allegations, the judge continued. They showed hostility to him "despite their lack of familiarity with the details of the case," further suggesting that "Jane's allegation was all they needed to hear to make their decision. "
The Facebook post by CARE during Sexual Assault Awareness Month, when John was disciplined, adds further evidence that "Sermersheim and her advisors chose to believe Jane because she is a woman and disbelieve John because he is a man," the opinion reads:
To be sure, John may face problems of proof, and the factfinder might not buy the inferences that he's selling. But his claim should have made it past the pleading stage …
Tha Purdue procedures did not require accuser to testify at hearing, Judge Barrett suggests, is enough to suggest gender bias, given that this was a he-said/she-said case that comes down to credibility. pic.twitter.com/JphMafTMyk

— KC Johnson (@kcjohnson9) June 28, 2019
Administrators shielded for 'all but the most egregious constitutional violations'
The Foundation for Individual Rights in Education gave qualified praise to the decision in a legal analysis Monday, noting its limitations.
Samantha Harris, vice president for procedural advocacy, pointed out that the 7th Circuit does not recognize a "stand-alone property interest in an education at a state university," making the ruling less applicable to situations unlike John's.
The ruling shows how difficult it is for students to find justice in the courts, she said, citing Barrett's rejection of personal liability for several administrators.
In order for John to get monetary damages from them, he must show he had a "clearly established" right to procedural due process in the proceeding, according to Barrett.
MORE: Purdue incident shows why comedians should skip colleges
The 7th Circuit has "never applied" the rule in John's case – his liberty interest – to a university, the judge wrote, so the officials couldn't have known that their actions violated the 14th Amendment. John also lacks standing to demand injunctive relief, since he hasn't said he wants to return to Purdue:
What John really seeks to do is champion the rights of other men at Purdue who might be investigated for sexual misconduct using the flawed procedures that he describes in his complaint. That is a no-go …
The 7th Circuit both provided a "narrow view of the circumstances under which public universities owe due process to their students" and shielded administrators from liability for "all but the most egregious constitutional violations," Harris wrote in FIRE's analysis.
"The decision is both a victory for the accused student and a reminder that the courts are an imperfect vehicle for students seeking redress after being subjected to unfair campus disciplinary procedures," she said.
MORE: Purdue's free-speech orientation could go national
IMAGE: Purdue University/YouTube
Like The College Fix on Facebook / Follow us on Twitter