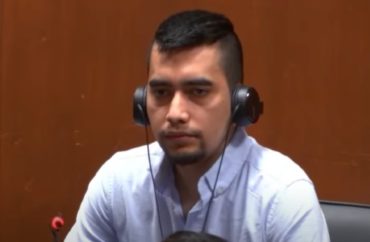 Cristian Rivera's attorneys suggested a handful of other people were guilty
Illegal immigrant Cristhian Rivera murdered University of Iowa student Mollie Tibbetts in 2018 — and his chance to avoid sentencing has likely ended.
An Iowa county judge has rejected an appeal by Rivera's attorneys for a new trial, after they raised the possibility that someone else had murdered Tibbetts. A jury convicted Rivera in early June in the murder of Tibbetts. Rivera first confessed in 2018 to the abduction and murder of Tibbets.
"It is doubtful that adding another possible suspect, one with no apparent ties besides being in the same county as Mollie, would have a reasonable probability [to] change the result of [the] trial," Judge Joel Yates wrote in his August 2 statement, according to ABC News.
ABC did not link to a copy of the full court statement.
Although the judge initially delayed sentencing from the original July 15 date in order to examine this new information, the path has been cleared for sentencing to take place on August 30. The judge is expected to sentence Rivera to life in prison without parole according to the Associated Press.
Rivera's counsel suggested that Tibbetts' boyfriend murdered her
Attorneys for Rivera based their motion for a new trial on claims there were other suspects in the case. These suspects were raised in the sentencing stage of the trial, following multiple attempts from the defense to pin the murder on alternative suspect throughout the trial, including Tibbetts' boyfriend, Dalton Jack.
The judge has repeatedly denied requests for more information on other suspects, explaining in his ruling that exploring these alternative suspects "would be nothing more than a fishing expedition." The judge also said that the appeal "greatly downplays the discrepancies between his (Rivera's) testimony at trial and the account."
The defense also claimed that this case could be linked to sex trafficking in the area, citing claims from another woman that she had been lured into a house in the area and held there in the weeks before the murder of Mollie Tibbetts.
The College Fix reached out to Rivera's legal team through their website on July 26 to ask about these other suspects and their claim that this case could be connected to sex trafficking. The Fix did not receive a response.
The defense had said that Gavin Jones and Dalton Hansen, childhood friends of Tibbetts, were complicit in her death.
Both men denied involvement in the murder, according to the Des Moines Register.
MORE: Suspect confesses to murdering teenage Grand Canyon student
IMAGE: KCCI/YouTube
Like The College Fix on Facebook / Follow us on Twitter