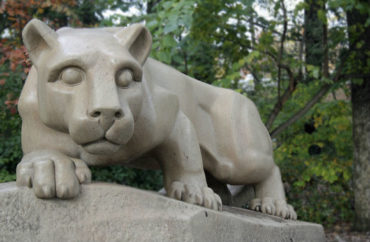 'Paper-only' investigation isn't enough
Public universities can't deprive accused students the opportunity to challenge their accusers' credibility in Title IX adjudications, a federal judge ruled last month in a closely watched lawsuit.
Pennsylvania State University must consider how its educational mission will suffer if it "ejects innocent students who would otherwise benefit from, and contribute to, its academic environment," Judge Matthew Brann wrote in the memorandum opinion.
The President Obama appointee refused to dismiss the lawsuit against Penn State by "John Doe," who has already served a two-semester suspension but is seeking expungement of his disciplinary records and a reversal of his sexual-misconduct finding.
Brann said Penn State's practice of conducting "paper-only" investigations – where the parties aren't allowed to argue their case before a Title IX panel and challenge each other's credibility – "raises constitutional concerns."
The ruling was cited in a recent Atlantic article on the Department of Education's pending rulemaking on Title IX regulatory changes. It highlighted Brann's statement that Penn State has an interest in "securing accurate resolutions of student complaints," not just punishing guilty students.
2) Piece highlights impt new ruling in Penn State case, w/Judge Brann noting that unfair procedures can't serve an academic rationale for school, since they risk expulsion of innocent students who would contribute to school's academic climate: pic.twitter.com/Zr3Jsu9ymL

— KC Johnson (@kcjohnson9) September 4, 2018
Panelists told only 2 percent of sexual-assault reports are false
Penn State and Judge Brann have a history together.
It appeared to ignore his earlier ruling in a different case by scheduling a new proceeding that would use the same "investigative report" from the original proceeding that Brann found flawed.
That student had claimed his sex partner forced herself on him, but the university found him responsible without letting him ask his accuser questions that challenged her credibility.
After the student asked Brann to hold university officials in contempt, the university "abandoned those plans" to retry him, PennLive reported. The university is still trying to get that suit dismissed, saying the process was "appropriate, reasonable and lawful."
The subject of Brann's ruling last month had sued the taxpayer-funded university and three officials in January, making similar allegations.
John Doe of Hicksville, New York, said Penn State found him responsible for sexual misconduct through a "constitutionally-flawed disciplinary process" that lacked "the most basic due process protections," including the right "to be heard" in a hearing.
Danny Shaha (below), then-senior director of the Office of Student Conduct, investigated allegations by "Jane Roe" under a Title IX policy that was not in effect in August 2014, when the disputed sexual incident took place.
MORE: Suit says Penn State kicked out male after female pounced on him
It deprives accused students of the protections they would receive in any other conduct-code adjudication, Doe argued, and violates the 14th Amendment rights of all students.
In sexual-misconduct cases, Penn State appoints a single investigator to "collect information regarding the allegation," interviewing the accuser, accused and any witnesses, according to Brann's summary.
The information is compiled into an "Investigative Packet" for each party to review, and the investigator decides whether it "reasonably supports" a violation of the Code of Conduct.
Both parties can respond if the investigator assigns charges, and a "Title IX Decision Panel" of faculty and staff will then evaluate the packet to decide if it's more likely than not the accused is responsible.
The judge noted that Karen Feldbaum, associate director of the Office of Student Conduct, gave this panel documents that were "presumably" intended to guide its decision.
They included an explanation that panelists should judge accused students guilty even if they are not "completely convinced" or have "considered reservation." Another document claims that only 2 percent of sexual-assault reports are false.
Testimony converted to 'paraphrased form, with virtually no actual quotes'
Brann's ruling last month agreed that the three officials that Doe sued were protected by "qualified immunity" as government employees. He said Doe's right to "personally appear" before the Title IX panel and question Roe was not "clearly established" in law at the time.
But the judge otherwise knocked down the university's arguments, starting with its claim that Brann has no "subject-matter jurisdiction" over the dispute.
Penn State mischaracterized what Doe is asking for, which is not termination of his suspension ("which has unquestionably already run its course"), alteration of his academic transcript or an injunction against "further" investigation, Brann said.
The accused student, rather, wants his disciplinary file changed by eliminating "the record of the consequences of past investigation and disciplinary action," which Penn State "undoubtedly" keeps on file. He has "alleged adequate, actual, and concrete harm," Brann said.
MORE: Brann blasts Penn State for never asking rape accuser for evidence
Doe was suspended and blocked from living on campus following an investigation by Spencer Peters (left), a former university police investigator. A footnote in Brann's ruling says Roe allegedly refused to participate in the separate criminal investigation of Doe, which also involved Peters.
The students were only allowed to comment on "the other's previous statements" to Peters. The Title IX panel "heard no live testimony from [Doe], Ms. Roe, or any other witness, which necessarily eliminated not only his opportunity to speak personally to the panel, but also his opportunity to conduct any sort of cross-examination of Ms. Roe in front of it," Brann wrote.
Penn State argued that Doe "failed to state a claim for violation of his procedural due process rights," but Brann said the very form of its "investigative model" suggests otherwise:
Under PSU's Investigative Model, all of the testimony offered in this matter—Mr. Doe's, Ms. Roe's, and the witnesses'—was filtered by Mr. Peters through his Investigative Packet … in paraphrased form, with virtually no actual quotes, with no indication of how Mr. Peters edited the individuals' statements to him.
Brann also has no evidence which questions from Doe were asked of Roe through Peters, and "whether (or how) those questions were rephrased," the judge said. There's also no apparent guidelines in the Code of Conduct for "cabining" the discretion of the investigator.
Department of Ed's proposed rules would still allow Penn State procedures
Though the Supreme Court has not required "trial-type procedures" in every student disciplinary case, "there is really only one consideration for the decisionmaker" in the case before Brann, he said: "credibility."
That's because the only fact in dispute is whether Roe consented to sex. The university's single-investigator model, therefore, puts a "virtual embargo" on the Title IX panel's ability to assess credibility, and raises constitutional concerns, the judge wrote.
The university had argued that Doe had "multiple opportunities to present his version of what happened in his dorm room" and accused him of "trying to equate the disciplinary process with the rights of a citizen in a criminal case," PennLive reported.
Penn State declined to comment to The College Fix about Brann's ruling and its next moves. Director of News and Media Relations Lisa Powers said in an email: "Penn State's general practice is not to comment on active litigation."
Last week's Atlantic article by Emily Yoffe, who wrote a three-part series on Title IX adjudications a year ago, cited Brann's ruling as another indication that lawsuits by accused students "have been working their way through the court system with increasing success."
The courts have proven a "significant countervailing trend" to the stated intentions of campus officials to ignore Trump administration "due process reforms," Yoffe wrote. The problem is that the leaked draft of the Department of Education's proposed Title IX reforms would still allow schools to run investigations like Penn State's, with no hearing, she said.
MORE: Did Penn State ignore Brann's order by pledging to retry student?
IMAGES: K. Jensen/Shutterstock, Penn State/Flickr
Like The College Fix on Facebook / Follow us on Twitter