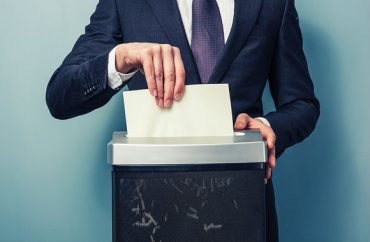 Ex-president idiotically argued she wasn't a public figure
Public universities sure do hate the public that funds them. How else to explain their novel legal excuses to withhold basic public information, such as the reasons for firing a president?
Earlier this month a county judge knocked down most of the excuses the University of Wyoming made for hiding "records related to the dismissal of former UW president Laurie Nichols," according to the Casper Star-Tribune, one of the plaintiffs in the public records suit.
The university's announcement in March that Laurie Nichols' contract would not be renewed surprised everyone but the board, which had been quietly plotting:
The news of Nichols demotion shocked campus; she was popular and had helped the school navigate turbulent times in her three years at the helm. To add to the confusion, virtually no information was released about the decision after it was announced in late March. The board declined to provide any detail, and Nichols repeatedly said she was given no explanation for why she wouldn't continue.
Nichols joined South Dakota's Black Hills State University as interim president shortly after UW kicked her to the curb, and was recently named permanent president. She intervened in the lawsuit after it was filed, also seeking to keep secret the records surrounding her dismissal.
The University of Wyoming sought to weaponize attorney-client privilege by putting its general counsel on email threads among board members plotting to can Nichols, but Albany County District Court Judge Tori Kricken didn't buy the ruse. She ordered most of those records released, saying the bare presence of a lawyer on an email thread was not enough to hide them.
Showing even more contempt for the public that funds it, the university had refused to turn over "a log of withheld documents that detailed why they couldn't be released." While most of Kricken's order will be held to let Nichols and UW appeal, the judge didn't give them that option about the log, which was scheduled to be turned over Monday.
MORE: Berkeley teacher/Antifa leader fined $20K for withholding public records
Only 18 documents will be withheld in full because they truly meet attorney-client privilege, not just the censorious version asserted by UW:
"There is a well-known expression applied to those in public office, 'If you can't stand the heat, you'd better stay out of the kitchen,'" Kricken wrote, quoting another court case. …

"Quite simply, public figures, especially those who, by nature of their position, are subject to increased scrutiny and notoriety … have a decreased interest in privacy," Kricken wrote.
Nichols nonsensically argued that she wasn't a public figure, which Kricken saw through, citing the public's "legitimate concern and great interest in the actions of the University Board and the University President":
"Other states faced with similar issues have found that the public's interest in monitoring the disciplinary operations of public institutions outweigh the personal privacy concerns involved, especially after sensitive personal information has been redacted," she wrote.
Previous reporting suggests the UW board had launched some kind of investigation of Nichols a couple months before announcing she wouldn't return, but the university "refused to acknowledge that any investigative records even existed" when the Star-Tribune started filing public records requests, it said.
The media plaintiffs can't get back the money the university demanded for the records requests – the Star-Tribune's bill was $700 – under Kricken's order. While celebrating the ruling, plaintiff and Wyoming nonprofit news organization WyoFile pointed to the "innumerable work-hours and thousands of dollars" that it had to spend "to simply maintain" the public's right to public information.
Wyoming taxpayers should ask themselves as well: Why are we funding government entities that tell us it's none of our business what they're doing?
MORE: UMass-Boston refuses to obey the law unless we fork over $1,500
IMAGE: Lolostock/Shutterstock
Like The College Fix on Facebook / Follow us on Twitter