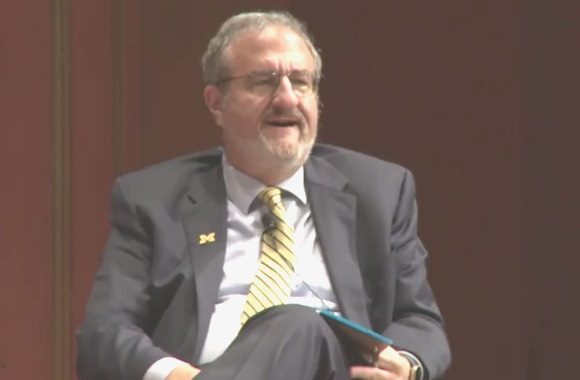 University's lawyer refuses to accept judge's authority
The University of Michigan "placed an indefinite hold" on a student's transcript and degree after he was accused of sexual assault but before it judged him guilty of such.
He sued last year, claiming the taxpayer-funded institution had violated his due process by freezing him in place, unable to enroll in a graduate program or get a job. "John Doe" was never even given a hearing, much less the opportunity to cross-examine his accuser in some form, both of which are required by the precedent of the 6th U.S. Circuit Court of Appeals.
The lawsuit is still going, and President Mark Schlissel has been ordered to attend a settlement conference. The university, however, refused.
Now the federal judge overseeing the case is ordering UMich to stop arguing and deliver Schlissel.
The transcript from a May 1 teleconference shows the university's lawyer, Joshua Richards, trying to relitigate a previous order by Judge Arthur Tarnow that Schlissel appear in court:
Before we move on to procedural matters, I would like to address with the Court the purpose of the Court's request that the President attend. And I would like to note that the President is not the university official who has primary responsibility for the policy.
Tarnow wasn't having it. He told Richards to find the person with that "primary responsibility," which Richards couldn't answer in the moment, and then "bring her or him along with the President and then everyone will be complete in terms of people with authority":
[Schlissel] might not be the person with the most hands-on experience and authority, but he is the one who is going to have to approve whatever the four of you decide on and whatever I might add to that decision.
MORE: UMich withholds degree, transcript from accused student with no hearing
Richards refused to let it go, telling the judge that Schlissel "can delegate the ultimate authority" to attend to someone else. Tarnow started losing his cool:
I don't think there is any dispute to the statement that I just made that the ultimate authority in an university on a question of this kind of policy has to be the President of the university. Yes, he can delegate. Obviously, with such a large institution there are all sorts of delegations made. But I don't think he would characterize himself as a figure head. And I think he would, and I would agree, that the person down the line in charge of discipline or however it's structured knows more about the day-to-day operation and so on. But that person reports to the President and the President will be here.
Richards (left) still wouldn't let it go, implying the judge didn't understand how delegation authority works.
Tarnow told him "I have not changed my mind" and said it was "more than mildly surprising you don't even know who" has primary responsibility for sexual misconduct policy." When Richards asked for an explanation, Tarnow said "I don't have to explain myself."
The transcript has several errors here, making it hard to understand Tarnow's next few thoughts, but the Detroit Free Press filled in the blanks:
[P]art of [Schlissel's] qualifications for the job when he was hired and when he continued in the job, is the public [scrutiny] that the university is regularly under and he should be a part of this … so that he can defend whatever is [agreed] to and explain to the media, to the public, and perhaps most importantly to the faculty and the students.
Richards said he simply wanted to be able to explain to Schlissel the reasoning behind Tarnow's order. The judge responded:
I am asking that [Schlissel] participate so that the result is not another two years of arguing about discovery in this case and every subsequent case and arguing about timeliness of motions to dismiss or summary judgment or anything else legalistic when my sense is that both sides have a common goal and, that is, to provide fairness to the accuser and fairness to the accused.
'This should be more important to him than almost anything going on at the university'
Richards then asked Tarnow to disinvite himself from the case and refer it "to a colleague," since Tarnow proposed that the parties resolve their differences rather than continue the suit.
Tarnow's exasperation reaches comedic levels here:
I am not going to refer it. And please don't ask me why. … The reason is whoever I referred it to would have to start over in terms of understanding the scope of the conference, the scope of at least the Doe case — and this is a jury trial, am I right? … There is nothing other than make work in your suggestion.
The judge stated the stakes of the case for Schlissel:
This should be more important to him than almost anything going on at the university. I understand the importance of the Board Meeting, Regents meeting, and that is why I have no problem giving alternative dates [for Schlissel to testify]. But I am not sure I  would understand anything else being more important than resolving what is a hot button issue at every university in this country. … I would be looking for a very strong excuse for him not to be able to come on one of those two dates [Tarnow offered].
Because Richards never knows when to quit, he filed an "emergency motion for reconsideration" on May 6, accusing Tarnow of an "abuse of discretion." (The motion is in the same document as the transcript.)
It amounted to a recitation of Schlissel's importance at the university:
The University's President is the chief executive officer of an extraordinarily complicated three-campus enterprise with annual budgeted revenues of more than $8 billion, including more than 61,000 students, roughly 28,000 employees, a nearly $4 billion academic medical center, and a $1.5 billion research budget. The President's daily schedule reflects those myriad responsibilities and more. The obligations on the President's time arise and are set months in advance. It would be a significant burden on the University for the President to be diverted from his duties as an officer of the State of Michigan and the constitutionally-created University to attend a settlement conference in this matter.
MORE: 6th Circuit requires cross-examination, live hearing in campus rape cases
Tarnow is violating his constitutional authority, the motion reads:
The court's conscription of the university's president — an officer of the state — to perform a task the president would not otherwise be required to perform by the regents is 'fundamentally incompatible with our constitutional system of dual sovereignty' and violates the 10th Amendment."
Tarnow rejected the motion on Wednesday, saying Richards had not shown a "palpable defect" or how "correcting the defect will result in a different disposition of the case." He ordered Schlissel to appear June 11.
In a statement carried by Inside Higher Ed, a university spokesperson decried Tarnow's order. The president's responsibility to "reduce the incidence of sexual misconduct" is "very separate from requiring a university president to directly engage in a single settlement conference in a single case brought by a student accused of sexually assaulting another student."
Taylor Parker, a consultant with Safety Advisors for Educational Campuses, told Inside Higher Ed the context for the order was the much-criticized practice in Michigan colleges of "siloing," when presidents over-delegate their authorities to administrators. Tarnow wants to avoid delays that come from "other administrators getting approval from higher-ups," according to Taylor.
MORE: UMich's terrible, horrible, no good, very bad day at the 6th Circuit
Like The College Fix on Facebook / Follow us on Twitter