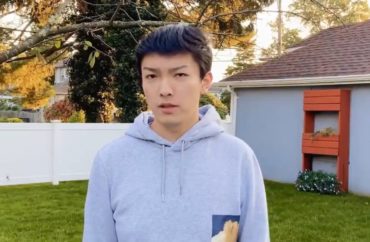 'Let the fear from speaking tell you how necessary it is to speak,' Tong said
Fordham University student Austin Tong said he plans to continue his battle against the Catholic institution in New York after a judge ruled in the school's favor.
Judge Carol Edmead ruled that Fordham was within its rights to discipline Tong. Edmead said that the school followed its own rules and did not act in an "arbitrary and capricious" manner in assessing Tong as a threat to the university community due to his social media posts.
He had posted photos of retired black St. Louis police officer David Dorn who was killed while defending a friend's business during riots.
Tong criticized Black Lives Matter, which he considers himself a supporter of, for not speaking out against the killing.
Tong, who is a Chinese immigrant, also posted a photo on social media on the anniversary of the Tiananmen Square Massacre, posing with a photo of his legally acquired firearm and a caption that said "Don't tread on me."
The school followed its "procedural and substantive student disciplinary rules" when it punished Tong, Edmead said. As proof, the judge cited Tong's receipt of a disciplinary letter and a subsequent hearing.
Despite the court's ruling, Tong plans to continue his fight.
Tong told The College Fix he planned to appeal and that his attorneys told him to be prepared for a long fight. Fordham banned Tong from campus and mandated he attend bias training after he posted several photos on social media in June. It also banned him from campus without an escort. Tong confirmed to The Fix that the ban is still in effect.
Tong also told The Fix via Instagram messaging that he didn't attend the bias training and is "not going to do anything they say."
"I dare them suspend me," Tong said.
"We began the appeal process and we are also examining some legal options," Tong told The Fix.
"This issue is bigger than my punishments, which is one of the reasons why Fordham is currently under two federal investigations that we are currently aware of," Tong said.
Our outstanding + full of evidence case against @FordhamNYC 's unjust punishment against me was dismissed by NY Supreme Court for the worst of political reasons. Who's surprised, Not an easy fight, but we WILL NOT GIVE UP!!! I have the best lawyers & we have the best country! pic.twitter.com/Vu9fRro577

— Austin Tong (@realaustintong) October 10, 2020
The Department of Education has opened two separate investigations into Fordham, one for its treatment of Tong and another for possible discrepancies in its disclosure of foreign funding.
Tong explained why it's an important fight:
This is about free expression, free thought, free speech, the very things that are supposed to be the bedrock, not just of universities, but of a free society…People like the Fordham administrators who tried to take my rights away are the real threats to our society, not me.
As for his current status as a student, Tong said he's "supposedly subjected to immediate suspension or expulsion, "but has not received any information from the university."
When asked what he would tell someone in his position, Tong urged them to understand the importance of fighting.
"Let the fear from speaking tell you how necessary it is to speak," Tong said.
MORE: Court filing alleges Fordham wants to hide ties to Chinese Communist Party
IMAGE: Austin Tong/Twitter
Like The College Fix on Facebook / Follow us on Twitter