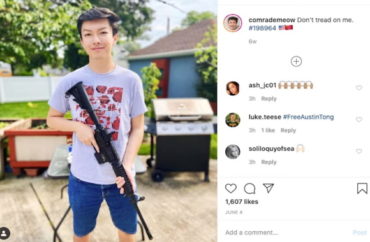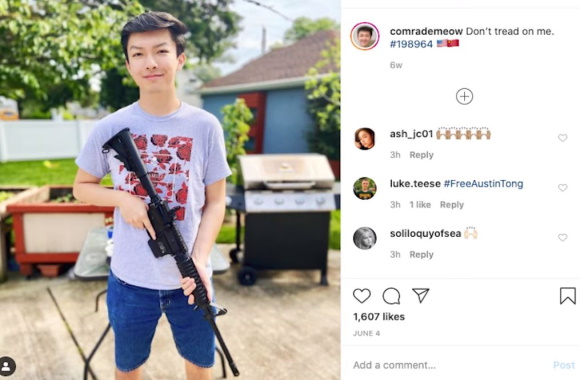 UPDATED
Fordham insists it was because student posed a threat
The attorney for Austin Tong, a Chinese immigrant student punished by Fordham University, recently alleged that the university has ties to the Chinese Communist Party that the institution wants to hide.
He argued that it is why the school wants to avoid discovery in the lawsuit it faces for its punishment of Tong.
Tong, a Chinese immigrant, was punished in June for posting a photo of himself holding an AR-15 with the caption "Don't Tread on Me" and referencing the Tiananmen Square Massacre.
Now, Edward Paltzik, his attorney, alleged that the Catholic college has a relationship with the People's Republic of China that it wants to hide. The Department of Education sent a letter in August to Fordham seeking information on a possible discrepancy in foreign funding disclosure.
The DOE separately opened an investigation into the school's treatment of Tong.
The foreign funding letter said "the Department is concerned that Fordham's reporting may not fully capture all qualifying gifts, contracts, and/or restricted and conditional gifts or contracts from or with all foreign sources."
Paltzik argued in his September 11 response to the university's dismissal motion that "expedited discovery" is needed so the school can no longer "conceal the truth" about why it disciplined Tong "and other subjects of relevance" including the school's relationship with the People's Republic of China and the Chinese Communist Party.
He also accused university officials of being "extraordinarily dishonest" and said they "have a great deal to hide, and have zero credibility."
Paltzik did not respond to multiple emailed requests for comment from The College Fix seeking clarification on his assertion.
His client defended his right to speak freely.
"Some people do not like my opinions, but they are still protected opinions and speech," Tong told The Fix via Instagram messaging. "Speech is not supposed to be uncontroversial. Very few issues that are worth discussing or debating are."
"While there were some who did not like my views and obviously wanted to see me punished," Tong said, "the overwhelming sentiment has been extremely supportive, both of my opinions and my right to express them."
"It is important that others recognize what is happening on college campuses and start standing up for themselves."
University insists Tong posed a threat
Paltzik said the school's court filing misrepresented the threat posed by Tong.
He noted that the dean of students, Keith Eldredge, conceded that public safety officers for Fordham did not consider Tong a threat after interviewing him and "Eldredge himself conceded that Tong did not violate the Weapons Policy."
The university responded on September 21 reiterating a request for dismissal of the case. The school's attorneys said "the personal insults leveled against Dean Eldredge are entirely baseless." The university's media relations office did not respond to multiple emailed requests for comment in the past week.
Fordham's attorneys reiterated their prior claim that Tong posed a threat to students and said Tong and his attorneys "raise a host of factually barren assertions to obfuscate Fordham's absolute right to discipline a student for a violation of University policy."
The attorney argued that public safety only deemed Tong was not an "immediate threat" and "At no point did Fordham's Public Safety officers ever express an opinion as to whether Petitioner could possibly pose a threat to the Fordham campus community at a later time."
Eldredge, the attorney argued, "reasonably believed that [Tong] presented a potential threat in the future."
MORE: Fordham University bans emails that 'insult' or 'embarrass' people
The school's attorney James Ryan said the "the personal insults leveled against Dean Eldredge are entirely baseless."
Eldredge, according to Ryan, "reasonably believed that [Tong] presented a potential threat in the future." The attorney submitted an affidavit from John Vasek, the public safety officer who investigated Tong, to back up the school's argument.
Vasek confirmed he did not believe Tong presented a "clear and present danger." Vasek said he never said that Tong could never be a threat in the future: "Logically, no one could ever make that prognosis."
Tong is currently taking classes online and the university "agreed to hold off suspension and expulsion until a court decision is made," Tong told The Fix.
The university reportedly required him to have a public safety officer escort him if he is on campus.
The case is still pending in the courts.
Editor's note: The article has been updated to reflect that Tong is taking classes online. A previous version said he was not taking classes this semester.
MORE: Texas A&M professor arrested for hiding his relationship with China
IMAGE: Austin Tong/Instagram
Like The College Fix on Facebook / Follow us on Twitter