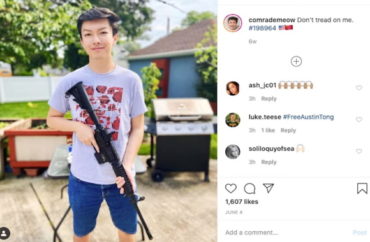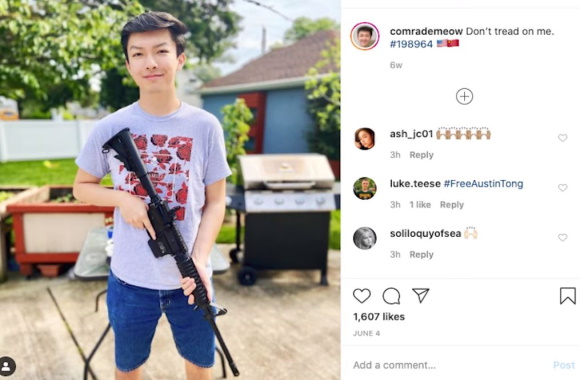 'A realistic historical simulation of being overseen by the Soviet secret police'
Required permission to travel. A minder you can't shake off.
This isn't China – it's a Jesuit institution in New York City.
Fordham University isn't endearing itself to the court considering a lawsuit by a Chinese student whom it punished for posting a pro-freedom message on Instagram to commemorate the Tiananmen Square massacre (above).
While it dropped its restraining order against Austin Tong and won't make him write an apology note and go through implicit bias training, Fordham is still requiring him "to be escorted by a public safety officer to and from his on-campus destination" and get permission "48 hours in advance of his arrival," The Washington Free Beacon reports.
Tong said he's "probably" not going back to campus anyway, citing the likely reaction of his peers and administrators: "Frankly, it's not safe."
The immigrant posed off campus with a "lawfully obtained" AR-15 in an Instagram post on the 31st anniversary of the massacre. It read "Don't tread on me" and included Chinese and American flag emojis and a hashtag intended to foil Chinese censorship of such discussion.
A day earlier, he called his fellow Black Lives Matter supporters "a bunch of hypocrites" for their "nonchalant" reaction to the killing of a retired black police officer, David Dorn, by rioters in the aftermath of George Floyd's killing in Minneapolis.
The private university banned him from campus and ordered him to formally apologize to Dean of Students Keith Eldredge and take implicit bias training, citing both Instagram posts. It found Tong guilty of violating Fordham policies on "bias and/or hate crimes" and "threats/intimidation."
His crowdfunding campaign for litigation expenses has raised more than $80,000 from 2,200 donors.
MORE: Tong sues Fordham for punishing him over pro-freedom message
Tong described the mandatory escort as a "KGB overseer" in an interview with the Free Beacon:
Fordham graciously offered me a realistic historical simulation of being overseen by the Soviet secret police. This just exposes the sensitivity of Fordham and colleges on safe speech, resorting to extreme means to make sure students stay in line.
His GoFundMe campaign accuses Fordham of lying to Tong that he wouldn't be punished if he simply removed the posts, and hypocrisy for violating its own code of conduct, which explicitly says "offensive or inflammatory" expression "may not constitute a hate crime or bias-related incident":
I am no longer permitted on campus, with public safety coming to my home at midnight to question me on the day of the post, and face forced [sic] political reeducation through mandatory courses and to write an apology letter, or will face full suspension or expulsion – is this happening in America, or is this a Soviet nightmare?
Read the article and his crowdfunding page.
MORE: Fordham punishes Chinese student for Tiananmen Square post
IMAGE: Austin Tong/Instagram
Like The College Fix on Facebook / Follow us on Twitter