Four people showed up for 'Healthy Housing'
As students spend much of their young lives working to get into college, some have noticed that their academic efforts have created a void in their knowledge of more basic life skills.
In response, Kansas State University is hosting occasional non-credit courses that home in on the practical skills required to tackle the challenges of adulthood, some advertised as "Adulting 101."
So far, the university has held seminars on "car maintenance, interviewing techniques, leasing tips," health insurance and conflict resolution, Anna Capps, a KSU student who helped create the program, told The College Fix in an email.
On average, about 10 to 15 attend these workshops, said Capps, a student ambassador for KSU health services. But at the Nov. 12 "Healthy Housing" presentation given by student legal services attorney Sarah Barr – the sixth in the Adulting 101 series – only four students showed up, Barr told The Fix in an email.
Capps said her peers "are learning a lot about life skills that are not taught in the typical classroom, such as building good credit, leasing responsibilities of a tenant vs. landlord" and personal finance (example of course, above).
For example, KSU's Powercat Financial, which is a financial services office for students, "talked about good vs. bad debt," and the speaker emphasized "how student loans are considered good debt," Capps said. "Discussion also included how student loans do affect your credit and how it is important to make timely payments."
MORE: Most parents still 'adulting' their grown children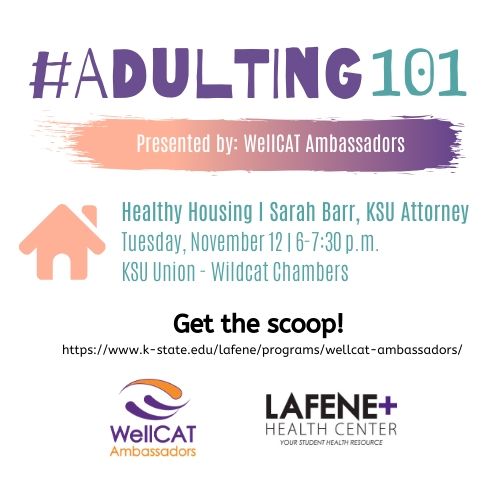 In the process, students who take part in these workshops typically have "a lot of questions," she said, and are apparently asking the most basic of questions. These include: "How can I get started?" when it comes to building credit and, "What is the best first step?"
Capps explained the social factors that led her and classmates to start the program. They recognized that they were "learning everything we need to graduate with a bachelors degree, but could benefit from learning more about finances and other practical life skills that we are not typically taught in the classroom anymore, but we are still expected to know going into the workforce upon graduation."
One KSU student, Anna Traynham, told The Kansas City Star that she felt "really pressured to take a lot of college classes [in high school] to succeed because there was a huge race for valedictorian and being top of the class." Having a high GPA didn't help: "You had to be perfect all the time."
Adulting classes don't just help "high-achieving students who feel stressed," the newspaper said, citing unnamed mental health experts. They can help "already-overwhelmed students for life's challenges and make students more resilient to better deal with setbacks."
Capps "partially" attributes the absence in basic life skills among students to the decrease in home economics classes, which has caused teens to not be "exposed these life skills that are essential to our adult lives each and every day."
Kansas State is not the first university to offer such courses.
The University North Carolina also hosted workshops that went by the same title, and these presentations included explaining how to complete tasks as simple as budgeting and "buying groceries." Other schools that have similar programs include Pacific Lutheran University and the University of Denver.
MORE: Report says parents setting up 'play dates' for their kids in the dorms
IMAGE: Anna Capps
Like The College Fix on Facebook / Follow us on Twitter