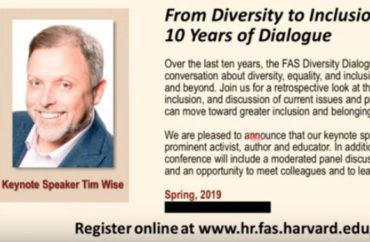 Christians 'deserve to be mocked viciously and run out of the public square'
To celebrate a "Decade of Dialogue" in its annual diversity conference, Harvard University's Faculty of Arts & Sciences invited a straight white man to give the keynote lecture.
But not just any straight white man.
Tim Wise, an "anti-racism writer, educator and activist," has denigrated Christians as "Jeezoids" and fascists and called Pope Francis evil. He has tweeted that "people who believe in a God of hell/damnation deserve to be mocked viciously and run out of the public square."
Those who base their morality on the Hebrew Scriptures "deserve to be locked up," he said in 2015, claiming to be "sorta kidding but not by much."
The Diversity Dialogue Series provides a "retrospective look at diversity and inclusion, a discussion of current issues, and practical guidance on how we can move toward greater inclusion and belonging at Harvard," according to the event description.
The event also featured a panel discussion on moving from diversity to "inclusion and belonging." Panelists broke down the obligations of what it means to be an ally, as well as the role of privilege and gender in the workplace.
Attributes his success to multiple forms of 'privilege'
Wise avoided inflammatory anti-religious language in his keynote, perhaps mindful that the Christians he wants to incarcerate are a racially diverse lot.
The author of "White Like Me: Reflections on Race from a Privileged Son" and "Dear White America: Letter to a New Minority" instead emphasized his own wokeness.
Wise boasted that he had "never been invited to speak by ICE," distinguishing himself from a biracial consultant on the panel discussion before his keynote.
He described his teenage daughter as "militant, straight and cis-gendered ally to the struggle against transphobia, cisnormativity, and heterosexism and heteronormativity." He jokingly asked the audience to pray for him and his wife as their daughter applies to colleges.
The activist emphasized the importance of identifying institutional barriers to diversity and inclusion.
White supremacy does not only exist on a case-by-case basis, but more broadly serves to shape the "superstructure of society," Wise told the audience.
MORE: 'Anti-racist' Tim Wise keynotes College of New Jersey orientation
Good; Laws apply 2 Jeezoids too; Anti-choice activist/lawyers could go 2prison over campaign vs Planned Parenthood https://t.co/a7UqFjfOpz

— Tim Wise (@timjacobwise) June 19, 2017
Wise's motif of American history is "rich white men telling not rich white people that their enemies are black and brown." Due to this, white people take for granted their advantage of "horizontal [economic] mobility," he said.
Moderator Renee Graham, associate editor and columnist at The Boston Globe, admitted she was skeptical of Wise when she first saw him speak a decade ago at a Martin Luther King Jr. celebration at another university.
The black columnist thought to herself "it is just like these universities—to [pick] a white person [to speak] at a MLK celebration," Graham told the audience.
Wise replied that was a "perfectly understandable attitude." The antiracist educator credited his own career success to his "white privilege, male privilege, straight privilege, cisgender privilege and age privilege."
Reparations must be on the scale of the Marshall Plan
Transitioning to current events, Wise emphasized his longstanding support for reparations for African Americans. He contributed a chapter to the 2003 book "Should America Pay? Slavery and the Raging Debate on Reparations."
But he never specified exactly whom should be compensated or what they should receive.
"We've got a lot of work to do, but the fact that the conversation is being had is fabulous," he said. It is a "victory" that prominent Democratic presidential candidates are being asked to establish their stance on reparations.
Another "win" is that colleges are considering reparations, Wise said. He cited a recent vote by Georgetown University students to tax themselves with a new student fee to pay the descendants of slaves sold by the university nearly 200 years ago.
MORE: University offers class on 'The Problem of Whiteness'
"There is moral rightness" in this "necessary" discussion, and "something morally redeeming about forcing this conversation," Wise said.
The most specific Wise got on his reparations plan was calling for a "systemic, institutional massive investment, like the stuff we did to rebuild our enemies after WWII with the Marshall Plan." Reparations cannot be simply a "bill in the mail."
President Donald Trump is and "always was" racist, Wise said. His election shows that "this country is more sexist and more racist than I realized."
That's why it is important to educate individuals on their privilege in this political moment, Wise told the audience. "Dominant group members had never been asked to think about their identity" throughout American history.
Don't let students graduate unless they demonstrate 'solidarity'
Wise sought to clear up purported misconceptions about educating people on equity, inclusion and solidarity. It is "not about shaming people, it's asking [them] to be responsible, responsive and accountable" for their advantages, Wise said.
"Racism, sexism and classism, among others, become default positions when we do not interrogate our reality," he added.
But educating people on their privilege can be a double-edged sword, the activist said:
If I convince you that your identity provides you with advantages, if I do my job well, which is to prove that white privilege is real and that male privilege is real and that straight privilege is real and that able-bodied privilege is real and there's lots of them… Why would anyone want to get rid of them?
Higher education has actually been too successful in this regard, prompting white people to "hoard" their privileges upon realizing they exist, Wise said. In other words, white people are inclined to "internalize superiority."
Academic institutions have an obligation to embrace the struggle for social justice and solidarity, "not just at the level of rhetoric but policy" as well, Wise said.
"Schools must make mission statements up to date," and be "willing to say what it means to operationalize" the implementation of inclusive ideals.
He set out vague admission and graduation requirements in order to achieve this mission. Admissions offices must consider applicants under the mind-set that "if you're not down with this mission, then you don't actually fit in with us as an institution."
Current students should pay their dues by proving that they're committed to "this mission" by way of "community service requirements … relevant to solidarity." If they don't meet this standard, "then you don't graduate," he advocated.
Wise attempted to debunk what he calls "the building block of American ideology, the cornerstone of our secular gospel" – the activist's first mention of religion all day except for his prayer joke about his college-bound daughter.
"Genesis 1:1 in the Bible of Americanism" is the idea that "anybody can make it in America if you are just willing to work hard," he said. "We all know this is not true."
MORE: Harvard afraid of being seen as 'waging war on Christianity'
@udnore @timjacobwise sorry but people who believe in a God of hell/ damnation deserve to be mocked viciously and run out of public square

— Tim Wise (@timjacobwise) November 26, 2012
Eyerolls for diversity consultant who gave ICE presentation
In the conference panel of diversity consultants, human resources consultant Allison Manswell said "the nature of white privilege is to deny that it exists, but benefit from it nonetheless." The fact that American currency features white American leaders proves that white privilege exists, she said.
Speaking on gender in professional environments, LGBTQ inclusion consultant Stephanie Huckel said co-workers should avoid assumptions about others' sexuality entirely.
"Just because I have a husband and a four-year-old, people might assume that I'm straight … when I am very queer," said Huckel, who leads the global diversity and inclusion initiative at gambling technology provider IGT. She didn't explain how she is "very queer."
To achieve inclusion, "we must get comfortable being uncomfortable," said author and activist Michael Fosberg, whose one-man autobiographical play Incognito tells the story of Fosberg learning he's half-black.
The diversity consultant made the room uncomfortable when he admitted that his flourishing career since Trump's election – which led him to delete his social media accounts – included a presentation for Immigration and Customs Enforcement. That provoked eyerolls and gasps on the panel and among the audience.
MORE: U. Arizona protesters face criminal charges for ICE harassment
IMAGE: FAS Human Resources/YouTube
Like The College Fix on Facebook / Follow us on Twitter