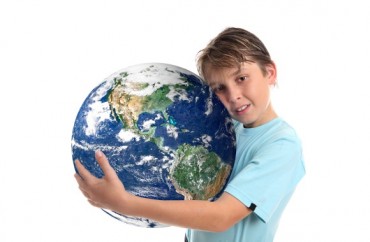 Like other groups which had started in 2015, a cadre of eight … youngsters is suing Florida Governor Rick Scott for his inaction on climate change.
Although the Miami Herald refers to the plaintiffs as "kids," the oldest is 20, and another is a university student. The eight are represented by Our Children's Trust, a group that has sponsored similar lawsuits across the country. They're seeking a court-ordered mandate for a "science-based 'Climate Recovery Plan.'"
In the original (2015) case, Juliana vs. United States, the plaintiffs took on the federal government and now has a trial date in October. That same year, eight middle schoolers sued Washington State to "reduce carbon emissions 80 percent below 1990 levels by 2050."
University of Miami Marine and Atmospheric Science student Delaney Reynolds joined the Florida suit, she says, because it's "completely unacceptable" that Florida is doing "not much" to fight climate change.
As a high schooler, Reynolds helped get a law passed that mandated solar panels be installed in all new South Miami homes.
"Gov. Scott says he's not a scientist. Well, neither are most of the people that are forced to take action because the state is failing us," [Reynolds] said.

There is no dispute that Florida, particularly the low-lying southern tip, is at growing risk from climate change. Miami Beach, which has seen worsening seasonal flooding, has already spent $125 million to keep its streets dry. Those high tides aren't going to get to smaller. New research from NOAA shows Miami streets could flood every single day by 2070 under many climate models.

In the suit, Reynolds and her lawyers accuse Scott and his administration of rolling back or failing to implement any legislation aimed at measuring or cutting back on carbon emissions, as well as ignoring the threat of rising seas on the state's coasts, which provide the economic engine for the tourism-dependent state.

Andrea Rodgers, senior attorney at Our Children's Trust, argues Florida is violating the public trust by failing to protect certain essential natural resources (like beaches) for future generations.

"We want these stories in the courtroom, because once that happens the law is on our side," said Rodgers. She said she expects to see the case in front of a jury by the end of the year.
The governor's spokesman said Scott had signed a $4 billion "environmental protection budget" last month and is not worried about "political theater […] orchestrated by a group based in Eugene, Oregon."
MORE: Middle schoolers used as legal pawns to fight climate change
MORE: Prof says ignoring climate change akin to sin
Like The College Fix on Facebook / Follow us on Twitter