The University of Michigan law professor who said Donald Trump could be charged with manslaughter for the January 6 "insurrection," and that the Hunter Biden laptop was Russian disinformation, has a new book coming out … on disinformation.
The Amazon.com synopsis of Barbara McQuade's book "Attack from Within: How Disinformation Is Sabotaging America" says  "We are strategically being pushed apart by disinformation—the deliberate spreading of lies disguised as truth—and it comes at us from all sides."
However, only "opportunists on the far right" and (ironically) "Russian misinformed social media influencers" are specifically noted.
McQuade, an MSNBC legal analyst, had tweeted in October of 2020 that "Yes, the laptop is Russia" regarding Hunter Biden's computer (pictured). This claim, also made by many others, ultimately proved to be bogus.
The professor's tweet was still on the platform as of midday today — but then deleted.
"Disinformation is designed to evoke a strong emotional response to push us toward more extreme views, unable to find common ground with others," the book synopsis continues. "The false claims that led to the breathtaking attack on our Capitol in 2020 may have been only a dress rehearsal."
MORE: Obama in Stanford speech: Disinformation 'has endangered the health of global democracy'
"Attack from Within's" section on "the authoritarian playbook" makes use of Godwin's Law: "a brief history of disinformation from Mussolini and Hitler to Bolsonaro and Trump, chronicles the ways in which authoritarians have used disinformation to seize and retain power."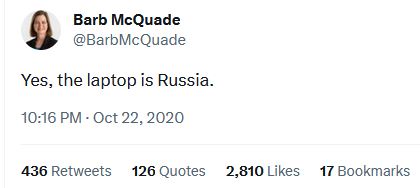 The sole review of the book thus far comes from tennis superstar  Martina Navratilova: "As someone who grew up behind the Iron Curtain, I understand the dangers of authoritarianism."
McQuade said of former president Trump last October that "unlike most ordinary citizens, [he] has not only a duty not to do something bad, but an affirmative duty to take action to protect people. I think you could possibly put together a theory based on the facts that Liz Cheney just described to make Donald Trump responsible for the deaths that occurred that day."
Law professor Jonathan Turley wrote at the time that he "knows of no case" that would legally bind Trump to an "affirmative duty" to protect others.
A few months before those comments, McQuade had tweeted that Trump could face up to five manslaughter charges.
McQuade's book announcement on Twitter didn't go over well with many:
Wow.. tell me how hunters laptop was Russia disinformation again. Haha

A book.. hahahah.

— Thump (@thump5) July 9, 2023
You said the laptop was planted by Russia. You ARE disinformation.

— Murchison's mouse (@MouseMurchison) July 9, 2023
Excellent work, you should title it "The pot calling the kettle Russia"! Hahaha, like Hunters laptop, get it?

— John Solo (@TheRealJohnSolo) July 9, 2023
Hope there's big chapters on the Russia hoax and the Biden laptop!

— James Morrow (@pwafork) July 8, 2023
MORE: UChicago students challenge CNN at campus 'disinformation' conference
IMAGE: U. Michigan screencap
Like The College Fix on Facebook / Follow us on Twitter