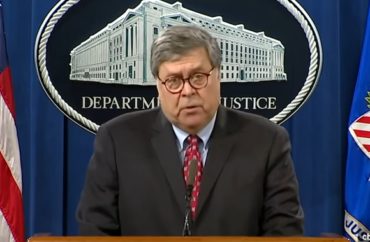 It would put him in league with Bill Cosby
Attorney General William Barr is accustomed to provoking shrill responses from progressive detractors, but his latest controversy could end with Barr personally losing something of value.
George Washington University Law School faculty are pushing the school to take back a 28-year-old honorary degree that it gave him during Barr's first stint as attorney general in the George H.W. Bush administration, The Daily Beast reports. He graduated from GW Law in 1977.
"Sources tell" the liberal news outlet that the effort is at an impasse, owing to opposition from other faculty who see such a move as a "slippery slope of politically motivated degree-rescinding." In a later report by Forbes, however, a law school spokesperson said talks were ongoing among faculty, and one potential rationale for revocation is abuse of authority.
The effort is a response to Barr's role in the disputed clearing of Lafayette Park, across from the White House, during the recent protests following the death of George Floyd at the hands of Minneapolis police. Once protesters had been removed from his path, President Trump walked out to St. John's Episcopal Church, parts of which had been burned and damaged by protesters, across the street from the park.
Local news station WTOP surveyed a variety of reporting, which said Barr had decided to expand the perimeter the night before or early morning, regardless of the president's eventual photo op, but that his order had not been carried out when he visited the scene that afternoon. The U.S. Park Police didn't mention Barr in its own statement, which said protesters were hurling objects and had been given three warnings to move back.
Protesters were removed about 15 minutes before Mayor Muriel Bowser's 7 p.m. curfew for that night. Officers used smoke canisters and "PepperBalls" but not tear gas, as widely reported, according to Park Police.
"Among some members of the faculty at George Washington Law School, the anger was particularly acute owing to Barr's ties to the institution," according to the Daily, which noted that Barr's name graces a "Dean's Suite" used to welcome students and visitors into one of its buildings.
The law school administration has tried to focus attention on its own critical statements against clampdowns on protest, rather than single out its alum for criticism.
Interim Dean Christopher Bracey (left) told students in a letter that they must engage in either protest or "solidarity with the notion that we must preserve and protect the right to protest as an essential constitutional right that dates back to the founding of our nation."
Bracey also pointed Forbes to that letter, in which he promoted "law and legal action" – not a symbolic move by GWU – as "the most powerful disruptive force at our disposal to combat the most retrograde of societal impulses."
The university, which must approve any degree revocation, may be averse to targeting Barr because it would put him in association with only one other figure, according to Forbes.
GWU rescinded its honorary degree to comedian Bill Cosby in 2016 after multiple women had accused him of rape but before he was convicted, reversing its earlier declaration that it did not rescind degrees "in response to later information."
A law school spokesperson declined to tell The GW Hatchet campus newspaper how many professors were pushing for revocation and what form they were using, such as a petition.
Read the Daily, Forbes and WTOP reports.
MORE: Barr calls schools 'ground zero' for attacks on religious liberty
IMAGE: CBS News/YouTube, GW Law
Like The College Fix on Facebook / Follow us on Twitter