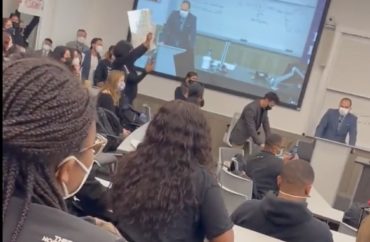 After dean pledged to crack down on disruptors, students accused law school of systemic racism
UC Hastings College of the Law will not punish law students who aggressively shouted down a conservative guest speaker earlier in the semester, actions which violated the school's code of conduct.
Ilya Shapiro, a constitutional law scholar, was shouted down with profanity, insults, chants, desk banging and other measures at a Federalist Society chapter event March 1.
"They screamed obscenities and physically confronted me, several times getting in my face or blocking my access to the lectern, and they shouted down a dean," Shapiro wrote in The Wall Street Journal.
Shapiro had become a controversial figure since he posted tweets in late January criticizing President Joe Biden's pledge to nominate only black women to fill the vacancy to be left by Supreme Court Justice Stephen Breyer.
A March 2 email to the campus community from UC Hastings Chancellor and Dean David Faigman had said students who shouted down Shapiro would be disciplined.
"Disrupting an event to prevent a speaker from being heard is a violation of our policies and norms . . . which the College will—indeed, must—enforce," Faigman's memo stated in part.
A parade of videos posted to YouTube and social media clearly show who shouted Shapiro down.
WATCH: Law students shout down scholar who criticized affirmative action
But after Faigman pledged to crack down on the disruptors, a coalition of students wrote an open letter accusing the law school of systemic racism.
The "overarching issues faced by Black students, students of color, and other marginalized communities on the UC Hastings campus are rooted in the prevalence of white supremacy and misogyny, and are not tied to the single Federalist Society event," the students' letter stated in part.
The students' letter called for a series of racial justice demands, including for the students who engaged in the protest to escape any discipline, the dean explained in a lengthy memo to the campus community.
Faigman agreed, writing in his April 20 memo he will not pursue individual punishment proceedings under the Code of Student Conduct and Discipline for those who shouted down Shapiro as part of the law school's larger plan of action to address students' concerns.
"It's not clear that protesters realized until emotions were already high that Section 107 of the Code makes disruption of a student event a disciplinable action; we will articulate policies that make that much clearer going forward," the dean wrote.
He added the protest was not planned, and administration didn't have policies in place to allow protesters "to reflect in advance of the event and channel their message in permissible ways while permitting the Federalist Society speaker to be heard."
"For future reference, and notwithstanding the above mitigating circumstances, it must be said that much of the behavior exhibited at the event, especially including the aggressive, in-your-face, shouting that occurred, almost certainly rose to actionable conduct," Faigman added. "Contrary to the explicit assertion of the first proposal, there is no free speech right to shout down a speaker at a law school event."
Faigman, as well as Morris Ratner, academic dean, and Elizabeth Moore, chief communications officer, declined comment despite multiple inquiries from The College Fix. A student leader at the Federalist Society at UC Hastings also declined comment.
In February of this year, Georgetown Law had suspended Shapiro, an incoming administrator, following his tweet criticizing Biden's affirmative action Supreme Court nomination process. It was in the wake of this controversy that the shout down at UC Hastings took place.
— Lawrence T. Hony (@lawthony) March 2, 2022
National Review, which reviewed a 45-minute video of the encounter, reported that the scene was chaotic. While the event began calmly, when Shapiro took center stage, activists erupted:
Shapiro's repeated attempts to speak were silenced by yells from the assembled students, who unleashed a stream of profanity and insults as he stood silently at the front of the room. ("When did you start balding? Are you sad that you're balding? I would be," one said mockingly to laughter from the audience. "You're a f***ing coward!" another yelled). Multiple student activists physically confronted Shapiro; one moved to block his access to the lectern and later began clapping in his face as students chanted, "Say it to her face, coward." Activists began drawing "black lawyers matter" on the whiteboard behind him. At one point, they commandeered the box controlling the Zoom stream of the event and flooded the live comment section.
Provost Morris Ratner attempted to calm the crowd, but that "was met with laughter and boos from the audience," National Review reported, with students telling the administrator "We can't have a bigot on campus" and "Remove him off the f***ing campus, because that's what we want."
For his part, Shapiro had accurately predicted the law students would not be punished for their actions.
"[Don't hold your breath for anybody to be disciplined," he wrote in his March 22 op-ed for The Wall Street Journal.
"You'd think that law students should have a particular appreciation for spirited and open engagement with provocative ideas. … But alas a heckler's veto prevailed."
"I'd welcome the opportunity to return to Hastings—or anywhere—to discuss the Supreme Court. It's even more important to have a national reckoning about our inability to discuss controversial issues without canceling our opponents."
Shapiro was reinstated by Georgetown last week.
MORE: Hostile law students shout down constitutional law scholar who criticized affirmative action
Like The College Fix on Facebook / Follow us on Twitter