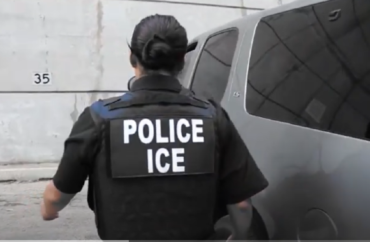 Schools say that a lack of familiarity with these tools could hinder students in their careers
Law students nationwide protested the legal research databases LexisNexis and Westlaw throughout the fall semester because the companies behind them have maintained contracts with U.S. Immigration and Customs Enforcement, which students claim uses the data and tools to aid in deportation cases.
Organized efforts have included sending open letters to administration, posting banners, and protesting outside LexisNexis' New York offices, according to Inside Higher Ed.
But administrators have reportedly been reluctant to end their contracts, as lack of exposure to the databases would leave students ill-equipped for a legal career in a field that relies on them heavily.
The primary group organizing action on more than 20 campuses, End the Contract Coalition, demands on its website that law school deans publicly condemn and end contracts with LexisNexis and Westlaw and that both companies end their own contracts with ICE.
The College Fix reached out to Thomson Reuters, the company behind Westlaw, and LexisNexis. Thomson Reuters denied these student claims.
"Thomson Reuters' contract with ICE for their use [of] our investigative solution, CLEAR, expired on February 28, 2021," company spokesman Dave Moran said.
Moran said data provided by Thomson Reuters is primarily publicly available records and does not contain utility or credit records, insurance claims, employment and credit history, cell phone records (including location), anything pertaining to minors, or information on an individual's immigration status.
"Our solutions contain data made available by government agencies such as court records and real estate property records; publicly available information such as white pages information; and privately aggregated data such as business directories and header data (contact information) from credit records," he said.
LexisNexis, however, signed a $16 billion five-year contract with the Department of Homeland Security in March 2021. A company spokesperson directed The Fix to this statement from its website:
"LexisNexis Risk Solutions helps customers across industry and government assess and manage risk, as well as detect and prevent online fraud and money laundering, by providing customers with innovative technologies, information-based analytics and decision tools and data services. As part of these services, LexisNexis Risk Solutions supports U.S. federal law enforcement agencies in their important work to protect our country.

Under the new Biden Administration, in March 2021 LexisNexis Risk Solutions was awarded a contract to provide an investigative tool to the Department of Homeland Security's U.S. Immigration and Customs Enforcement. We entered into this contract understanding that the mission of Immigration and Customs Enforcement under the new Administration had changed to focus immigration enforcement resources on people with serious criminal backgrounds."
Before the wave of protests hit law schools this fall, another group called #NoTechForICE was launched in 2018 to protest tech companies connected to ICE, including the LexisNexis and Westlaw products.
A petition on the website against the parent companies of LexisNexis and Westlaw has, to date, gained 1,894 signatures.
"We are law professors, librarians, attorneys, and law students who are deeply concerned about the role that Thomson Reuters (parent company to Westlaw) and RELX plc (parent company to LexisNexis) play in fueling the surveillance, imprisonment, and deportation of hundreds of thousands of immigrants each year," the letter stated.
"We ask that you end the data brokering deals that provide ICE with personal information the agency uses to identify, track, and target immigrants, refugees, and asylum-seekers for arrest and deportation."
Sarah Lamdan, a professor at CUNY School of Law who has been vocal about the issue, argued in the NYU Review of Law & Social Change that the "big data collected and sold by brokers … often contains many errors."
"When police forces rely on databases rather than human intelligence, they are casting wide and imperfect nets over communities that will mistakenly catch people who are not threats," Lamdan wrote.
"Especially in the immigration context, where an arrest can lead to deportation, labelling and tracking people because of computer-perceived risk, as opposed to their tangible actions, could lead to heartbreaking and dangerous outcomes."
She noted that 1,488 immigrants have been "wrongly detained by ICE agents since 2012" due to incomplete or bad data and records.
Thomson Reuters, however, would contest Lamdan's characterization of its products.
Though the company has a license agreement with Vigilant Solutions for using license plate recognition data, Moran told The Fix that characterizing its products as surveillance tools is "inaccurate."
"Our investigative solutions are designed for law enforcement and government officials to prevent, detect and stop fraud and investigate crimes such as money laundering, human smuggling and trafficking, and drug and weapons smuggling," he said. "For example, we provide human expertise and technology to the U.S. Department of Homeland Security's Center for Combatting Human Trafficking."
"Our solutions were not designed to be used for mass illegal immigration inquiries and are not an effective tool for addressing this issue."
Students may be protesting an essential part of their education
"If you're a person that cares about immigration law, or a student who is undocumented, or have parents who are undocumented, you're basically forced to use these programs," a Seattle University School of Law student told Inside Higher Ed. "You're being forced to use a program that is going to perpetuate harm against people you care about, maybe even people in your family."
Many schools have been reluctant to hear student demands because the knowledge of these databases is generally regarded as essential to a legal education. Other database options, like Casetext, exist but are extremely limited.
As Cornell Law School said in a statement provided to The College Fix, competent legal practice "requires that students be proficient with the commercial platforms Westlaw, LexisNexis, and Bloomberg Law, which are widely used in practice and which legal employers expect lawyers to be able to use."
Cornell noted that the university has still been working to diversify the options for legal research and encourage students to explore "important questions" about current platforms.
One way they have done so is by creating a software system called LII, "the world's leading no-charge platform for access to U.S. law, which provides free legal information to millions of users each year."
But "more work remains to be done here at Cornell, throughout the academy, and in the legal profession as a whole," the statement added.
"…To that end, we are exploring all aspects of the support services we provide from attorney staffing for our immigration clinics to regularly reviewing the terms of our contracts with online legal research providers."
The Hill reported that universities pay a yearly subscription fee that allows students to access the database. According to its reporting, Seattle University's contract with LexisNexis costs $50,000 annually.
MORE: Check out The College Fix's Campus Cancel Culture Database
IMAGE: YouTube screenshot
Like The College Fix on Facebook / Follow us on Twitter