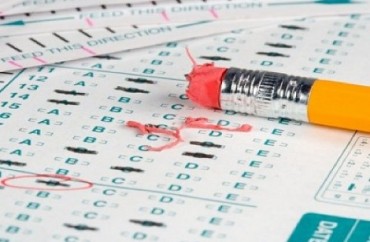 If it's not bad enough that the federal Department of Education is pondering punishment for schools with a tad-over-5% student "opt out" rate, a few counties in one state are taking it upon themselves to up the ante.
Some Florida elementary schoolers — including honor students — were not promoted to the next grade because their parents had opted them out of the state's standardized reading test this spring.
"A lawsuit filed by parents against state education officials as well as school boards in seven Florida counties says counties are interpreting the state's third-grade retention law so differently that the process has become unfair," The Washington Post reports. "Test participation, therefore, is more important than student class academic achievement."
Other counties in the state did not interpret the law as the seven named in the suit did, and the Florida Department of Education has not said students must be held back if they opt not to take the test(s).
Children and their families learned in June, when they received report cards, that they would be held back, and over the summer, parents organized and raised money so they could file a lawsuit challenging the third-grade retention law. School has started in some parts of Florida, and is about to start everywhere across the state.

That this is happening in Florida is not entirely a surprise, given that the Sunshine State was the leader, under Bush as governor, of test-based accountability systems that made standardized test scores the most important measure of student achievement and school success. The Obama administration applauded test-based accountability, and President Obama shared a stage in 2011 with then-Gov. Bush and called him a champion of school reform. Florida's test-based accountability system, however, has been so troubled that last year, superintendents around the state issued a statement saying they had "lost confidence" in it.

MORE: Deadline looms for public input re: US DoE punishing schools for standardized testing 'opt-outs'

The lawsuit says:

Parents of students who received report cards with passing grades — some of whom were honor roll students — seek emergency declaratory and injunctive relief alleging that, because they opted out of standardized testing for their child, defendants arbitrarily and capriciously interpreted statutes and rules in a manner that requires retention, rather than promotion, of third grade students. The result is that students with no reading deficiency are retained in the third grade solely because they opt-out of standardized testing. Defendants' policy mean s that a third-grader who takes standardized tests and scores poorly — whether intentionally or not — can still be promoted. Yet, an outstanding student who regularly produces proficient school work in the classroom for which they receive passing grades will be retained simply for not taking a standardized test that they are permitted to opt of under the Florida Statutes. Because the receipt of federal dollars is at stake unless 95 percent of students participate in standardized testing, test participation is treated as more important than actual performance.
Associated Press reporter Gary Fineout, who was in court tweeting the happenings, noted that Judge Karen Gievers was concerned with what the districts in question were doing:
Judge Karen Gievers asks why the children should be "held hostage" – suggests they be allowed to start 4th grade while case proceeds

— Gary Fineout (@fineout) August 12, 2016
"I'm not going to ignore the rights of youngsters," said Judge Karen Gievers, whose legal career has revolved around children

— Gary Fineout (@fineout) August 12, 2016
Judge Gievers says she doesn't like what she's seeing but the districts have to be given time to respond to lawsuit

— Gary Fineout (@fineout) August 12, 2016
MORE: Principal: Standardized testing is 'modern-day slavery'
MORE: Teen suspended for refusing Common Core test
Like The College Fix on Facebook / Follow us on Twitter