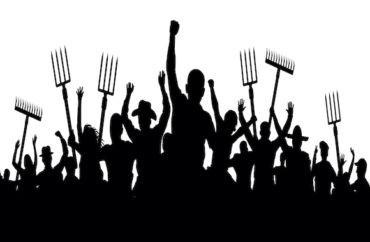 Has overwhelmingly positive RateMyProfessors.com ratings dating back four years
A history professor at St. John's University is under fire from a leftist student group for allegedly asking a class if "there was a good" to come out of slavery.
According to QNS.com, the university stated it has removed adjunct Richard Taylor from teaching and has begun an investigation into the matter.
The group Radical Social Justice Warriors at St. John's said by asking the question he did, Taylor engaged in "disgusting rhetoric" which "endangered" black students.
"It is outrageous that in 2020 [that] an individual who has a responsibility to adhere to the mission of our university to uphold a global community, [can] speak of slavery as if there was 'good to come from it," The Radicals wrote. "Justifying slavery and the oppression that results from it is a strong act of racism, of aggression, and invalidates the experiences of Black people and other BIPOC individuals with connections to slavery."
Taylor "pushe[d] forth the belief that slavery was okay," the Radicals added.
The Radicals added that "the wrongness of slavery is not a debate or a controversial issue" and that it is not fit for a "pros and cons list," and that any pro "was granted to White people only, and the 'diversity' that has resulted in the United States from slavery is not to have its impacts weighed, especially by students whose ancestors did not have a say is being brought to this continent."

The Radicals concluded their letter saying, "If Professor Taylor continues to teach at this university, St. John's University can never be anti-racist or claim it values Black lives." …

Taylor, a former NYPD police officer and US Marine Corps reservist, could not be reached for comment. He is also a doctoral candidate at St. John's whose research interests focus on the evolution of militarization within the New York City Police Department. …
Taylor has overwhelmingly positive ratings on RateMyProfessors.com — a 4.8 out of 5.0 based on 17 submissions. Student comments include
— "He makes everything easy to understand and he's just a great guy in general."
— "I never wanted to miss a class because the discussions were so interesting and interactive."
— "He makes students think critically about the lectures he gives and questions our thoughts in a way that engages the class."
— "Amazing professor! Definitely one of my favorites."
St. John's History Chair Nerina Rustomji said her department maintains a "commitment to anti-racism and to creating classroom environments where students feel included, respected, and enlightened by course content and dialogue."
MORE: Prof blames 'white Christian privilege' for slavery, genocide
MORE: New U. Virginia athletic logo 'disregards' injustice of slavery
IMAGE: Nosyrevy / Shutterstock.com
Like The College Fix on Facebook / Follow us on Twitter