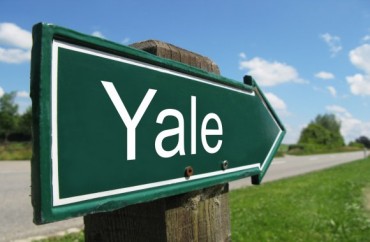 UPDATED
Conversely, current Yale trustees have contributed $10.8 million to Democrats
Less than one percent of political contributions made by current Yale University trustees over the past three decades has gone to Republican candidates and organizations, according to an analysis by The College Fix.
Since 1990, the 16 current Yale Board of Trustees members have contributed $11.3 million to federal political candidates, according to Federal Election Commission data collected by OpenSecrets.org. Of this amount, only $102,000 — or 0.9 percent — was donated to Republicans or Republican-affiliated causes.
Conversely, current Yale trustees have contributed $10.8 million to Democrats or Democratic-affiliated causes during the same time.
Of the $11.3 million in total donations by all trustees, $9.9 million was donated by Bain Capital executive Joshua Bekenstein. Since 1992, Bekenstein has made at least 437 donations to federal candidates, only $18,500 of which has gone to Republicans.
Of that amount, $6,000 was contributed before the year 2000, when Bekenstein donated $2,000 apiece to Massachusetts Republican U.S. Senate candidates Mitt Romney (1994) and Bill Weld (1996), and 2000 presidential candidate George W. Bush.
Romney was famously once a colleague of Bekenstein's at Bain Capital, leading to heavy Democratic criticism of Romney during his 2012 presidential run. Yet Democrats have been less shy about accepting contributions from Bain executives.
Current frontrunner and former Vice President Joe Biden, who in 2012 decried Romney's association with Bain Capital, has accepted over $14,000 in contributions from Bain executives, including the maximum allowed $2,800 from Bekenstein.
During the time frame analyzed by The Fix, Bekenstein has contributed $381,000 to independent candidates and causes, the vast majority of which he sent to No Labels Action ($250,000 in August 2018) and the With Honor Fund ($100,000 in June 2018), a "cross-partisan" group that supports both Democrats and Republicans.
During this period, Yale trustees donated $472,000 to "independent" candidates or groups. Typically, these "independents" would be candidates like Sen. Angus King of Maine and Sen. Joseph Lieberman of Connecticut, both of whom have caucused with Democrats.
The contributions registered with the FEC only count donations made directly to candidates or registered Political Action Committees (PACs). Contributions made to independent expenditure organizations or candidates for state and local offices are not reported to the FEC.
Far behind Bekenstein is trustee and Bloomberg executive Joshua Steiner, who has reported $971,000 in contributions to federal candidates and PACs. Of that amount, Steiner donated $1,000 to Republicans (a single contribution to New York congressional candidate Tom Engel in 2011) and $1,000 to Independents (Sen. Angus King in 2012).
During the 2020 presidential election cycle, Steiner has donated to Biden, Sen. Amy Klobuchar, Sen. Kirsten Gillibrand, former South Bend Mayor Pete Buttigieg, and Sen. Kamala Harris. Since 1990, Steiner has made large contributions to Democratic Party operations, including $106,000 to DNC Services Corporation, $78,000 to the Democratic Congressional Campaign Committee, and $67,000 to the Democratic Senatorial Campaign Committee.
Of the 16 trustees, only two – Douglas Alexander "Sandy" Warner III and Charles Waterhouse Goodyear IV – had a preference for contributing to Republicans. Of the $164,000 Warner has contributed, $79,000 has gone to GOP candidates and $21,000 was given to Democratic candidates. Of Goodyear's $18,400 in donations, $15,000 was given to Republicans.
Warner has also contributed $66,000 to independent organizations, $65,000 of which went to a fund controlled by his former employer, J.P. Morgan Chase.
Representatives for the Yale Board of Trustees did not immediately respond to a request for comment.
While the university itself cannot contribute directly to candidates, Yale employees and trustees are free to donate to politicians and causes as private citizens. But a heavy slant toward Democrats in terms of contributions signals that the trustees' public and private political positions may be the same.
In recent years, for instance, Yale has discontinued use of the title "master" on the grounds that it is perceived as racist. In 2015, a mob of students verbally attacked a professor that suggested students shouldn't be overly sensitive about Halloween costumes – the university later granted awards to several students leading the mob.
This year, the school was hit with a $110 million lawsuit for continuing ahead with the expulsion of a male student who had previously been exonerated of sexual assault by a New Haven municipal court.
In 2018, author and journalist James Kirchick mounted a petition to join the Yale trustees, bitterly criticizing the trustee election process as "undemocratic." Kirchick, now a visiting fellow with the Brookings Institution, argued the trustees' heavy political slant did not represent his viewpoint, claiming he would not "sacrifice free speech, academic excellence or the pursuit of knowledge on the altar of fashionable opinion."
A year later, Georgetown Law Professor Nicholas Rosenkranz unsuccessfully petitioned for a spot with the Yale trustees, saying the school "has become too intellectually homogeneous and that the culture on campus has become distinctly hostile to heterodox opinions and to freedom of speech."
Donations from Yale faculty members appear to confirm this theory. According to a previous Fix analysis, Yale faculty members have contributed $210,368 to presidential candidates since 2017 – of that amount, only 0.4 percent has been contributed to Republicans.
While Yale trustee Gina Marie Raimondo is only reported as contributing $4,025, Raimondo, a Democrat, currently serves as governor of Rhode Island. Yale Trustees Catharine Bond Hill, Emmett John Rice, Annette Thomas, Lei Zhang, and Peter Salovey, Yale's President, had no contributions listed with the FEC.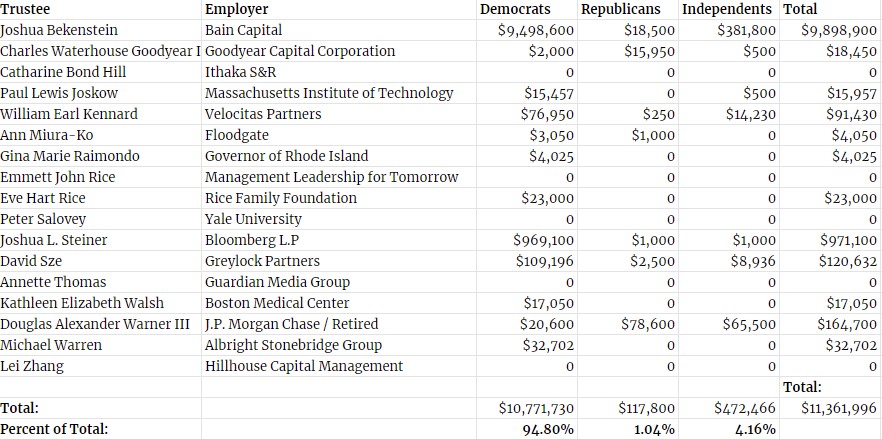 Source: OpenSecrets.org
UPDATE: James Lynch of the group With Honor contacted The Fix to clarify that his organization supports both Republicans and Democrats, so it is "cross-partisan" rather than "independent."
MORE: Yale shrink who claims Trump is 'mentally unfit' refuses to diagnose Joe Biden
IMAGE: Shutterstock.com
Like The College Fix on Facebook / Follow us on Twitter