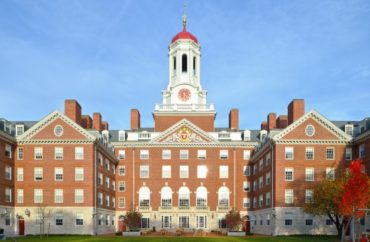 Only 25 percent of current faculty want to see more conservatives hired
Less than two percent of Harvard professors are conservative – and most other faculty members are opposed to recruiting more right-leaning academics, according to a survey from the campus newspaper.
The Harvard Crimson released the results of a survey it conducted with approximately 500 professors on topics that included school policy, climate change and political affiliation. A total of 333 respondents completed the entire survey, while another 143 partially completed it. The paper distributed it to the Faculty of Arts and Sciences and School of Engineering and Applies Sciences professors.
According to the survey, only 16 percent of Harvard faculty characterized their views as moderate and 1.5 percent identified as conservative.
"When asked whether they would support increasing ideological diversity among faculty by hiring more conservative-leaning professors, only a quarter of respondents were in support," the survey reported. "In contrast, 31 percent opposed hiring conservative professors to increase ideological diversity, while 44 percent of respondents said that they neither supported or opposed it."
This is a sign of the problem at the Ivy League university, according to Alan Dershowitz, a professor emeritus at Harvard Law School.
"Harvard, like most elite universities, does not seek intellectual and ideological diversity," Dershowitz told The College Fix via email. "Indeed its emphasis on race and gender may well reduce academic diversity. Pure meritocratic hiring criteria may well increase such diversity."
The Crimson also found that just 6.4 percent of recent Harvard graduates identify as conservative.
MORE: Crimson editors say Trump supporters endorse 'white supremacy'
There is a demand for racial and class diversity, however.
Another section of the survey included an open-ended question about the performance of several university leaders, including College of Arts and Sciences' Dean Claudine Gay and President Lawrence Bacow.
Some faculty said in their responses that "they would like Bacow to promote campus diversity by hiring and granting tenure to faculty of color and supporting first-generation low-income individuals."
In the responses to the question about how Dean Gay could improve her performance, the respondents said they wanted "FAS to prioritize faculty diversity."
The Fix also contacted the Office of the President at Harvard and the media relations team via email twice in the past month and asked if the university specifically hired faculty to promote any kind of diversity but did not receive a response.
MORE: Faculty at Harvard Kennedy School overwhelmingly donate to Democrats
One respondent to the survey shared thoughts similar to Dershowitz's response. The respondent told the campus newspaper that it was President Bacow's responsibility to restore "the reputation of universities as disinterested seekers of truth rather than left-wing indoctrination and propaganda outlets."
The Crimson conducts a similar survey yearly, and the percentage of faculty who were somewhat or very conservative fell by around 50 percent, from 3 percent in 2021 to 1.5 percent in 2022. In the same year, the percentage of "very liberal" faculty increased eight percentage points to 37 percent while the number of "liberal" faculty decreased only from 47 percent to 45 percent, according to the paper.
Samuel Abrams, a Harvard grad and political scientist at Sarah Lawrence University and Columbia University, also commented on the survey in an essay for the American Enterprise Institute, where he is a researcher.
Although he said he was "deeply fortunate" to have gotten his education at Harvard, he criticized the skewed results.
"[Harvard faculty] should pause and ask themselves why there are so few conservatives on campus and what can be done to welcome those with diverse views," he wrote. "Sadly, it appears that faculty would rather just allow more homophily to develop on campus, trying to live the life of the mind in a tedious echo chamber."
MORE: Four Harvard students donated to Trump 2020
IMAGE: Jorge Salcedo/Shutterstock
Like The College Fix on Facebook / Follow us on Twitter