Apology comes amid protests, petition
LYNCHBURG, Va. — Liberty University President Jerry Falwell on Monday apologized for a controversial tweet that ignited a firestorm of controversy for the Christian campus leader.
Falwell, in a tweet late last month, wrote he'd comply with Virginia's COVID face-mask mandate as long as it had the governor's infamous racist photo on it, which shows Gov. Ralph Northam dressed either in blackface or in a KKK white hood.
"After listening to African American LU leaders and alumni over the past week and hearing their concerns, I understand that by tweeting an image to remind all of the governor's racist past I actually refreshed the trauma that image had caused and offended some by using the image to make a political point," Falwell tweeted Monday.
"Based on our long relationships, they uniformly understood this was not my intent, but because it was the result I have deleted the tweet and apologize for any hurt my effort caused, especially within the African American community."
After listening to African American LU leaders and alumni over the past week and hearing their concerns, I understand that by tweeting an image to remind all of the governor's racist past (Part 1/3)

— Jerry Falwell (@JerryFalwellJr) June 8, 2020
Falwell's original tweet that prompted the controversy stated he was adamantly opposed to the mask requirement but if "I am ordered to wear a mask, I will reluctantly comply, but only if this picture of Governor Blackface himself is on it!"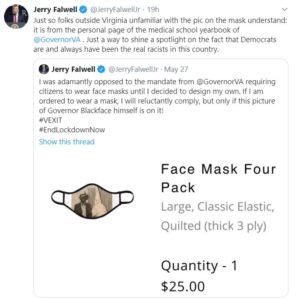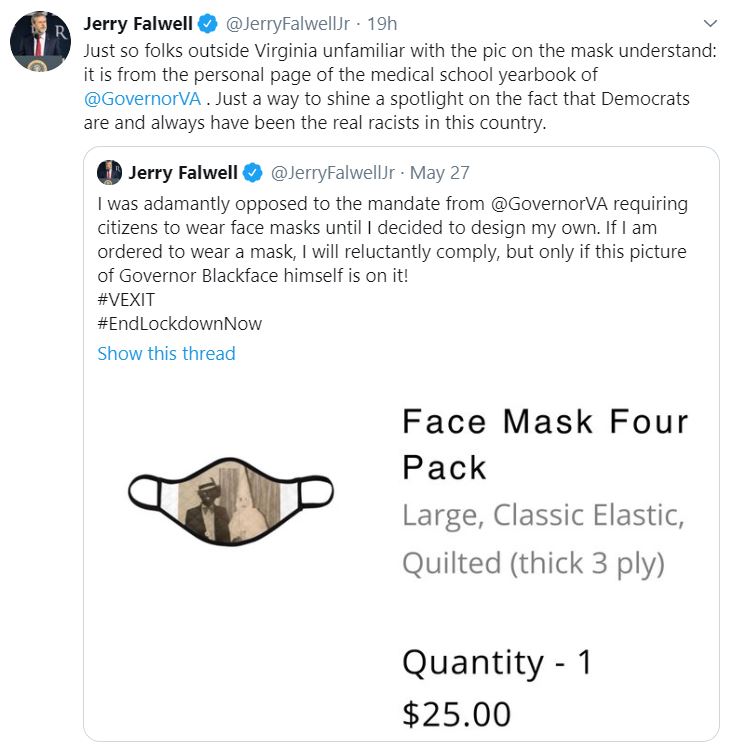 The apology comes as Falwell faced increasing pressure over the incident and other brewing controversies.
On June 2, a tunnel leading into Liberty University from Wards Road was blocked with protestors holding signs, chanting, and yelling "no justice no peace."
One protester yelled "F***Jerry. We don't support blackface," others stood in protest for George Floyd. Some held signs with quotes saying "Black Lives Matter" and "Every stripe in that [U.S.] flag represents the black man's blood that has been shed." The crowd included all races.
"I don't want to give [Falwell] the satisfaction of thinking this is about him at all. This is not about Jerry Falwell. This is a bigger picture that we need to get out," one participant told The College Fix.
As for Falwell's face-mask tweet, it's prompted calls for him to resign. Emails were sent to administration at Liberty calling for his resignation, and 35 black alumni wrote a letter also calling for Falwell to step down, Christianity Today reports.
"You have belittled staff, students and parents, you have defended inappropriate behaviors of politicians, encouraged violence, and disrespected people of other faiths. Your heart is in politics more than Christian academia or ministry," the letter said.
According to Christianity Today, the letter from alumni went on to discourage students from even attending the school.
"They said they would stop urging students to attend Liberty, would no longer donate to the university, and would urge fellow people of faith to avoid speaking at the school unless Falwell changes the behavior or steps aside," it reports.
Meanwhile more than 35,000 have signed a petition asking Falwell to apologize for the mask tweet, using the black alumni's letter as the catalyst.
Underscoring all this, a restaurant in downtown Lynchburg had been vandalized and forced to close temporarily after it chimed in with support of Falwell's controversial tweet.
"If you get extra made let us know! We would offer them to our staff as a mask option!" Fifth and Federal Station owners responded.
The exchange came before the George Floyd protests, though many saw it after the fact and accused Falwell of racism and insensitivity toward the black community. And once the protests against racism and police brutality launched in Lynchburg, Fifth and Federal Station became a target.
Protesters gathered at the restaurant in what started as a peaceful protest May 31. A couple hours later, it became very aggressive as customers of the business were harassed by demonstrators, owner Josh Read told The College Fix. 
"They were lashing out verbally, and it was pretty aggressive towards customers and families with kids that were being screamed at that they were racist," Read said.
"African American customers that were coming in were getting severely taunted and one of them got so frustrated he jumped up on our stage and started hollering back at the protesters, insisting that he's not racist and we need to treat people with respect," he said. "It was a pretty foul time that slowly became more aggressive."
Later that evening, rioters in Lynchburg attacked the restaurant, police, and the next door garage with rocks. Fifth and Federal is currently boarded up and the owner said he does not have a projected reopening date.
Read told The Fix he is sorry for any hurt feelings.
"There were people that were peaceful protestors that were hurt over what had happened and I understand that, but my intention was not to hurt anyone in any racial manner, that was not at all my intentions, I was blinded by the actions of my governor," Read told The Fix.
He said his tweet, as well as Falwell's, were in response to Gov. Ralph Northam's onerous and inconsistent COVID mandates that financially crushed the state's small business owners, adding in no way did they mean to spread racism.
MORE: Professor leaves Liberty University, cites need for academic freedom
IMAGE: Mehaniq / Shutterstock
Like The College Fix on Facebook / Follow us on Twitter