Liberty University President Jerry Falwell Jr. is no stranger to controversy — he might be one of the most controversial and contested men in America after President Donald Trump.
But also like Trump, he's going to say and do what he wants, regardless of how others believe he should act.
With that, this latest headline should surprise no one: "Liberty's Jerry Falwell 'designs' his own mask using Ralph Northam yearbook blackface photo."
Liberty is in Virginia, where Gov. Northam, a Democrat, earlier this week issued a new mask requirement mandating they be worn at all times starting Friday to combat the spread of Covid-19.
In response, Falwell took the opportunity to protest the order and troll the governor, whom he has sparred with for months on the pandemic issue.
In a retort to the new Virginia mask mandate, Falwell tweeted he was adamantly opposed to it "until I decided to design my own. If I am ordered to wear a mask, I will reluctantly comply, but only if this picture of Governor Blackface himself is on it!"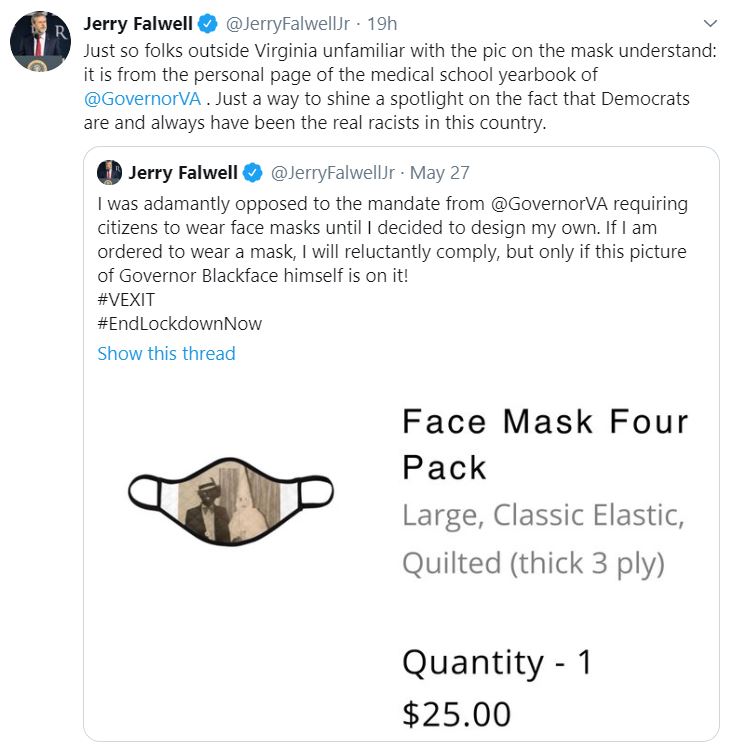 The picture is from Northam's old college yearbook in which he is shown either dressed in blackface or in a KKK white hood and robes. Northam first admitted he was in the picture and apologized, then later walked back his mea culpa.
(Side note: some argue Northam is the student wearing the KKK hood because he volunteered to subject the photo to facial recognition software to show he wasn't the guy in blackface. He wouldn't have done that if he knew he was the guy in blackface.)
At any rate, Falwell further explained his actions in another tweet: "Just so folks outside Virginia unfamiliar with the pic on the mask understand: it is from the personal page of the medical school yearbook of @GovernorVA. Just a way to shine a spotlight on the fact that Democrats are and always have been the real racists in this country."
Many responses on Twitter criticized Falwell's tweet as unchristianlike and called on him to step down as leader of Liberty, one of the largest Christian universities in the nation.
As for the beef between Falwell and Northam, the Virginia governor earlier this year claimed Falwell's decision to allow students on campus earlier this semester was dangerous. More recently, Liberty has been vindicated in its decision.
MORE: Some Liberty University students back on campus praise decision to reopen
MORE: Lots of colleges let students live on campus amid COVID, not just Liberty
MORE: University hosts forum for students to process emotions over Northam controversy
IMAGE: screenshot WSLS Virginia
Like The College Fix on Facebook / Follow us on Twitter