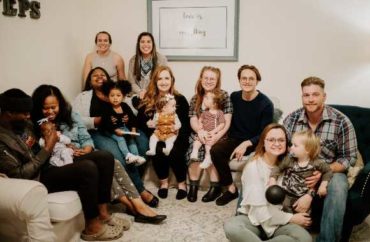 UPDATED
The nonprofit has supported new student-parents with friendship and practical support
Pregnant and parenting students at Auburn University in Alabama who need support this school year can continue to turn to a local nonprofit founded by a husband and wife team.
Matthew and Michelle Schultz started Baby Steps at Auburn in 2017 to "help combat the lie that it isn't possible to have both your education and your baby," according to the nonprofit's website.
On June 24, the same day the Supreme Court passed Dobbs v. Jackson Women's Health Organization, Alabama's attorney general filed a motion to dissolve injunctions on state laws limiting abortion, including the 2019 Alabama Human Life Protection Act, WSFA reported.
That law, now in effect, makes performing an abortion a felony "except in cases where [it] is necessary in order to prevent a serious health risk to the unborn child's mother."
Baby Steps offers temporary housing, childcare, tutoring, resources for education funding, and parenting and life skills training at no cost, according to Auburn University's website.
Additionally, Baby Steps welcomes parents who may need fewer practical resources into "a community of students who share a common experience," in part by hosting a weekly community dinner, according to the university.
Baby Steps launched in 2021 a new "Fathers On Campus" initiative to "offer support and community" to "allow student-dads to not only see that they are not alone, but that there is an entire community who understands, empathizes, and relates to them."
With a staff of seven, a house for new moms and babies located a short walk from campus, and the hospitality of the Schultzes, Baby Steps provides young families with concrete and relational support.
A connected Auburn University Baby Steps student club currently boasts more than 90 members, according Baby Steps at Auburn's 2021 Annual Report.
The College Fix reached out to the student group faculty advisor, Evelyn Hunter, and to Debin McGlan, student program advisor, by email to ask how the group works with the nonprofit to provide practical support and whether its members include any members who have been helped by the organization. It has not yet received a response.
Since 2017, Baby Steps has helped 18 student-mothers graduate, according to its annual report.
As a nonprofit organization, Baby Steps relies on donations and fundraisers and is not funded by Auburn, according to its website.
The Fix also reached out to Baby Steps by phone and email to ask about what strategies they have found successful in helping mothers graduate and how they might conceive of their role differently in the post-Roe era. However, it has not received a response.
Married couple draws on lessons of past experience to support new life
The Schutzes founded Baby Steps together in 2017, inspired by the "lifelong scars" of an abortion the couple had chosen years earlier as undergraduates themselves, according to a letter posted to the Baby Steps website.
"After experiencing for ourselves the power and freedom that comes from bringing things to the light, Matt and I began sharing our story with high school and college students nineteen years ago," Michelle Schultz wrote. "We were able to guide those who made similar decisions as our own to find the healing they so longed to experience."
"On top of this, we began recognizing an overlooked, isolated population of people in desperate need of support," the couple stated. "There was a need to help college women in unplanned pregnancies that wasn't being met at Auburn University or on other campuses around the country."
One of those women they helped now pays it forward.
"I encountered many obstacles while pregnant and trying to finish my degree at Auburn University," Kaitlyn Willing, an alumna of Auburn who is now Baby Steps Director of Operations, stated on the website.
"As a student-mom, I couldn't think of anything else I could've possibly needed or wanted more than Baby Steps," Willing wrote.
Editor's Note: This author has been updated and corrected at the request of Baby Steps. Baby Steps is not a ministry; it is a non-faith based 501(c) nonprofit. It was founded by Matthew and Michelle Schultz but is now run by a separate team. 
MORE: Campus pro-life groups rally to support women in the post-Roe era
IMAGE: Baby Steps at Auburn University/Facebook
Like The College Fix on Facebook / Follow us on Twitter