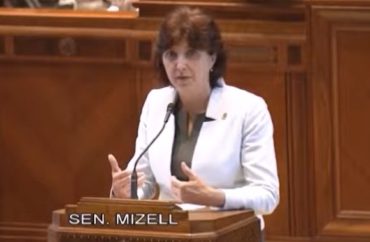 Sponsor tells The College Fix that state agencies currently have similar prohibitions
A Republican legislator in Louisiana wants to prohibit prohibit access to pornographic material on the WiFi networks of public universities.
Senate Bill 131, currently pending in the Education Committee, "prohibits internet access to online sites that contain material which is reasonably believed to be sexually explicit, pornographic, or sexually harassing."
Senator Beth Mizell's legislation would prohibit this content because it could be "reasonably believed to create a hostile work environment as prohibited by federal law."
The legislation would also apply to computers "owned or leased by each board, system office, and institution under its supervision," and personal devices that use the university's network.
Senator Mizell (pictured) said that she introduced the legislation after a authorities arrested a higher education employee for having child porn on his state computer.
"[A] few years ago I had passed a bill [Senate Bill 391] requiring internet filters on state owned devices," Mizell told The  College Fix via email on March 23. "Higher ed had asked to be excluded from that bill 'for research purposes,'" she said.
"I brought the issue back with the inclusion of higher ed devices and internet…that [are] state funded," she said.
Police arrested Louisiana State University Professor Gerald Myers in December 2021 for having child pornography on his computer and alleged sexual abuse of an animal.
Universities can get exemptions if they make specific, narrow requests
The legislation says the university can make specific, written requests for exemptions from the police for "legitimate scientific, educational, or law enforcement purpose." The requests must be time limited and will be periodically reviewed.
Mizell told The Fix that there should be bipartisan support for her legislation, as it intends to "protect the intention of state funds for education."
"The intent is to prevent instances that happened previously from happening on these taxpayer funded devices or connection," the state senator told The College Fix.
The bill does not restrict access to pornographic material on any device or online service that is not owned by "the board, office, or institution," according to the legislation. As such, off-campus internet services and privately owned devices are not restricted from pornographic content.
MORE: Catholic University of America bans 200 porn sites
The liberal Power Coalition for Equity and Justice opposes the legislation.
"There are certainly some First Amendment issues, but we will stand with the people wherever the people end up on this," CEO Ashley Shelton told the Louisiana Illuminator. "How are these things defined? Would a Victoria's Secret website be considered sexually explicit?"
Shelton did not respond to two emailed requests for comment sent in the past week.
The Fix asked Shelton if there were any content limits her organization would be open to supporting. The Fix also asked if universities should have oversight over sites accessed on their own network to protect against cybersecurity threats or potential scams targeting students.
She did not respond to these questions or another inquiry about what actions her organization would be taking to oppose the bill.
The College Fix emailed Tom Costanza, the executive director of the Louisiana Conference of Catholic Bishops, to ask for comment on the legislation. The Fix emailed Costanza twice at the address provided by his office but did not receive a response to a question on where the organization stood on the legislation.
MORE: This Catholic college has a successful anti-porn program to help students
IMAGE: Cajun Overcomer/YouTube
Like The College Fix on Facebook / Follow us on Twitter