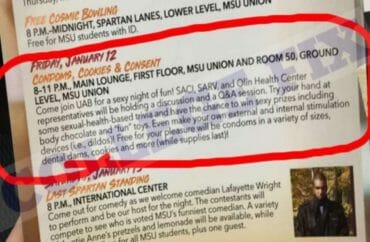 A sex-ed event slated for today at Michigan State promised students a chance to make their own dildos, but instead the event has been abruptly canceled.
The three-hour workshop was described on the university's website as a "sexy night of fun," during which students could play "sexual health based trivia" and "even make your own external and internal simulation [sic] devices (i.e. dildos)!"
The website had added that "condoms in a variety of sizes, dental dams, cookies and more" would be available to students on a "while supplies last" basis. In addition to building dildos, students could also "win sexy prizes," such as "body chocolate."
Campus officials have since removed the event description from the website, but The College Fix obtained a screenshot.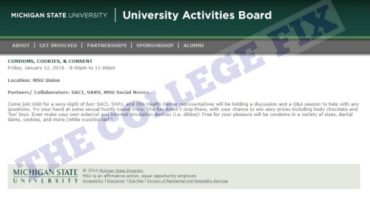 The workshop had also been advertised on Facebook, as well as on fliers handed out at a campus cafe.
Residential and Hospitality Services spokeswoman Kat Cooper told The College Fix in a phone interview that the event has been "postponed" and a reschedule date is yet to be selected.
The University Activities Board, self-described as operating "for students, by students," made the decision to cancel and will decide when, if at all, to reschedule, Cooper said.
A tweet sent out by the activities board on Thursday did not state why the event was canceled, only that the decision was made "upon review." The group states it will be rescheduled "in the future."
UAB supports and encourages healthy relationships for students. Upon review of this weekend's sexual health education event: Condoms, Cookies and Consent, UAB has decided to reschedule this program in the future. Please check https://t.co/qmMNUSwmLQ for upcoming events.

— MSU UAB (@UABatMSU) January 11, 2018
The event was to be facilitated by Olin Health Center representatives, the Sexual Assault Crisis Intervention team and the Sexual Assault and Relationship Violence prevention program.
One student weighed in on the content of the workshop, saying it's ironic for schools to encourage sexual activity given that unprotected sex is already an issue.
"I don't think [MSU] is promoting safety by helping students create stimulators for their sexual pleasure," one Michigan State student told The Fix in a text message. "It's almost like you're encouraging them to have more sex instead of teaching them why it's important to have safe sex, or stay abstinent."
But sophomore student Parker Johnson had a different opinion, saying the event would have been a good way for campus leaders to educate students.
"When talking about the stimulators, it's a perfectly [natural] thing for a healthy human [to] make yourself feel good. Sexually or otherwise," he told The College Fix.
MORE: Harvard University hosts anal sex workshop
Like The College Fix on Facebook / Follow us on Twitter