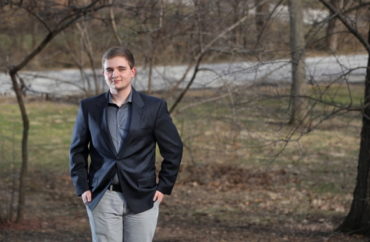 Nicholas Baker, a student at Saint Louis University, a Catholic institution, recently announced his candidacy for the student government's Vice President of Diversity and Inclusion.
Baker is not the traditional candidate for a role that typically attracts left-leaning progressives.
But Baker, who also serves as president of SLU's College Republicans, said he is fed up with the direction in which his institution is headed.
"As things stand, SLU is accepting of virtually everyone except for traditional Catholics and conservatives. They've gone so far as to allow a group of two thousand students to organize under the name 'SLU Sluts,'" Baker told The College Fix in a statement Tuesday.
"I hope that the student body will afford me the opportunity to 'Make SLU Catholic Again' by voting for me when the polls open next month."
Saint Louis University officials recently handed down an "inappropriate conduct" sanction against Baker's College Republicans for posting a video on its Instagram page last fall on the topic: "What is a woman?" The video also called out "SLU Sluts" for "actively making threats against our members," Baker said at the time.
A Dec. 7 memo obtained by The College Fix this week from SLU administration to Baker states that the GOP group has been issued a disciplinary warning for one year, effective through November 17, 2022, for the video.
A disciplinary warning is an official notification that the "behavior is objectionable and violates the University's community standards." Baker's attempt to appeal the decision was denied.
As part of the punishment, the SLU College Republicans have also been tasked with helping to create "a draft proposal of a social media policy for student organizations," which is due Feb. 24, according to the memo.
The punishment comes on the heels of the SLU College Republicans hosting conservative pundit Matt Walsh last semester, an event that was effectively forced off the St. Louis, Missouri-based campus twice, first by administrators with onerous COVID regulations and then by the Catholic church on campus. Instead it took place at a nearby hotel.
Tensions between conservative students on campus and SLU Sluts last semester also surfaced after a pro-life display was vandalized.
"The insane events of last semester have been eye-opening for myself as well as all other conservative students, faculty, alumni, parents, and prospective students," Baker told The Fix.
"This supposedly Catholic university sided with its self-proclaimed 'sluts' over its students who work to uphold truth and Catholic doctrine by questioning the blatantly harmful and anti-Christian ideologies that SLU works to advance."
Meanwhile, Baker's budding campaign to be elected as the student government's Vice President of Diversity and Inclusion has already faced challenges.
Students opposing Baker's candidacy took to the social media platform YikYak to express their disapproval, according to screenshots obtained by The College Fix.
One student anonymously commented: "I wish someone was as obsessed with me as Yik yak is with roasting the president of slu CRs." Said another: "After knowing him personally our freshman year I have no pity for him."
Other anonymous student utilized the platform to accuse Baker of facing Title IX complaints.
"Idk about you but I care about making sure a guy with MULTIPLE title ix cases and a history of hate to the queer community doesn't get in office," one student wrote. Another student said, "let's not forget he's got multiple title IX cases."
Baker provided a memo to The College Fix from the university showing there are no such cases pending against him.
Baker called the accusations slanderous.
"This kind of cowardly behavior — going to an anonymous message board and posting rude things about somebody they dislike — is what we expect from middle school bullies, not adult college students at a Catholic university," Baker said.
"I'm grateful that SLU's Title IX Office was quick to help me dispel this misinformation campaign by confirming that I have not ever had a case with their office," Baker said.
"Slandering someone over differences in political, religious, and moral beliefs is never acceptable, and I hope that those who are responsible for this will reflect on their behavior and learn to engage in civil discourse."
Baker's competition in the race is backed by "SLU Sluts," candidates who have also expressed pro-choice views and protested at the Walsh event, SLU alumna Lucy Gonzalez told The College Fix.
"It is alarming to see the high level of support, on a Jesuit campus like SLU, for values that directly contradict the teachings of the Catholic Church," she said.
The College Fix reached out to Saint Louis University and SLU's student government for comment, but did not receive a response.
MORE: SLU conservative student groups targeted by leftists in two recent incidents
IMAGE: courtesy photo
Like The College Fix on Facebook / Follow us on Twitter