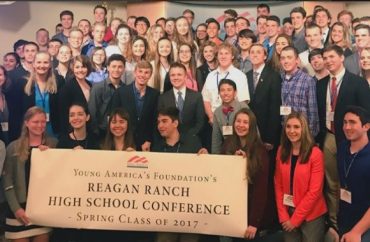 My son is a senior at a public high school in Southern California. In the last two years, he's been taught about "American Imperialism." He's been told Fox News is not a credible source for English essays. He's been shown the Michael Moore documentary "Capitalism: A Love Story," as well as clips highlighting leftists Stephen Colbert and The Young Turks. His government teacher screened a video on why the electoral college in unfair and should be abolished. He was taught that the Minutemen were unconstitutional.
I know all this because I ask him what he learned at school, and try to counter the one-sided biased he's often fed. Thankfully, I have back up.
In addition to having him watch PragerU videos and Dinish D'Souza documentaries, recently we had the privilege of having him attend a Young America's Foundation high school conference at the Reagan Center in Santa Barbara, Calif.
He enjoyed three days of learning from a parade of respected speakers, including: historian Dr. Burt Folsom; Ronald Reagan's son Michael Reagan; Fox News' Jesse Watters; black conservative Dr. Derryck Green of Project 21; and Islamic terrorism expert Robert Spencer.
The lectures were fact-filled and countered much of the bias that my son has learned in high school.
Never before has he heard how the titans of industry in America's past are proof positive that capitalism and competition help, not hinder, the common man and the economy, and that government intervention is a hindrance and burden to efficiency. Dr. Folsom's talk also taught the students how to discern fact from hyperbole in popular history textbooks assigned in schools.
My son also heard a black American, Dr. Green, speak with confidence and conviction about the detrimental effects of Democrat and socialist policies on the black community.
Black Lives Matter "completely ignores the breakdown of black families the black abortion rate." @DerryckGreen #YAFcon

— YAF (@yaf) March 18, 2017
He also heard of the courage of President Ronald Reagan from none other than his own son, who talked about how his father rejected calls of political correctness to delete the phrases "Evil Empire" and "Tear Down This Wall" from his speeches.
And he toured Rancho del Cielo, which served as Reagan's western White House during his presidency. My son was impressed by Reagan's desire to get away from the hustle and bustle of the beltway and drive to work the land, and was touched by the president's humble abode.
Michael Reagan telling #YAFCon students how top Democrats tried to convince Russia to help defeat Ronald Reagan in the 80s. pic.twitter.com/uRcgKTCKAu

— Jennifer Kabbany (@JenniferKabbany) March 17, 2017
As we drove home after the conference, my son talked of the great friends he made, conversations he enjoyed, plans he concocted to try and bring conservative speakers to his own high school. He said about 95 percent of what he learned at the conference he had never heard uttered by teachers within his high school's classrooms.
"The conference made me realize the country is not as messed up as the liberals say," my son, Anthony, concluded. "That there is hope even though liberal campuses are trying to suppress conservatism. People are still willing to fight and not give up so that people can learn the truth."
For parents who wished their child could have attended, in a way — they can! All of the lectures offered that weekend were taped and are now available online on Young America's Foundation's YouTube page.
Congratulations to our newest #YAFcon graduates, and welcome to the YAF alumni network! pic.twitter.com/x5j6Ab2vM5

— YAF (@yaf) March 18, 2017
Last fall I was honored to speak at a YAF high school conference and I summarized a lot of what I've taught my children for the audience.
At the end of the day, we must arm our children, our young people, with facts and truth to counter the leftist narrative. That's what I do as a parent, and that's what YAF does as an organization.
We're making education great again.
MORE: Parental Advisory-Don't let your kid's teachers be their only teachers
MORE: 7 powerful New Year's resolutions for conservative college students
Like The College Fix on Facebook / Follow us on Twitter