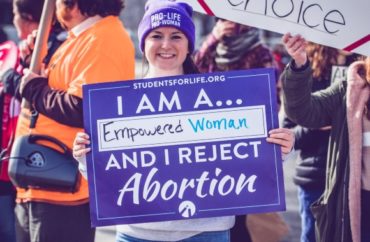 SPRINGFIELD, Ill. — Illinois' Joint Committee on Administrative Rules, which oversees regulatory updates, recently approved new "Culturally Responsive Teaching and Leading Standards for all Illinois Educators."
A pro-life activist told The College Fix that these new rules are "dangerous" and could lead to pro-life teachers losing their jobs and pro-life students facing discrimination. These standards apply to teacher preparation programs.
"We care about free speech," Sarah Minnich (above), Students for Life of America's Upper Midwest Regional Coordinator told The Fix via a Zoom interview, noting that her employer often has to get legal groups involved to protect free speech rights.
The ambiguities in the new standards are "dangerous for pro-life teachers and for conservative teachers," Minnich said.

The new standards "could lead to teachers losing their jobs or licenses if they don't follow them," Minnich warned.
She said that these rules, along with another civics law in the state, could force them to talk about political issues from a leftist viewpoint. It could also give liberal teachers cover for bringing students to rallies in support of leftist causes.
"Basically these rules are taking the progressive view of America, of people of sections of people and enforcing it in a way that teachers must approach their teaching and their students and even the content of what they teach, in a progressive way," Minnich said.
Originally, the standards called for teachers to "embrace and encourage progressive viewpoints and perspectives," before they were rewritten after criticism.
However, Minnich said that the standards still leave too much room for interpretation and can be used to justify discrimination against viewpoints, especially those of pro-life and conservative students and teachers.
"That same principle of pushing progressive ideology just rings true through the entire rule," Minnich said.
The rules say things like "a teacher must assess their own biases" when approaching students, but this leaves too much room for interpretation, Minnich said.
For example, teachers could claim that combating systemic racism allows them to silence a pro-life student who shares his or her opposition to abortion. Teachers could, Minnich said, censor the student because the instructor could claim that reducing access to abortion harms minority women.
MORE: Catholic University of America chaplain postpones pro-life speaker event
"What it leaves room for is a progressive interpretation of the rules and not so much a conservative interpretation of the rule," Minnich said. "There are specific things in the rules…that should be open for discussion but are just seen as law and truth."
For example, teachers should "understand how the system of inequity" has affected them as an educator, under the new standards.
But, Minnich points out, conservatives tend to focus on issues of equality while liberals tend to focus on issues of inequity.
Another part of the new standards require that teachers confront "homophobia" which could require the instructor to speak out against a student that simply shared a view in opposition to gay marriage. This is just one example of how the standards heavily tilt toward one viewpoint.
"If you're a progressive, liberal teacher who is pro-choice, there is no concern for you losing your job," Minnich said.
But if you're a conservative teacher "and you're being forced to embrace this progressive ideology, it really is ultimately a choice between you and your principles and you and your job."
MORE: Illinois lawmaker proposes ban on history classes
IMAGE: Students for Life of America/Facebook
Like The College Fix on Facebook / Follow us on Twitter