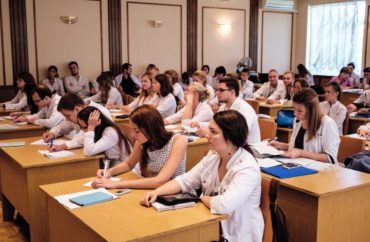 A new report details how some medical school professors deny biological sex to avoid being called transphobic and becoming targets of campus cancel culture mobs.
Medical students at some schools are "taught that humans are not, like other mammals, a species comprising two sexes. The notion of sex, they are learning, is just a man-made creation," reports Katie Herzog, who interviewed many students to determine the trend.
Herzog notes that not all medical school professors teach this, but plenty do, and that while some are "true believers," others are afraid of their students.
Her report included anecdotes of professors under fire for using terms such as male and female, including one University of California professor who apologized to his class for using the term "pregnant women."
"I said 'when a woman is pregnant,' which implies that only women can get pregnant and I most sincerely apologize to all of you," the professor reportedly said.
One medical student told Herzog that when "sex is acknowledged by her instructors, it's sometimes portrayed as a social construct, not a biological reality … In a lecture on transgender health, an instructor declared: 'Biological sex, sexual orientation, and gender are all constructs.'"
The problem is not just political correctness — real world health is at stake:
This hypersensitivity is undermining medical training. And many of these students are likely not even aware that their education is being informed by ideology.

"Take abdominal aortic aneurysms," Lauren says. "These are four times as likely to occur in males than females, but this very significant difference wasn't emphasized. I had to look it up, and I don't have the time to look up the sex predominance for the hundreds of diseases I'm expected to know. I'm not even sure what I'm not being taught, and unless my classmates are as skeptical as I am, they probably aren't aware either."

Other conditions that present differently and at different rates in males and females include hernias, rheumatoid arthritis, lupus, multiple sclerosis, and asthma, among many others. Males and females also have different normal ranges for kidney function, which impacts drug dosage. They have different symptoms during heart attacks: males complain of chest pain, while women experience fatigue, dizziness, and indigestion. In other words: biological sex is a hugely important factor in knowing what ails patients and how to properly treat them.
Read the full report in the Common Sense with Bari Weiss substack.
MORE: Lecturer tells Yale medical students she fantasizes about killing white people
IMAGE: Boxer X / Shutterstock
Like The College Fix on Facebook / Follow us on Twitter