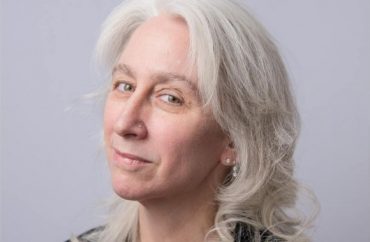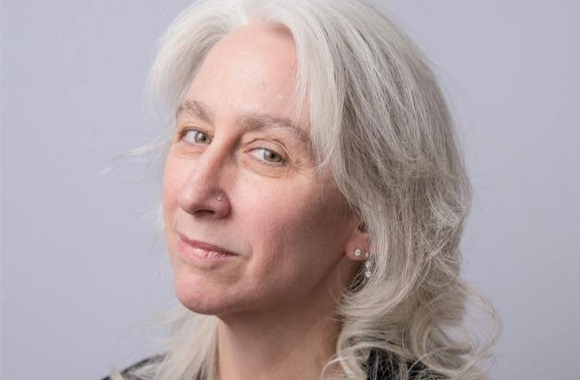 'They want me not to be able to have a voice'
The University of Chicago has stood on the sidelines for too long as one of its scholars has faced repeated defamation and smears by critics of her viewpoints.
That's the message delivered by the National Association of Scholars in defense of Rachel Fulton Brown, a professor of medieval history at UChicago.
Fulton Brown has been repeatedly slurred as a "white supremacist," "racist" and "alt-right" since her 2015 blog post "Three Cheers for White Men" drew condemnation from feminists.
She had argued that white men made indispensable contributions to feminism, telling The College Fix at the time that she wanted to "push back against the negative image of the Western tradition" in American culture.
Critics include Dorothy Kim, a Brandeis University professor who has also accused her of academic transgressions and inciting violence.
"You will be called names if you try to speak up for the truth," and few will stand by you, Fulton Brown (above) said in a phone interview last week with The Fix:
What is unclear is what do you do when attacks are on people's character – not ideas, but their ability to participate in conversation at all. They want me not to be able to have a voice. Colleagues, in my best interest, have been telling me to shut up. I want to them to think about what that means.
MORE: Feminist scholars berate Fulton Brown for 'Three Cheers for White Men'
It's not just Fulton Brown's university that is refusing to defend her. It's the academic association to which she has belonged for three decades.
In a year-old Facebook post shared with The Fix, Kim reprinted a letter she received from the Medieval Academy of America, which offered her a free membership and free conference registration in response to "abuse" allegedly directed at her by Fulton Brown.
"If, in fact, [Kim] was reproducing an actual letter, this represents a clear instance of our professional organization taking sides in a public debate over issues of intellectual, scholarly, and civic propriety," Fulton Brown wrote in a September email to MAA officials that she shared with The Fix.
Universities can't be 'neutral between defamers and the defamed'
The National Association of Scholars has been circulating an open letter supporting Fulton Brown and demanding her university and academic group publicly support her against attacks.
She has been subject to "a series of defamatory attacks" for her "vigorous polemics," including last year's "How to Signal You Are Not a White Supremacist," the letter says. Fulton Brown has also been accused of complicity "in inciting violence against her fellow professionals."
Academic corporate bodies have a duty to "vindicate the reputation of their members when they have been falsely accused of disgraceful and unprofessional conduct," the letter says:
We urge these institutions to consider the damage their own reputations have suffered by failing to repudiate the calumnies inflicted upon Rachel Fulton Brown.
In a Sept. 17 email sharing the letter, NAS said it had already received 1,000 signatures, including from more than 300 university professors.
MORE: Fulton Brown's colleagues support (inoffensive) free speech
The scholar, best known for her books on medieval Christianity (left), was targeted by "academic radicals" when she publicly opposed the reinterpretation of medieval history as "essentially a chronicle of racist oppression," NAS said.
President Peter Wood called on UChicago and the MAA to "step up" and defend Fulton Brown "against scholars who attempt to shame colleagues by ad hominem attacks."
"NAS respects the principle of university neutrality in scholarly disputes," he wrote. "Yet, the defamation of Professor Brown as a racist or white supremacist does not fall within the purview of a 'scholarly dispute.'"
A spokesperson for NAS told The Fix in an email that it circulated the letter because the "insufficient defense" of Fulton Brown had "left her vulnerable to ongoing attacks." It's shifting from a defense of academic freedom to "professional reputation" in part because of Fulton Brown's case:
We think professors' professional reputation should be defended–and we think it has to be defended so as to defend academic freedom. We hope to prod academic institutions to do more than just say they are neutral between defamers and the defamed.
Her prime critic is 'not OK w/ supporting white feminist work'
NAS specifically mentioned an Aug. 30 essay by Kim, an English professor at Brandeis, published by Inside Higher Ed.
Kim alleged that Fulton Brown targeted her for harassment after Kim wrote "Teaching Medieval Studies in a Time of White Supremacy" a year ago. The essay detailed the intertwined relationship of medieval studies and white supremacy, and warned that the latter must be denounced or it might be passed on to students.
It was actually Kim who first responded to Fulton Brown's "Three Cheers for White Men" in 2016. Kim called Fulton Brown's essay "#WhiteLivesMatter for the Middle Ages" and said she is "not OK w/ supporting white feminist work."
When Fulton Brown wrote "How to Signal You Are Not a White Supremacist" in response to Kim's 2017 essay, she also "tagg[ed]" the anti-feminist provocateur Milo Yiannopoulos, whom Fulton Brown has supported even after his pedophilia controversy. This whipped up "hate messages and threats against my body," Kim wrote. She alleged scholars like her are at risk of being "harassed, recorded, stalked."
The executive director of the MAA, Lisa Fagin Davis, responded to Kim's tweet about her essay by noting the organization is working on "protective policies" through an "Ad Hoc Committee on Harassment."
MORE: Medieval studies scholars deem field too white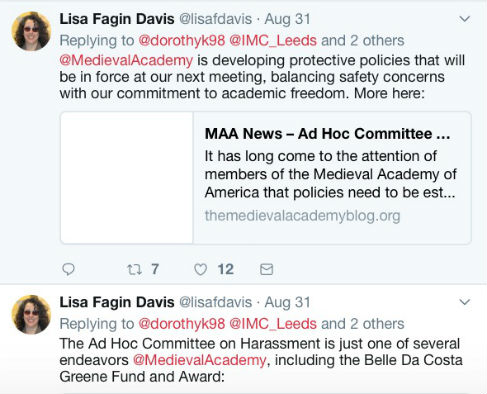 Fulton Brown told MAA officials in her September email that this looks like the MAA is "endorsing the claims" in Kim's essay.
Peter Wood, president of NAS, wrote a response in Inside Higher Ed accusing Kim of transforming someone sending her "an unpleasant comment" into an "alt-right conspiracy" that includes Fulton Brown:
A principled argument that a scholarship restricted to "medievalists of color" is racist is transformed into what Kim calls "epistemic racial violence." Kim wants to feel "safe," so Fulton Brown must be forbidden from attending a workshop Kim organized for the International Congress of Medieval Studies.
Wood told The Fix that Fulton Brown can "expect such defaming articles to continue for the rest of her career–unless she is firmly vindicated by her fellow scholars and institutions" including UChicago and MAA.
Peter Wood argues that scholars should speak out against those who use epithets rather than argument to silence anyone who disagrees with them.https://t.co/nePbVnXZHf

— NAS Scholars (@NASorg) September 10, 2018
'Calculated to destroy my reputation as both a Christian and a scholar'
Fulton Brown told The Fix that it was "difficult to assess" the damage done to her professional reputation at the hands of Kim and others.
The most critical and personal attacks against her have come indirectly, online or through social media, and most critics "willfully misunderstand what I am trying to suggest."
Many of her colleagues across academia have warned her to stop blogging or writing her thoughts on her controversies, even though her posts don't name-call or personally criticize her critics, Fulton Brown said. This is an "inadequate response" in her view: "Is it less appropriate for me to raise my concerns than it is for my colleagues that are calling me names?"
The 29-year member of the MAA has used her "MedievalGate" blog to chronicle her contentious relationship with Kim. She has only seen the Brandeis professor once in person on an MAA panel where Kim was speaking. (Kim taught at Vassar College at the time.) "She used this to claim that I harassed her by sitting at the panel," Fulton Brown said, referring to Kim's Inside Higher Ed essay.
In the letter to MAA officials she shared with The Fix, Fulton Brown shared Kim's Facebook post that reprinted the MAA letter from September 2017.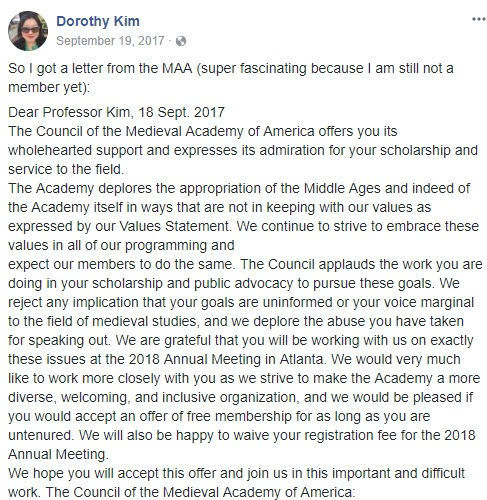 The organization offered Kim "its wholehearted support" and said it "applauds the work you are doing in your scholarship and public advocacy" against white supremacy. The MAA "deplores the appropriation of the Middle Ages" and "reject[s] any implication that your goals are uninformed."
Noting that she had accepted its offer to participate in the 2018 annual meeting, the MAA said it wanted to work more closely with Kim to make it a "more diverse, welcoming, and inclusive organization."
Fulton Brown told the officials that Kim had made "serious allegations of academic and civic misconduct about me, calculated to destroy my reputation as both a Christian and a scholar," going back to early 2016. She offered to share "records of these lies" told by Kim, which are also documented in a blog post by Yiannopoulos.
"I write now in the hope that the Officers and Council of the Medieval Academy will be willing to offer a correction to their response from last year, acknowledging that the claims made by Professor Kim do not have a basis in fact," Fulton Brown told MAA officials.
Fulton Brown told The Fix she has received no response from MAA. She continues to document the ongoing controversy on her personal blog and videos.
MORE: Fulton Brown remains by Milo's side post-scandal
"Once you've conflated speaking against certain premises as violent, there's nothing left to talk about," she told The Fix.
The MAA did not respond to multiple phone and email inquiries regarding the conflict between Kim and Fulton Brown, or the development of its Committee on Harassment.
The University of Chicago declined to answer Fix questions, instead providing an August statement from Amanda Woodward, dean of the Division of the Social Sciences.
The statement affirms that the university, renowned for its free-speech statement, is "deeply committed to the values of academic freedom and the free expression of ideas, and these values have been consistent throughout our history."
The purpose of universities is to serve as places where "novel and even controversial ideas can be proposed, tested and debated," she said. Therefore, UChicago will "not limit the comments of faculty members nor mandate apologies for such comments, unless there has been a violation of University policy or the law."
Because it "defends vigorously any faculty member's right to publish and discuss his or her ideas," the university "does not take a position in the scholarly debates and discussions in which its faculty members are involved."
MORE: UChicago turns blind eye to professors who try to censor peers
IMAGES: Rachel Fulton Brown, Fencing Bear at Prayer, Columbia University Press, Lisa Fagin Davis/Twitter, Dorothy Kim/Facebook
Like The College Fix on Facebook / Follow us on Twitter