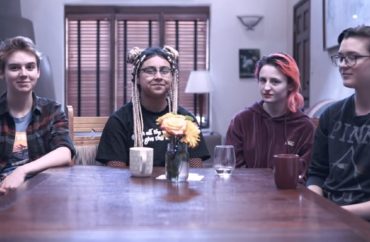 Trans identity reinforced by the hostility of the community to doubts
The LGBTQ+ lobby in America claims to champion visibility, conversation and acceptance. A group of young women, however, claims the lobby is ignoring their voices.
Largely missing from discussion of transgender issues, such as gendered bathroom disputes, women's sports and transgender children, is the phenomenon of those who detransition, and why they do so.
The Pique Resilience Project, created by four women in their early 20s, aims to bring the conversation of detransitioning to the forefront. They describe themselves as "four detransitioned and desisted women with the goal of sharing our stories and providing information on detransition, as well as support for those who may be questioning their gender or identity."
The quartet says they all experienced rapid-onset gender dysphoria and identified as transgender men for much of their teenage years. They have all since "detransitioned/desisted, and have been able to explore other individual factors that may have caused or exacerbated our dysphoria."
Brown University's Lisa Littman, assistant professor of behavioral and social sciences, published a study on the phenomenon and coined the ROGD moniker last year. The university removed a statement promoting the study following claims that it was anti-transgender, and later mischaracterized the nature of corrections made to the study.
The College Fix reached out to the women of Pique Resilience Project via direct message on multiple social media platforms as well as submitting a contact form on their website. They have not responded, but they have talked about their project with other publications as recently as earlier this month.
MORE: The Equality Act, or the Female Erasure Act?
'I really did not have any doubts until the second I started transitioning'
The four women identify themselves by their first names only on their website, but they have not hidden their current appearances. They also host a podcast called Danger Ramen, though it hasn't been updated since this spring.
The Pique Resistance Project tells visitors to its FAQ page that the founders are "left-leaning and do not adopt conservative beliefs," making them common among "detransitioned and desisted people." They also object to being described as "trans exclusionary radical feminists," a slur often used by trans activists against women who question trans ideology. They "align with many gender critical beliefs" but do not seek to "exclude" anyone.
In a video titled "Detransitioning Q&A," the young women answer questions about their experiences.
Dagny, 23, explained that she began testosterone during her teenage years because she had her parents' blessing. She said that if she were made to wait until 18 to begin testosterone, she likely wouldn't have begun it at all. "I really did not have any doubts until the second I started transitioning."
Jesse began testosterone promptly at 18, and explained that it was an important step to realizing that she did not want to transition. "If I had not started [testosterone], I probably wouldn't have desisted." Had she not begun transitioning, she would have kept wishing for the "forbidden fruit."
One of the questions asked was about the women's doubts about their transition. They all admitted to having doubts.
MORE: Harvard says masculinity and testosterone are not 'connected'
Helena, 21, admitted to having doubts about herself and also about the trans community. She says she primarily explored transgenderism on Tumblr. She explained that the conversation on Tumblr was seemingly one-sided, and there were views held by the community that were something of a litmus test for belonging.
Helena claimed that it was "hard to for me to think outside of transitioning; so hard for me to consider any other path for myself." That's because the doubts she had "were so vehemently shot down." Because Helena was unable to explore the possible ramifications of this decision, she felt transition was the only option.
They all agreed that they seriously repressed any doubts they had, because they wholeheartedly believed that transition would alleviate their dysphoria and validate their feelings.
At one point Helena mentions that her three best friends in high school all identified as transgender and then desisted. This affirms researcher Littman's conclusion that "a process of 'social and peer contagion' may play a role."
In other words, gender dysphoria is more likely to be environmental and learned than naturally occurring. "According to the parents surveyed, 87% of children came out as transgender after spending more time online, after 'cluster outbreaks' of gender dysphoria in friend groups, or both," the study found.
It seems that some societal pressures were at play in their decisions. Jesse, 21, explained wanting to "prove myself," be "authentic," and have people like her. Between these feelings of wanting to belong and being surrounded by an online trans community that did not provide much recognition for detransitioners and desisters, these women felt that hormone therapy was the right and only path for them.
MORE: YouTube partially demonetized him for talking about detransitioning
Social worker accepted her 'ridiculous answers without questioning them'
National Review recently interviewed Helena, who said "she is worried that voices like hers are being 'silenced' and shut out of the transgender debate. She also worries that there is a lack of therapeutic and medical support for detransitioners."
Helena further explained that she dealt with a lengthy history of mental disorders in her teen years, including an eating disorder, depression, anxiety, and ADHD symptoms. She claimed that her choice to transition was somewhat fueled by a desire to be accepted, seeing that transgender voices were taken as authoritative and their opinions seemed to hold more weight in online communities such as Tumblr.
It only took a 30-minute meeting with an LGBTQ+ social worker for her to be granted testosterone. "It's actually pretty ridiculous, the answers that I gave, and she like accepted those answers without questioning them," Helena said, reflecting on the meeting.
"What we went through was stressful and detrimental in a lot of ways, so that motivated us to create something for other struggling young people," another member, Chiara, said in an interview with The Velvet Chronicle.
The publication, founded by trans-skeptical lesbians, said the 22-year-old feels "fortunate that her mother didn't allow her to undergo medicalization."
MORE: Mothers in shock as daughters come home with mustaches, no breasts
Chiara believes that "not 'fitting in' can fuel dysphoria and cause girls to adopt a mistaken trans identity." This is why societal gender roles should be less "restrictive," she said: "There is no reason to force young girls into a box; they should be allowed to be themselves and build a life without worrying about upholding an outdated role."
She had a difficult time getting her story before an ideologically sympathetic audience, as many left-leaning publications refuse to give detransitioners or desisters a platform. "It's definitely a bit frustrating that the only people who will give us a platform are generally more right-wing, since none of us are conservative," she told the publication, which prints her full name.
Chiara and her mother were also featured in an Economist article more than a year ago, under pseudonyms Janette and Rachel. Her mother revealed that gender therapists all urged gender affirmation and treatment at Chiara's age of just 16.
According to Littman, the Brown University researcher, "some adolescents may embrace the idea that they are transgender as a way of coping with symptoms of a different, underlying issue."
Chiara's gender dysphoria seemed to go away after therapy, and she believes that she latched on to the transgender ideology as a coping mechanism for depression and past sexual abuse.
MORE: Transgender activism's threat to women is 'forbidden discourse' on the left
IMAGES: Pique Resilience Project screenshots
Like The College Fix on Facebook / Follow us on Twitter