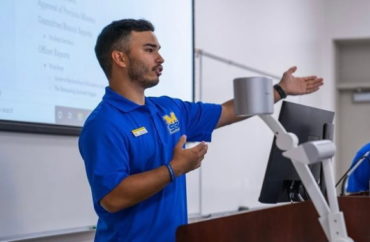 Trey Gregory did not shy away from his pro-life beliefs
A pro-life student government leader is not afraid to use his voice and influence to advocate for preborn babies and parents.
Trey Gregory, the speaker of the senate at McNeese State University, worked in his student government to help protect life on campus at all ages.
He told The College Fix that one thing working in his favor is that southwestern Louisiana is "predominantly pro-life and Christian" although "McNeese is guilty of having the common liberal professor zealots."
Because there are no abortion facilities in the area, Gregory said via email that he and other pro-life students have been able to focus more on helping families rather than trying to shut down abortionists.
Gregory (pictured) told The Fix he has focused on policies that help protect the lives of students and student mothers.
He explained he wouldn't advocate for any policies in his student government without first surveying students at McNeese to find what people were interested in and supported.
Some of the policies he found many students supported were "free daycare for mother students' children, baby diaper changing stations on campus, and maternity parking," and he said he was therefore a strong advocate for those pro-mother positions as the speaker in his student government.
In an article for Students for Life Action, Gregory wrote that "a spokesperson that came to our SFLA meeting mentioned how pro-life campus policies can include the addition of baby-diaper changing stations in bathrooms," and that he was in talks with Big Brothers and Big Sisters about possibly offering free daycare for students at McNeese.
MORE: No proof students are leaving red state colleges because of pro-life laws
He also told The Fix that he recommended "collecting data such as conducting surveys" to determine what pro-life policies other students would advocate for at any given university as he realizes McNeese's "student body is much more neutral or even slightly right-leaning" compared to many other universities.
Gregory said that he developed his pro-life views because of his religion and Catholic background. He specifically thanked MSU and his alma mater Sulphur High School for allowing speakers like (pro-life advocate) Sarah-Mary Toce to advocate for life at school as they influenced him and others to protect the pre-born.
He also shared advice for how not to change opinions on campus.
Other pro-life speakers at McNeese State "tried ripping off Steven Crowder's 'Change my Mind' segment and did a poor job of garnering support" and Gregory even "critiqued him for his harshness and inability to bring empathy to a very emotionally-driven discussion," he told The Fix.
Students for Life Action also told The Fix they encourage other students on campuses to follow students like Gregory in advocating for pro-life policies on campus.
"The Pro-Life Generation implements such change through SFLA group advocacy as well as taking a part in student body governance," spokeswoman Caroline Wharton told The Fix. "Our student leaders take charge in whatever situation they are placed in to further the pro-life movement and protect preborn children and women."
MORE: Benedictine College students fight for the sanctity of life
IMAGE: Facebook screenshot
Like The College Fix on Facebook / Follow us on Twitter