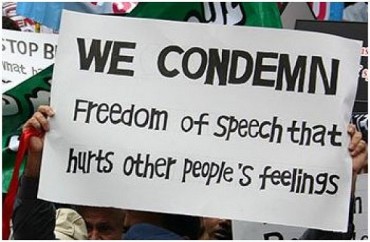 A message telling Michigan State University students to ditch their mandated online diversity training was dubbed "hate speech" and a "form of violence" by student interest groups.
As reported by The State News earlier this month, the school's famous Rock on Farm Lane had been "defaced" several times since late May with the message "Boycott Your DEI [Diversity, Equity and Inclusion] Training."
According to the News, the DEI "is an online program that educates students on proper ways to communicate and interact with people of different cultures, sexual orientations, disabilities and other marginalized groups."
The Daily Wire had reported that a person named Helen Wilson, "who claims to speak on behalf of a "large group of university students, faculty, and staff [who] have an issue with the DEI training," said the messages to cease the requirement won't stop until the university does just that.
Since June 4, progressive student groups including the MSU Alliance, TransAction MSU and the Black Student Alliance have "protected" The Rock. Cameron Lochrie, a member of the former two, said the boycott message was "a direct attack at the actual years of work we've put in trying to get [the training] into place."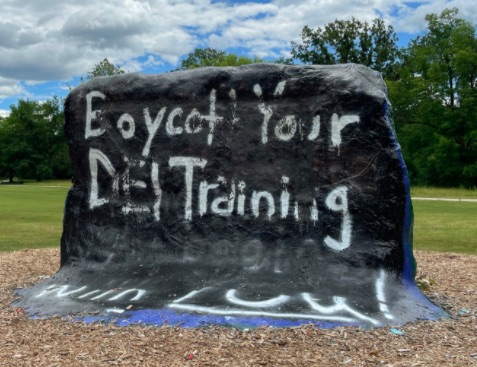 In addition to the assertions of hate speech and violence, Lochrie referred to the message (above) as an "erasure of marginalized people."
MORE: 2/3 of students think the gov. should be able to punish 'hate speech'
Indeed, on June 23 groups such as the Council of Radical & Ethnic Students and the Council of Progressive Students organized a gathering at The Rock to chant "you can't erase us."
The groups also had criticized MSU President Samuel Stanley for not reacting to The Rock's boycott messages quickly enough. On the back of The Rock they painted "STANLEY: SILENCE = COMPLICITY." Lochrie noted that "one of the primary goals" has been to get MSU to change the definition of "harassment" so that messages like those regarding the boycott could be acted upon.
Vice President and Chief Diversity Officer of Michigan State University Jabbar Bennett said that while the boycott message was "offensive," it did not target anyone nor was it a threat. As such, it is protected speech.
Bennett further noted the university "expects every member of our campus community to comply with the MSU Anti-Discrimination Policy," and that MSU was "having important dialogues with many student groups to discuss the impact of these messages" and would develop a "holistic approach" to deal with the issue.
A spokesperson for MSU's DEI department told The Daily Wire that The Rock is "an important landmark and form of expression" which has "no written rules for when [it] can be painted."
Read the State News and Daily Wire articles.
MORE: Campus paper wants hate speech regulations after student pointed out George Floyd's drug use
IMAGES: Sam Graham / Flickr.com; The State News screencap
Like The College Fix on Facebook / Follow us on Twitter