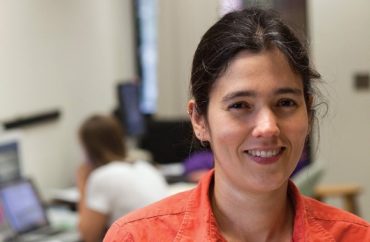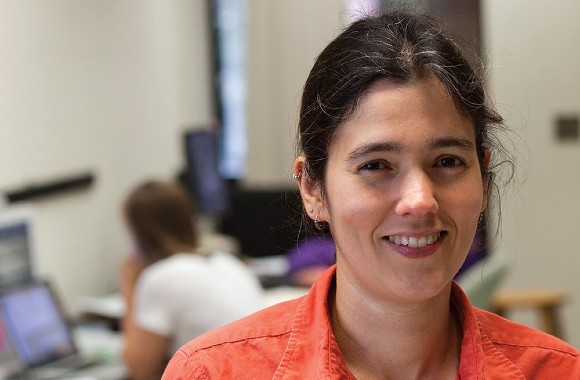 Hiring sexual harassment 'consultants' at conferences has had unintended consequences 
Measures to curb sexual harassment in academia have likely harmed professional relations between the sexes and discouraged collaboration, according to an August 23 Heterodox STEM blog post by Williams College biologist Luana Maroja.
Maroja' criticisms centered on the unintended consequences of sexual harassment policing at academic meetings.
The Society for the Study of Evolution, a professional society to which Maroja (pictured) belongs, hired in 2019 a consultant to assist it "prevent[ing] sexual harassment at the [annual] conference," she wrote.
"The initiative consisted of training volunteers to be 'allies'… projecting messages (powerpoint slides) on the walls of the poster session saying 'stop harassment now,' and putting posters in all bathrooms along with anonymous boxes for depositing complaints about harassment," Maroja stated.
"This came at a cost: about $10 dollars increase in registration fees per participant, resulting in tens of thousands in the consultant's pocket," she continued.
Observing these efforts, Maroja wrote she was "immediately concerned about the chilling effect it would have on interactions between the sexes."
She stated that sexual harassment had not seemed to be a problem that needed solving at American academic conferences. Even more, "there were already procedures in place—involving both the local police and the conference administrators—to deal with serious offences," she stated.
Additionally, male faculty members confided in her that they had avoided volunteering to mentor junior female faculty and are "circumspect" even when talking to them "out of fear of misinterpretation," Maroja stated.
"Some people emailed me pointing out that hired consultants are also insulting to both women and men for other reasons," Majora added in an August 24 email to The Fix. "For women it is paternalistic and infantilizing, and for men it is offensive as it assumes that lots of them are potential sexual harassers."
Some female economists engaged in less collaboration, produced less research than their male counterparts post-#MeToo, according to new study
Maroja cited a May 2022 study linking the recent #MeToo movement to a falling off in work by female economists and a decline in collaboration between the sexes.
Junior female academic economists started fewer new research projects following the #MeToo movement, according to a May 2022 paper by University of Melbourne economist Marina Gertsberg, "The Unintended Consequences of #MeToo: Evidence from Research Collaborations."
"The decline is driven largely by fewer collaborations with new male co-authors at the same institution," according to the paper's abstract.
Even more, "the drop in collaborations is concentrated in universities where the perceived risk of sexual harassment accusations for men is high – that is, when both sexual harassment policies are more ambiguous exposing men to a larger variety of claims and the number of public sexual harassment incidents is high," the abstract stated. "The results suggest that the social movement is associated with increased cost of collaboration that disadvantaged the career opportunities of women."
Maroja stated in her blog post that it was "no surprise" that the #MeToo movement reduced scientific collaborations between the sexes, especially the establishment of new ones.
The economics paper shows "that, where the fear is highest (in institutions where harassment accusations are common and policies are vague), the reduction in collaborations is also higher," according to Maroja.
"This represents a huge loss to both men and women, but it especially harms women," Majora continued. "Indeed, the academic output of females fell significantly after #MeToo (a decrease of between 0.7-1.7 projects per year, with the loss in male collaborators explaining 60% of this decline), while the output of males did not (they were apparently able to find other male collaborators)."
Maroja pointed out that the decline has also taken place in other scientific fields, such as fundamental physics, according to a tweet from Italian physicist Alessandro Strumia.
"I have a data-base of all papers in fundamental physics, so I checked finding the same effect: around 2016 FemaleMale collaborations dropped significantly below the natural value," Strumia wrote.
New discovery in gender: around 2016 Female+Male collaborations in fundamental physics dropped significantly below the natural value. This agrees with the claim in a publication that looked at economy. https://t.co/vEDGeEBnf7 pic.twitter.com/ZutxccTRxA

— Alessandro Strumia (@AlessandroStru4) August 12, 2022
"It's clear that well-intentioned actions…can be taken too far," Majora concluded.
Good responses to this data, she suggested, would include making harassment policies simple and clear, eliminating anonymous complaints, upholding pre-defined and fair processes in judgements of guilt, and keeping the "harassment consultants" out of the conferences.
University of Chicago geologist and DEI critic Dorian Abbot launched Heterodox STEM in 2021 and serves as managing editor. He told The College Fix in March 2022 that the blog's goal is "to set up a place where scientists can post their thoughts on issues pertaining to science and society that would be unlikely to be published in many other forums."
MORE: Harvard Business Review study reveals fallout to #MeToo movement
IMAGE: Williams College magazine
Like The College Fix on Facebook / Follow us on Twitter