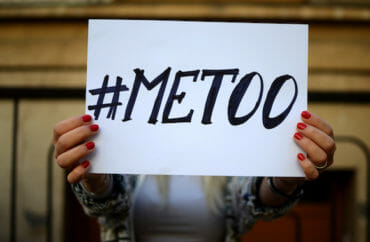 Here's a "shocker": One of the consequences of the #MeToo movement is more men adopting the so-called "Mike Pence Rule" — that is, refusing to be alone with a woman unless their wife or partner is present.
So concludes a study by the University of Houston's Leanne Atwater, a professor of management.
According to the Harvard Business Review, Atwater said that although "most of the reaction to #MeToo was celebratory," she and her research team weren't fully convinced. "We said, 'We aren't sure this is going to go as positively as people think—there may be some fallout.'"
Indeed, some of that fallout includes:
— "More than 10% of both men and women said they thought they would be less willing than previously to hire attractive women."
— Twenty-two percent of men and 44% of women "predicted that men would be more apt to exclude women from social interactions, such as after-work drinks."
— Nearly one-third of men "thought they would be reluctant to have a one-on-one meeting with a woman."
These figures largely held fast in a follow-up study a year later.
The researchers say that some of the behaviors are manifestations of what is sometimes called the Mike Pence rule—a reference to the U.S. vice president's refusal to dine with female colleagues unless his wife is present. "I'm not sure we were surprised by the numbers, but we were disappointed," says Rachel Sturm, a professor at Wright State University who worked on the project. "When men say, 'I'm not going to hire you, I'm not going to send you traveling, I'm going to exclude you from outings'—those are steps backward."

The researchers have several recommendations for organizations looking to reduce harassment, a number of which involve prevention training …

[C]ompanies should implement training that educates employees about sexism and character. Their data shows that employees who display high levels of sexism are more likely to engage in negative behaviors, and they believe training can reduce those levels. Their data also shows that people of high character—those who display virtues such as courage—are less likely to harass and more likely to intervene when others do.
There's no mention in the HBR article about men's (very real) fears regarding due process, or the lack thereof. Unsurprisingly, The Guardian plays dumb, noting that if most men know what sexual harassment is, it "makes you wonder why so many men are afraid to interact with women at work." Author Arwa Mahdawi hilariously claims the reason is men are angry "that #MeToo ever happened."
In reality, in the age of instant social media outrage and "justice," this is the sort of stuff of which men are wary. Just ask Supreme Court Justice Brett Kavanaugh.
Read the HBR and Guardian articles.
MORE: Students to earn credit for #MeToo-based 'power and privilege' class
MORE: Survey finds folks more sympathetic to accused men after a year of #MeToo
IMAGE: Mihai Surdu / Shutterstock.com
Like The College Fix on Facebook / Follow us on Twitter