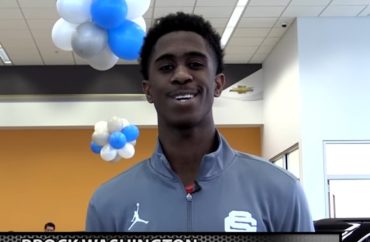 Denied him a hearing as legally required, falsely claimed there was no 'disagreement'
Michigan State University already botched Brock Washington's sexual misconduct proceeding once. Now the predominantly white institution is going to try the former student again, despite the attorney general refusing to prosecute him after an investigation.
Democrat Dana Nessel is the second prosecutor to reject the case after the Ingham County prosecutor declined to file charges against Washington (above). His accuser, who did not attend Michigan State, appealed to Nessel's office in March.
The unnamed accuser told ESPN that Nessel's office told her its investigators questioned the honesty of a witness, who was resisting cooperation with them:
That witness had provided conflicting statements to police. The attorney general's office told the woman they told her they "felt that it would be more traumatizing for me to go through the trial and be put on the stand."
Michigan State police appear to have botched their own investigation, telling Nessel's office they had probable cause to believe the accuser was "too intoxicated to consent" to their Jan. 19 sexual encounter.
MORE: After ruining his NFL career, MSU settles with falsely accused student
Its Office of Institutional Equity refused to give him a hearing, falsely determining "there was not a disagreement about any of the relevant facts." The 6th U.S. Circuit Court of Appeals ruled two years ago that universities including MSU must provide a live hearing and allow cross-examination in proceedings when "credibility is at issue," particularly in he-said, she-said sexual encounters.
It found him guilty in August and recommended he be "permanently barred from classes and banned from campus for two years," according to ESPN. Mary Chartier, his lawyer, said at the time that Washington was "yet another Black man accused by a white woman, and the man is denied due process because the woman is automatically believed despite significant evidence to the contrary."
When Washington appealed, equity review officer Aislinn Sapp determined Washington was wrongly denied a hearing because the timing of his accuser's alleged incapacitation was in dispute:
Video evidence, medical information and witness statements used in the OIE report show the woman was incapacitated after, and not during, the sexual encounter, according to the letter, so Sapp sent the case back to OIE with instructions to offer the parties an opportunity to request a hearing.
A source told ESPN that Michigan State hasn't scheduled a hearing yet. The taxpayer-funded university previously exonerated Washington of sexual misconduct charges in 2017, stemming from a Michigan State student's allegation that he "forcibly groped her" in a dorm.
MORE: MSU ignored court ruling on due process until student sued
IMAGE: statechampsnet/YouTube
Like The College Fix on Facebook / Follow us on Twitter