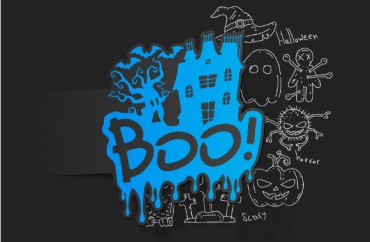 There's still over two weeks to go until Halloween, but Michigan State University wants to get a head start — to make sure students' costumes meet the approval of the politically correct set.
Posters asking "Is Your Costume Racially, Culturally, or Ethnically Based?" appeared in dorms last week courtesy of the school's Residence Education and Housing Services. The placards feature examples of "costume fails": a guy dressed like a mariachi, women dressed as a Native American ("hypersexualized racism") and in a Japanese kimono, and … a space alien (allegedly represents "illegal aliens"?).
According to The American Mirror, this is the third year of costume guidance at MSU.
"Sombreros and mustaches, Nazi gear, Rastafarians, illegal aliens, Middle Eastern attire, and other 'racially, culturally, or ethnically based' costumes" should be off-limits, REHS advises. Also "racist": dressing up as Jay-Z, Beyonce, Kanye and Kim West.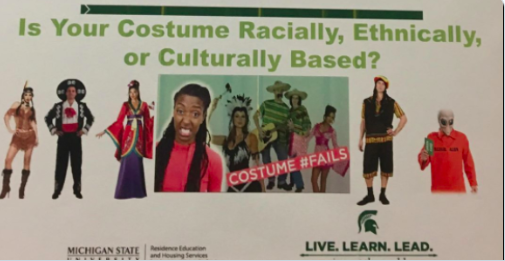 Naturally, so-called cultural appropriation only works in one direction: "Western appropriations of non-Western or non-white forms" […] carry with it "the connotation of exploitation and dominance."
Cultural appreciation, MSU explains, is "learning about another culture with respect and courtesy."

Steve Bertolini, a senior International Relations major, offered a different definition for cultural appropriation at MSU: "A dangerous term that undermines free speech and expression of ideas."

It also undermines MSU's own identity, he argued.

"Suppressing any costume idea because it reflects a culture is ridiculous," Bertolini said. "Should we abandon Sparty as to not offend those of Greek origin?"

Sparty, the MSU Spartans' wildly popular mascot, is a muscular male Spartan warrior dressed in stylized, cartoonized Greek battle gear.

Other MSU students, like freshman Clara Peters, think it's wrong for the university to label students who mimic popular culture or television characters as racists.
FOX-47 reports that conservatives "jumped all over" the posters, including popular game show host Chuck Woolery who "incorrectly" tweeted that MSU had banned "mustaches, sombreros, and other accessories."
MSU spokesperson Emily Guerrant told the station the school "is not saying students can't dress that way," but is just letting students know "how their costumes can be portrayed."
Read the American Mirror and FOX-47 articles.
MORE: U. to investigate students for Halloween parties that 'reinforce stereotypes'
MORE: Don't listen to academics when it comes to Halloween
IMAGES: Palau / Shutterstock.com, Twitter
Like The College Fix on Facebook / Follow us on Twitter