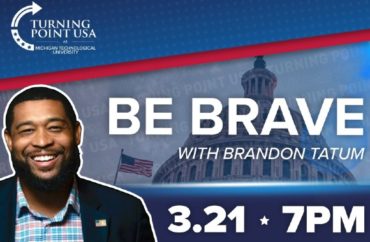 Campus administrators remind student leaders that the First Amendment still exists
Michigan Technological University officials provided a brief lesson on the First Amendment to leftist student government members who wanted to deny funding to the campus Turning Point USA chapter.
Officials informed the Undergraduate Student Government that the school would be funding a March 21 event with Brandon Tatum, a former police officer turned conservative commentator. The chapter will receive $3,500 in student fees, with the rest of the cost being covered by TPUSA, the Leadership Institute, and private donors.
The administration "said USG's vote violated the First Amendment and the university's free-speech policy," according to The Daily Mining Gazette.
"The move to put university funds towards Tatum had drawn criticism from students online and at the earlier meeting," the paper reported. "The bulk of the criticism was directed at transphobic rhetoric from Tatum."
Tatum's views on gender ideology led to LGBT students "crying and begging" for a denial of funds for the event.
"At Wednesday's meeting, we had students including representatives from the body of LGBTQIA students at this university crying and begging us to consider their safety in this matter," student representative Griffin Abbot said. He voted against the funding request.
After the student government refused to fund our event, we fought back. The money will now be allocated by admin @michigantech Thank you @theofficertatum @charliekirk11 and everyone who helped us! Hope to see you at BE BRAVE with Brandon Tatum on March 21st 7pm Fisher 135 MTU 🇺🇸 pic.twitter.com/tyifh9xxr1

— Turning Point USA at MTU (@TPUSAMTU) February 20, 2023
"We have seen students pointing out the lack of consideration for the humanity of trans and gay students. What other protected classes are we willing to allow speakers to come and spew their hatred about on this campus?" he said, according to the local newspaper.
Cole Pierucki said he made the "right" decision to vote no on the funding in order to "protect our students." One student in attendance said that "a large chunk of the LGBTQ population [felt] threatened by this speaker."
Unfortunately for the student government leaders and other opponents, the First Amendment still exists.
The newspaper reported:
Speaking at Friday's meeting, Tech general counsel Sarah Schulte said First Amendment rights required the university to step in and fund the speaker.

Schulte said administration would not intervene until a decision had been made out of principles of shared governance. The board of trustees has ultimate authority, but also shares it with groups such as USG and the university senate. What forced the university to step in, she said, was a board policy that requires USG to act in accordance with the constitution.
Students who cannot stomach Tatum's conservative views have other options, as one student government member noted.
Representative Sydney Dankert supported funding the event and reminded students that if they do not agree with the event "they cannot attend or they can go protest."
MORE: Here are the top 10 worst colleges for free speech
IMAGE: Turning Point USA at MTU/Twitter
Like The College Fix on Facebook / Follow us on Twitter