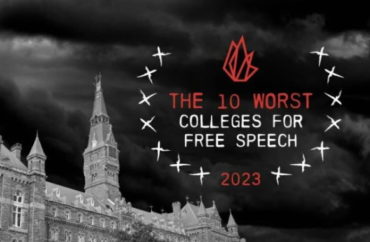 The Foundation for Individual Rights and Expression has selected 10 schools for its annual infamous dishonor: a place on the 2023 list of the top 10 worst colleges for free speech.
The list highlights colleges and universities that have consistently denied freedom of expression to faculty and students.
Schools on this year's list include Hamline University, which fired a professor for showing a historic image of the prophet Muhammad during an art history class; Texas A&M, which defunded an LGBTQ event; and Collin College, which fired multiple faculty members over protected speech issues, including a professor who advocated for the removal of Confederate statues and another who criticized the school's onerous COVID-19 policies.
"FIRE filed three lawsuits against the school, recouping $300,000 for the terminated professors and more than $180,000 in attorneys' fees," the group stated in a news release.
The other schools on this year's list are: Pennsylvania State University, University of Pennsylvania, Emerson College, Emporia State, Texas Tech, University of Oregon and Loyola University New Orleans.
In Emerson's case, the university has banned the conservative Turning Point USA student group, prompting FIRE to file a complaint with the New England Commission of Higher Education in December "arguing that Emerson's continued treatment of TPUSA demonstrates that it is not in compliance with the commission's standard requiring that an institution be committed to 'the free pursuit and dissemination of knowledge.'"
The University of Oregon is on the list for extensive mandatory diversity, equity and inclusion statements and a DEI rubric for hiring, a requirement that violates "faculty's freedom of expression and academic freedom," FIRE stated in a news release.
Alex Morey, director of campus rights advocacy at FIRE, said his organization vets more than 1,000 college-related free speech issues every year and becomes involved with a good portion of them.
"Schools on our 10 Worst list represent the colleges that committed the most outrageous violations of student or faculty speech or showed they simply don't care about the rights that they promise — or both," Morey said in an email to The College Fix.
FIRE wants students and faculty who choose to work and study at these schools to be able to rely on the freedom of expression and academic freedoms promised to them, he said.
Many of these schools state on their websites and brochures that they want to protect discussion of controversial issues, research and controversial speakers, but do not keep their word, Morey said.
The annual list helps FIRE spread awareness of schools that do not keep their promises, he said.
FIRE also awarded this year's Lifetime Censorship Award to Georgetown University.
Georgetown suspended in 2022 a newly minted administrator Ilya Shapiro for reprimanding President Joe Biden's decision to prioritize affirmative action for his Supreme Court nominee selection.
Georgetown officials took 122 days to investigate the scholar's 45-word tweet before reinstating Shapiro. In its reinstatement letter, Georgetown leaders stated freedom of expression does not take precedence over student concerns and alleged discriminatory speech, and Shapiro declined employment at Georgetown thereafter.
FIRE pointed out that the Catholic Georgetown also refused to recognize the student group H*yas for Choice despite recognizing multiple Muslim and Jewish student organizations.
In addition, FIRE flagged Georgetown's decision to refuse to let students table in support of Bernie Sanders' 2016 campaign.
The College Fix reached out to Georgetown University, Collin College and Texas A&M via email. All three schools did not respond.
The discussion of whether hateful or offensive speech should be acceptable is not a new question, Morey told The Fix.
"It is a timeless debate that gets revived in every generation. The First Amendment doesn't ask what expression is 'good' or 'bad,' but what expression the government has the right to ban," he said.
"The law does not limit speech people find hateful or offensive, because those terms mean different things to different people," Morey said.
According to Morey, the Constitution gives a lot of highly offensive speech protection until it crosses an objective line into the legal definition of a threat or harassment. Most of the speech people dislike these days and are trying to oust from campuses — the "racist," "hateful," "bigoted," speech — is protected, he said.
MORE: Comedian reported to campus bias response team for joke about person's identity
IMAGE: FIRE screenshot
Like The College Fix on Facebook / Follow us on Twitter